Every great entertainer needs a delicious sandwich in their repertoire, especially in the heat of football season. This Hawaiian Sandwich is just what you are looking for! This recipe was gifted to me by a friend. Brent is a finance guy with a deep rooted passion for sandwiches.He promised me that he would share his great sandwich creation and he didn't let me down!
This Hawaiian Sandwich has everything you would look for in a creative sandwich that sets you apart from the rest. To start, the Hawaiian roll itself provides a sweet component not often expected in a sandwich. You then combine three types of meat (turkey with broiled salami and pepperoni) plus the combination of cheese, pickles, red onions, tomatoes and a delicious mayo mixture and you all of a sudden understand where his passion for sandwiches comes from!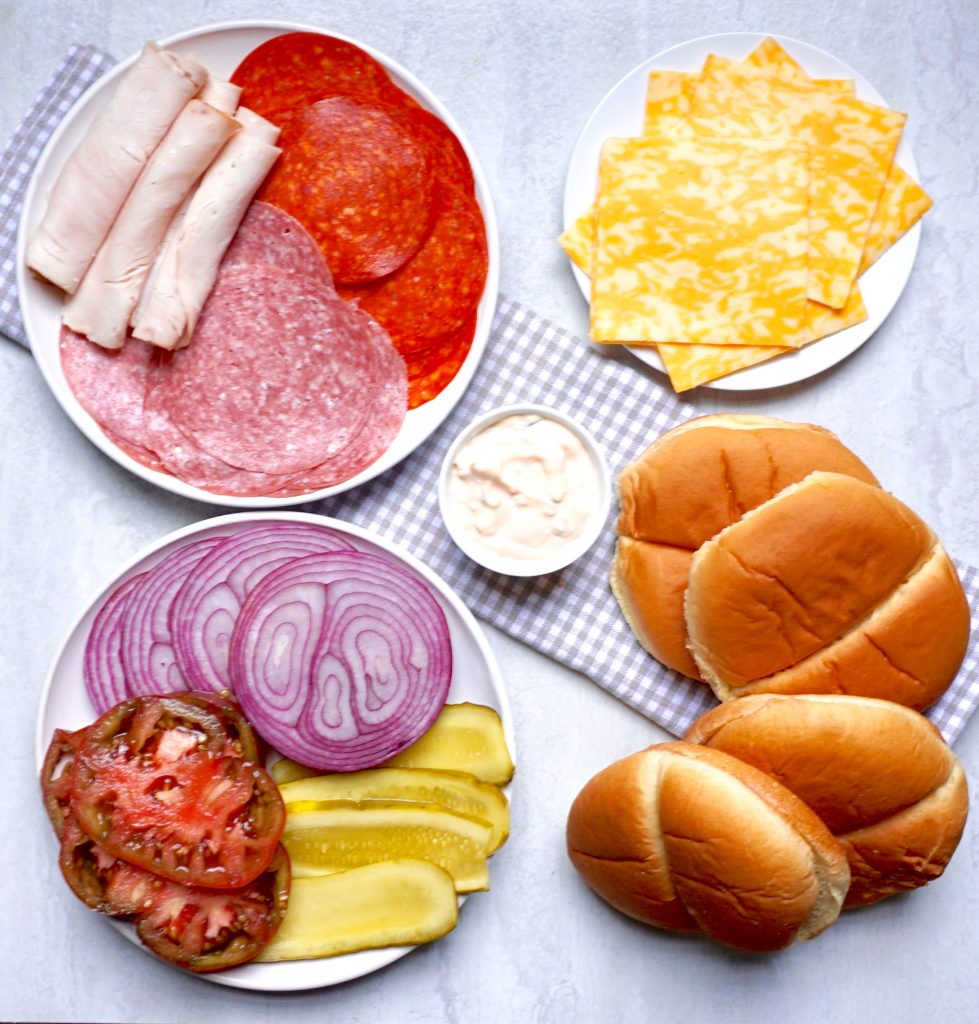 Hawaiian Sandwich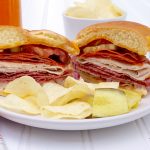 Print This
Ingredients
SANDWICH:

4 large Hawaiian Rolls or 8 slices Hawaiian bread

4 slices deli roast turkey breast

12 slices genoa salami

16 slices pepperoni if small rounds, 12 slices if large

8 slices Colby Jack cheese

4 slices red onion

4 slices tomato

4 slices dill or sweet pickle

SANDWICH SPREAD:

1/3 cup mayonnaise

1 teaspoon ketchup

1 teaspoon sweet relish
Instructions
Lightly toast the rolls or bread slices in a toaster oven or broiler.
Broil the salami and pepperoni slices until they just start to shrink and curl. Watch carefully! Timing will depend on how close your rack is to the broiler.
If you do not have a broiler, preheat your oven to 350 degrees.  Line baking sheets with parchment paper and lay the salami and pepperoni slices in a single layer. Bake for 5-7  minutes, just until the slices start to shrink and curl.
Place one slice of the Colby Jack cheese on both the top and bottom of the Hawaiian rolls. Broil for 1-2 minutes until the cheese is melted, or line a baking sheet with parchment paper and layer the rolls on the sheet. Bake until the cheese melts, about 3-5  minutes.
Spread the mayonnaise mixture evenly on the bottom rolls. Layer the  red onion, salami,  turkey, pepperoni, tomato and pickle. Place the other bun on top, and slice in half to serve.