Red Pepper Pesto Penne is a budget friendly, quick fix meal that is so easy to make and has a lot of flavor. You can use jarred roasted red peppers for the pesto  or use the seasonal red peppers and roast them yourself. Check out How to Roast Red Peppers.
This recipe has very few ingredients and the pesto comes together quickly in a food processor or blender. It is added to the cooked penne with some parmesan cheese and reserved pasta cooking water to create the sauce. If you want to add some extra color try to find Tri-Color Penne Pasta.
One pot, meatless meals are a great way to start off the week, especially when pasta is involved. Checkout One Pot Asparagus Gnocchi, Tomato Broccoli One Pot Pasta, and Lemon Asparagus Pasta for some other quick meal options.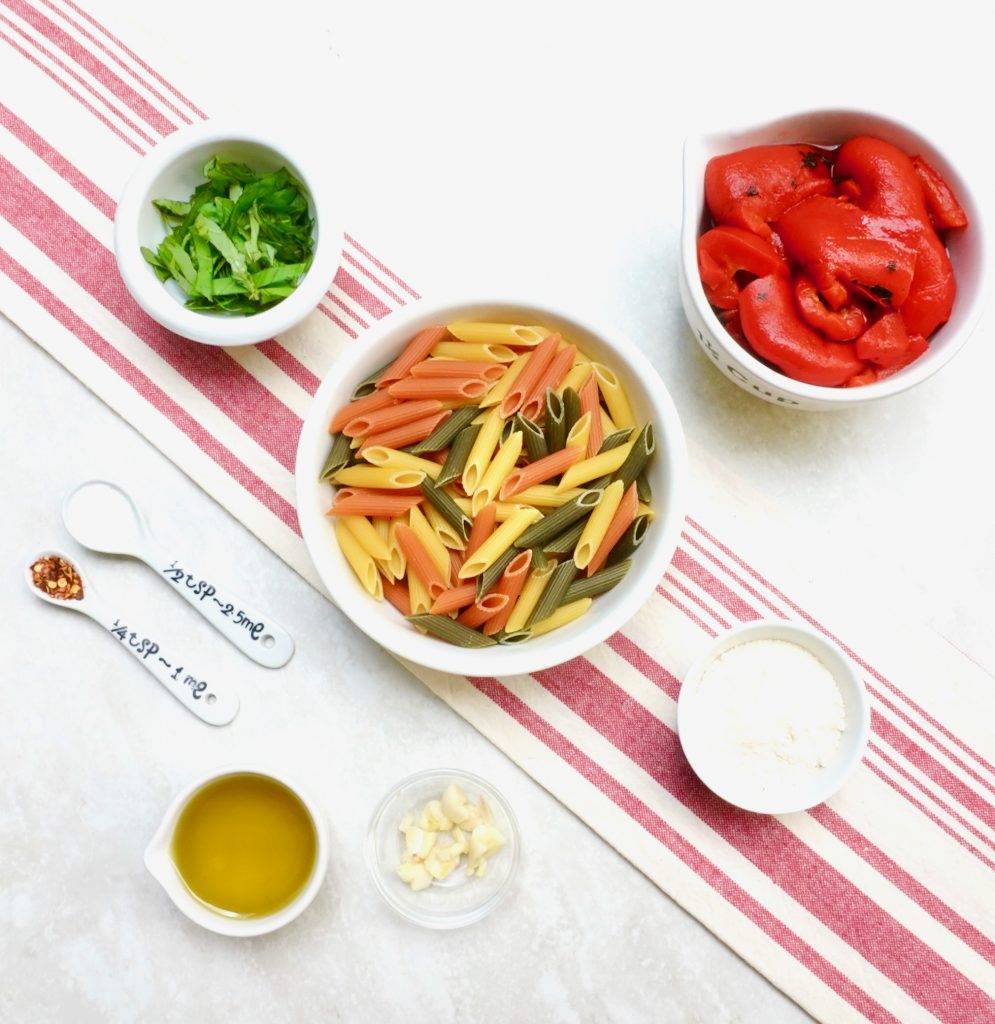 Red Pepper Pesto Penne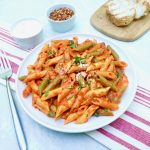 Print This
Ingredients
2 cups tri color penne pasta

1 ½ cups roasted red bell peppers, cut into chunks

¼ cup olive oil

1 garlic clove, minced

½ teaspoon kosher salt

¼ teaspoon black pepper

¼ cup grated parmesan cheese

½ reserved pasta water

3 tablespoons fresh basil, chopped
Instructions
Bring  a large pot of water  to a boil over high heat. Cook the penne according to the directions on the box for the tenderness you want.
Reserve ½ cup of the pasta cooking water and drain the pasta.
While the pasta is cooking, add the roasted red bell peppers, olive oil, garlic, salt, and pepper into the bowl of a food processor or blender. Pulse until it is smooth.
Return the penne to the pot over medium low heat. Add the, red bell pepper pesto,  parmesan cheese and reserved pasta cooking water.
Stir to combine so the sauce forms and the pasta is heated through.
Stir in the fresh basil and serve.
Notes
If you happen to let the cooked pasta sit too long in the strainer and it sticks together, a quick rinse with cold water will make it easy to separate.