Sun Dried Tomato Tortellini Soup is a creamy, comforting soup that comes together quickly enough that it makes a great weeknight dinner. This flavorful vegetarian soup is simple to make.
Sun dried tomatoes along with onion, garlic and some dried herbs make a flavorful broth. A bit of cream makes it rich. Cheese tortellini are added to make a hearty, filling soup. It gets a slight kick from crushed red pepper. If you are not a fan of heat, simply omit it.
Cooking time is under 30 minutes. Serve it with some crusty bread.
If you like hearty tortellini soups you should check out Tortellini Soup and Sausage Tortellini Soup.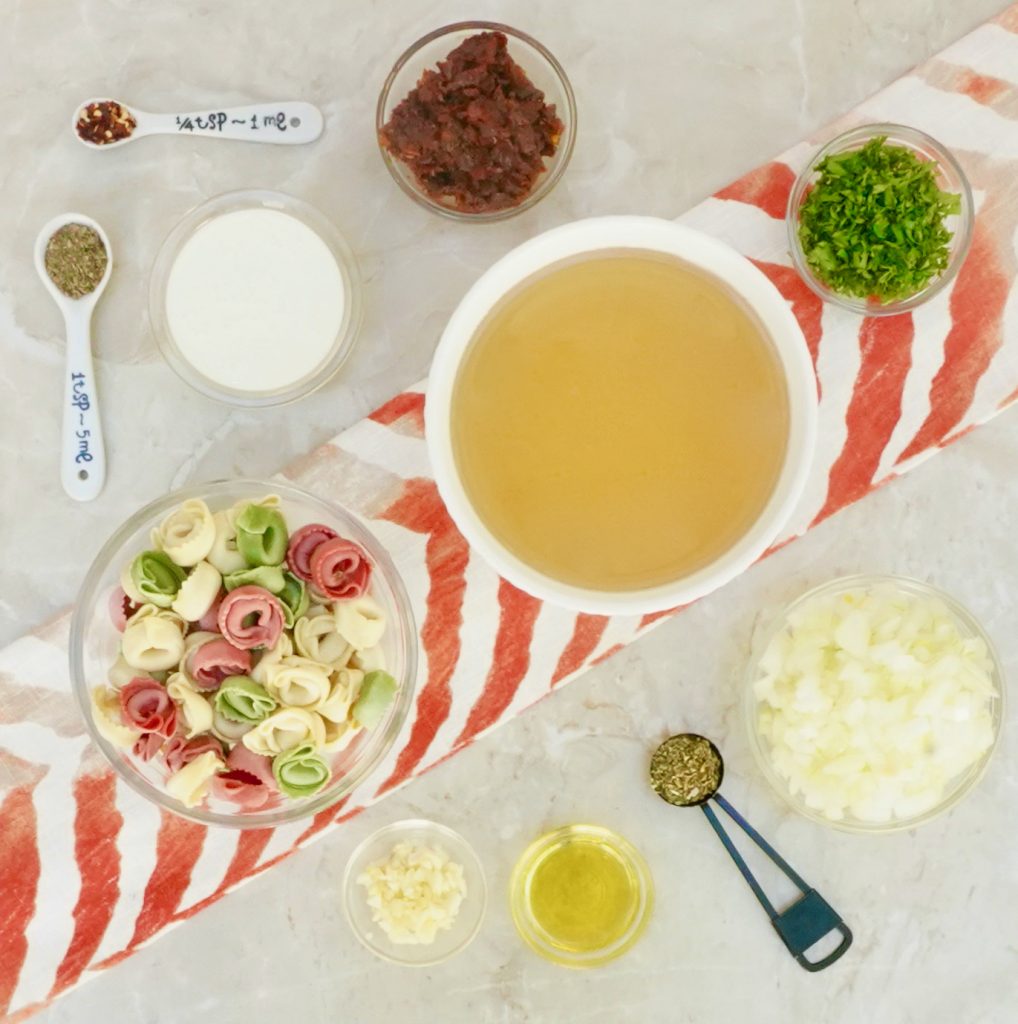 Sun Dried Tomato Tortellini Soup
Print This
Ingredients
1 tablespoon olive oil

½ cup yellow onion, chopped

2 cloves garlic, minced

½ cup sun dried tomatoes in oil, drained and chopped

3 tablespoons tomato paste

6 cups vegetable broth

1 teaspoon dried basil

1 teaspoon dried oregano

½ teaspoon crushed red pepper

12 ounces cheese tortellini

½ cup heavy cream

2 tablespoons fresh parsley, chopped

Optional:

2 teaspoons cornstarch

2 tablespoons water
Instructions
In a large stockpot, heat the olive oil over medium low heat.
Add the onions and the garlic and cook, stirring occasionally for 2-3 minutes so they begin to soften. Do not let them brown.
Add the sun dried tomatoes, tomato paste, vegetable broth, basil, oregano and crushed red pepper.
Turn the heat to the high setting and bring the mixture to a boil. Reduce the heat back to the medium low setting and let the soup simmer uncovered for 15 minutes.
Add the tortellini and cook according to the directions on the package. Cooking times will vary  based on what kind of tortellini you buy. It comes refrigerated, frozen and dried. The refrigerated will cook in 2-3 minutes, the frozen in about 5-7 minutes and the dried in about 8-10 minutes.
Stir in the heavy cream and fresh parsley.
Optional: If you would like to thicken the soup a bit more, place 2 teaspoons of cornstarch in a small bowl with 2 tablespoons of water. Stir to dissolve the cornstarch. Pour the mixture into the pot. Stir with the heat still on for about 1 minute until the soup becomes slightly thicker.