Lemon Chicken Milanese is a bit of a twist on the traditional Italian recipe which is typically made with veal cutlets. 
In this recipe, chicken cutlets are pounded thin then breaded with a mixture of bread crumbs and parmesan cheese. They are crispy and flavorful. They are served with a lemon wine sauce on the side.
Lemon Chicken Milanese is easy and fast. It makes a perfect weeknight dinner and is also good for entertaining. You can easily make this ahead of time and reheat it when you are ready to serve it. 
If you like simple recipes using chicken cutlets check out Chicken Francese, Chicken Marsala, and Chicken Piccata. You might also like Creamy Lemon Chicken.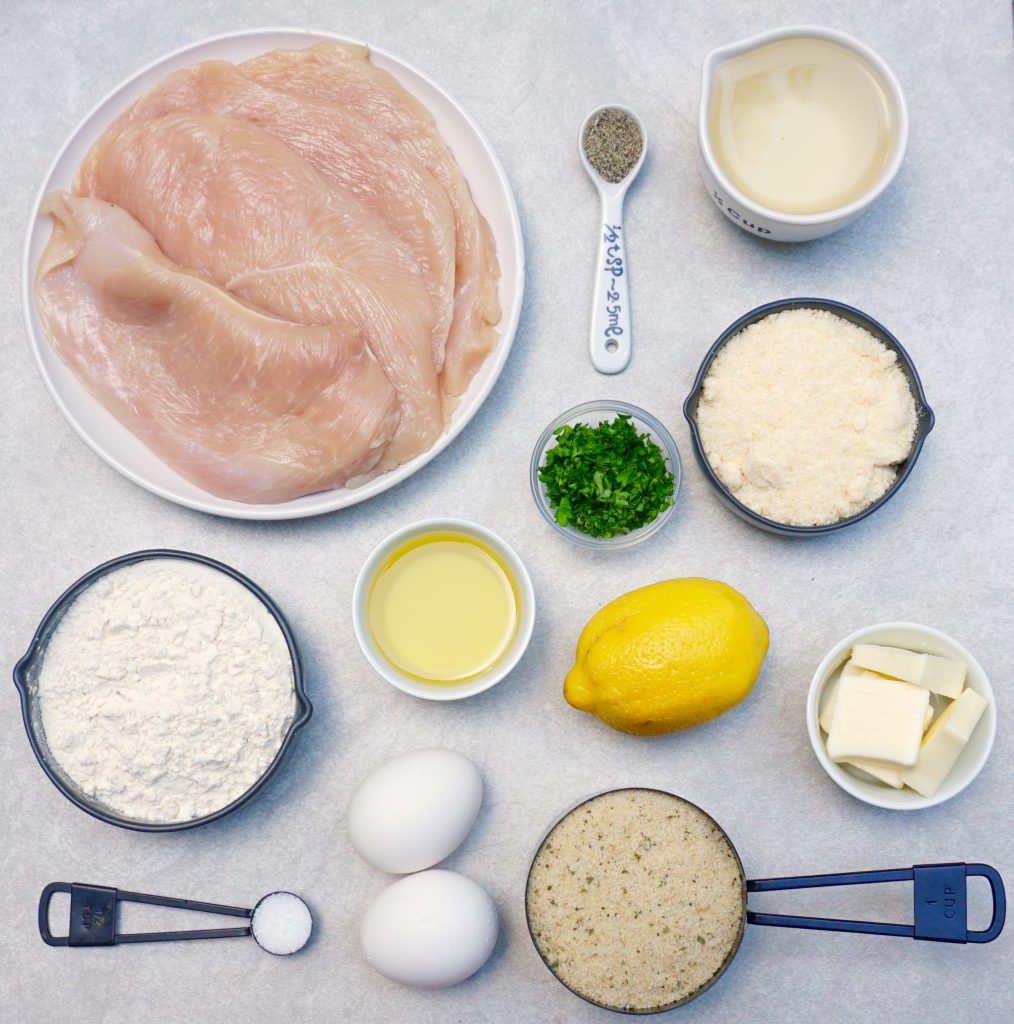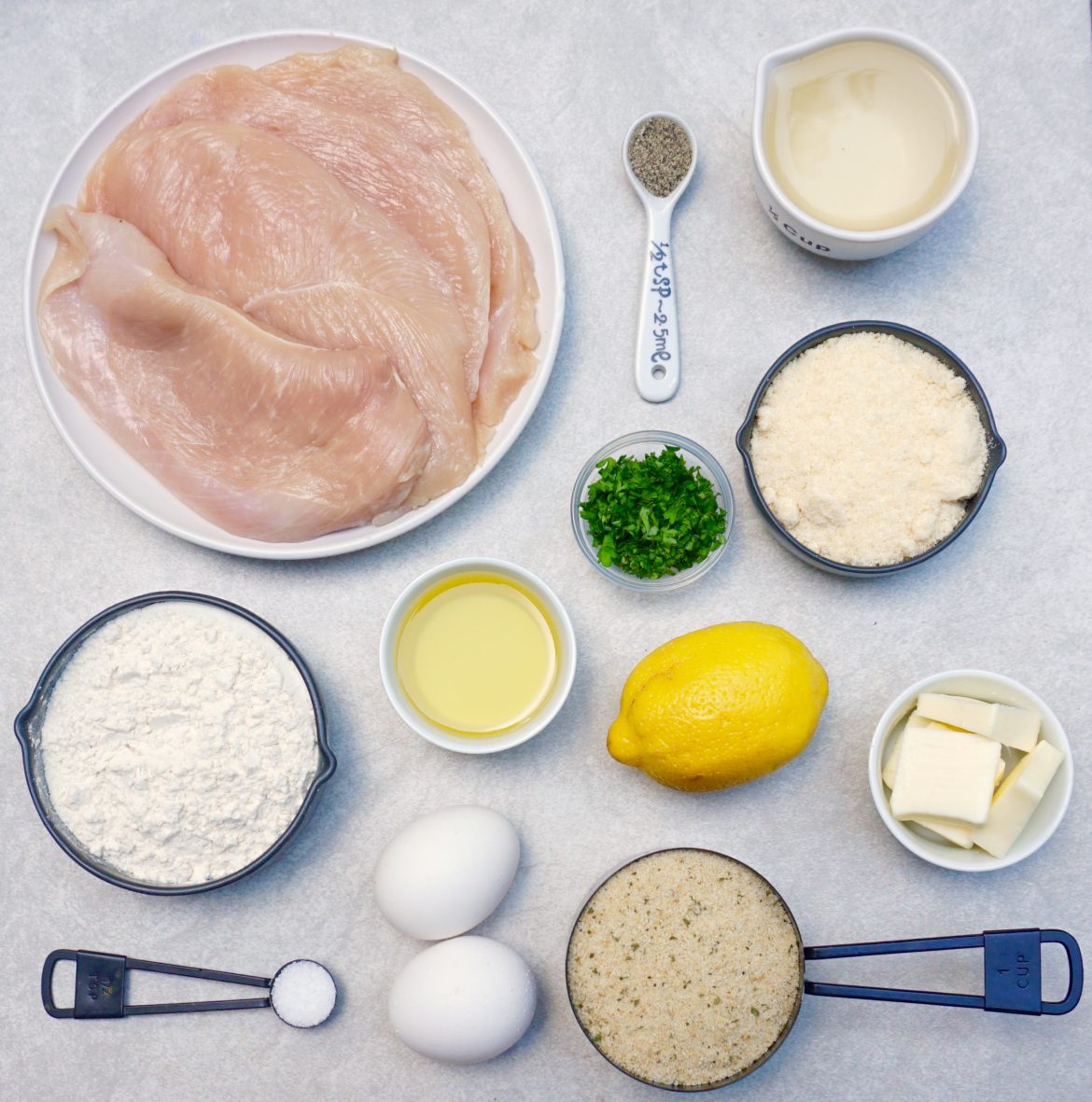 Lemon Chicken Milanese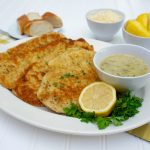 Print This
Ingredients
CUTLETS:

2 boneless chicken breasts, ½ pound each

1 cup all purpose flour

½ teaspoon kosher salt

½ teaspoon black pepper

2 large eggs

1 tablespoon water

1 cup seasoned breadcrumbs

½ cup parmesan cheese

3 tablespoons butter

3 tablespoons olive oil

LEMON WINE SAUCE:

2 tablespoons butter

½ cup white wine

1 tablespoon lemon juice

2 tablespoons fresh parsley, chopped

1 teaspoon flour
Instructions
Lay the chicken breast flat on a cutting board. Start at the left and determine the spot which is half of the thickness of the breast. Slice the chicken breast through to make 2 cutlets. Place a piece of plastic wrap over the chicken cutlets and pound with the flat side of a meat pallet. You want the cutlets to be ¼ inch thick. 
Mix together the flour, salt and pepper in a shallow pie plate or dish.
Beat the eggs with the water in a shallow pie plate.
Mix together the breadcrumbs and parmesan cheese in a shallow pie plate or dish.
Dip the cutlets into the flour mixture, completely coating them on both sides.
 Dip the floured cutlets into the egg mixture, making sure that they are completely moistened.
Dip the cutlets into the breadcrumb mixture, making sure that the cutlet is completely coated.
In a large skillet, melt one tablespoon of butter and one tablespoon of oil over medium low until it is bubbly. Add two of the cutlets to the skillet. Cook for 2-3 minutes on each side until they are cooked through and lightly browned, adding a bit more butter or oil if needed.
Melt another tablespoon of butter and oil and add the remaining cutlets to the pan. Cook for 2-3 minutes on each side until they are lightly browned. 
Keep the cutlets warm in a 200 degree oven while you make the lemon wine sauce.
Melt the butter in a small saucepan. Add the wine and lemon juice and bring to a boil. Reduce the heat to medium low and simmer for 2-3 minutes so that the wine is slightly reduced.
Stir in the parsley. Add 1 teaspoon of flour and whisk it in well. This will thicken the sauce. 
Serve the cutlets on a platter with the sauce on the side.
Notes
If you want to make the chicken ahead. Place the cutlets on a plate and wrap well. If you need to layer them, place either waxed or parchment paper between the layers. When you are ready to serve them, preheat your oven to 400 degrees. Place the cutlets in a single layer on a baking sheet. Bake for 8- 10 minutes until they are heated through. The lemon wine sauce can be reheated in a small saucepan over low heat.