Chicken Cacciatore is a classic Italian chicken recipe. The name cacciatore refers to the way that the dish is prepared. It means "hunter style" which has tomatoes, bell peppers, onions, garlic and wine. The traditional method of preparing this dish is with chicken pieces. 
This recipe is made with boneless chicken cubes. Boneless thighs will work best, but if you prefer boneless chicken breast it will work as well.  Using small cubes of chicken cuts down on the cooking time and the entire recipe can be made on the stovetop in a skillet.
Chicken Cacciatore can be served over pasta or noodles. It can also be plated with potatoes and some vegetables or salad. It is versatile, full of flavor and easy to make!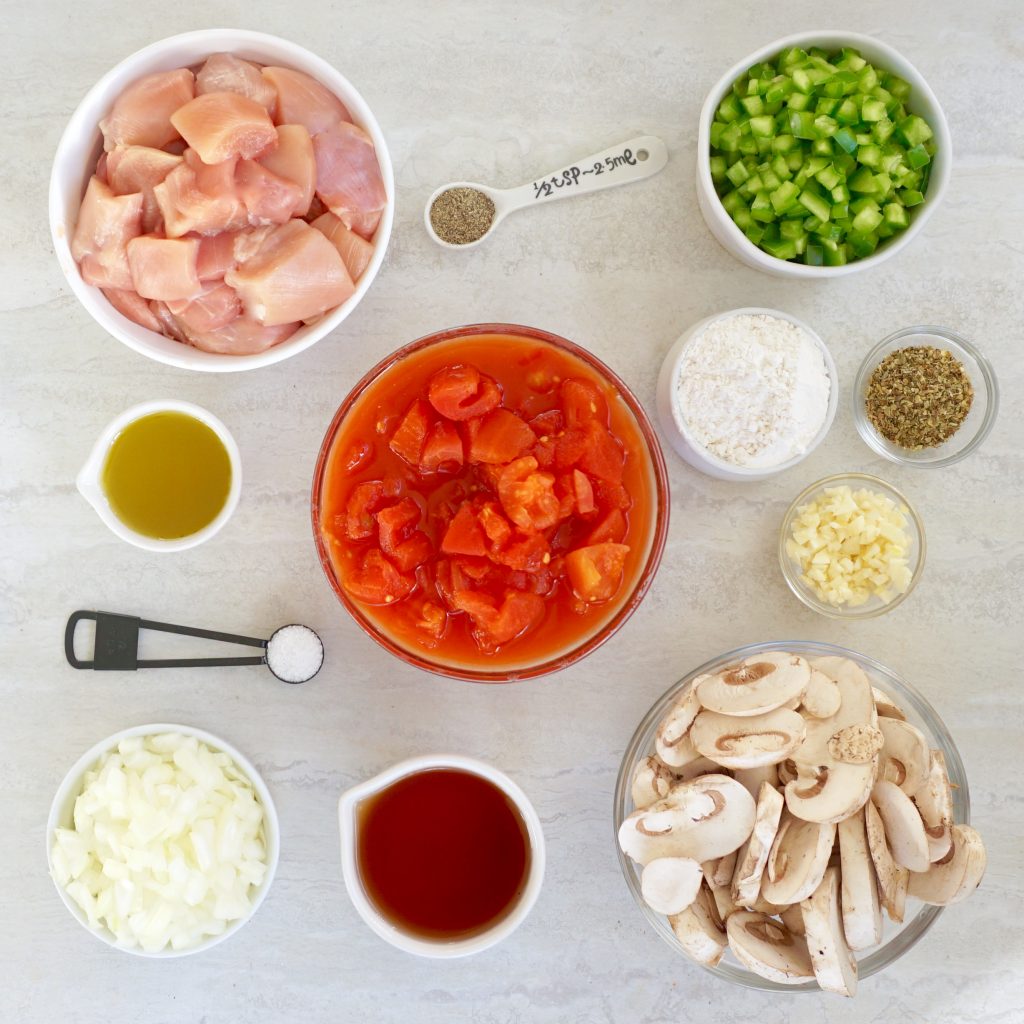 Chicken Cacciatore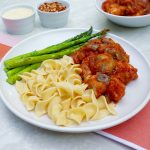 Print This
Ingredients
1 ½ pounds boneless chicken thighs (breast if preferred)

½ cup all purpose flour

½ teaspoon salt

¼ teaspoon black pepper

¼ cup olive oil

1 medium yellow onion, chopped

8 ounces mushrooms, sliced

1 green bell pepper, chopped

2 cloves garlic, chopped

28 ounce can diced tomatoes

2 teaspoons dried oregano

½ cup sherry wine
Instructions
Cut the boneless chicken thighs or breast into 1 inch cubes. Place the flour, salt and pepper into a Ziploc bag. Add the chicken cubes and shake. Coat each cube completely with flour.
Add the olive oil to a large skillet and heat over medium low heat. Add the chicken cubes and brown on all sides, making sure that they are cooked all the way though. This will take about 5 minutes. Remove from the pan and place on a plate.
Add the mushrooms and green peppers to the pan. Cook over medium low heat for about 5 minutes until the mushrooms have rendered all their moisture and the green peppers are beginning to soften. Add the onion and garlic and cook for an additional 3 minutes.
Add the diced tomatoes, oregano and sherry wine to the skillet. Bring to a boil then reduce the heat to low and simmer for 15 minutes.
Add the chicken back to the skillet and simmer for 10 minutes.