One Pot Tomato Basil Penne is a simple, flavor pasta that you put together in one pot and cooks in under 20 minutes. It makes a great meal anytime of the year but will be especially good in the summer when you have local tomatoes and basil.
You could serve this as a vegetarian meal and it would also make a nice simple side dish. The combination of the fresh tomatoes and basil would complement almost anything you would be grilling this summer. If you like this combination you might also like Zucchini Tomato Sauce.
One Pot Meals are always good for busy weeknight dinners. They are so easy to make and also make for a fast cleanup. Check out One Pot Asparagus Gnocchi, One Pot Chicken Penne, Lemon Asparagus Pasta, Tomato Broccoli One Pot Pasta  and Chili Mac Cheese for some other one pot options.
SOME THINGS TO KNOW:
If you do not have Penne pasta you can easily substitute any other tube shaped pasta. Some good options are rigatoni and ziti.
Chiffanade is a method used to finely cut the fresh basil for this recipe. If you have never tried this before watch How to Cut Chiffonade.
You can keep any leftovers covered tightly in the refrigerator for 2-3 days. You can cover it and reheat it in in the microwave or on the stove top. If heating it on the stove add a couple of tablespoons of broth or water. Cooking times will vary depending on how much you are reheating. Stir it occasionally and check often to see if it is heated through.
The combination of the fresh tomatoes and basil are best when eaten at once. Freezing this is not advised.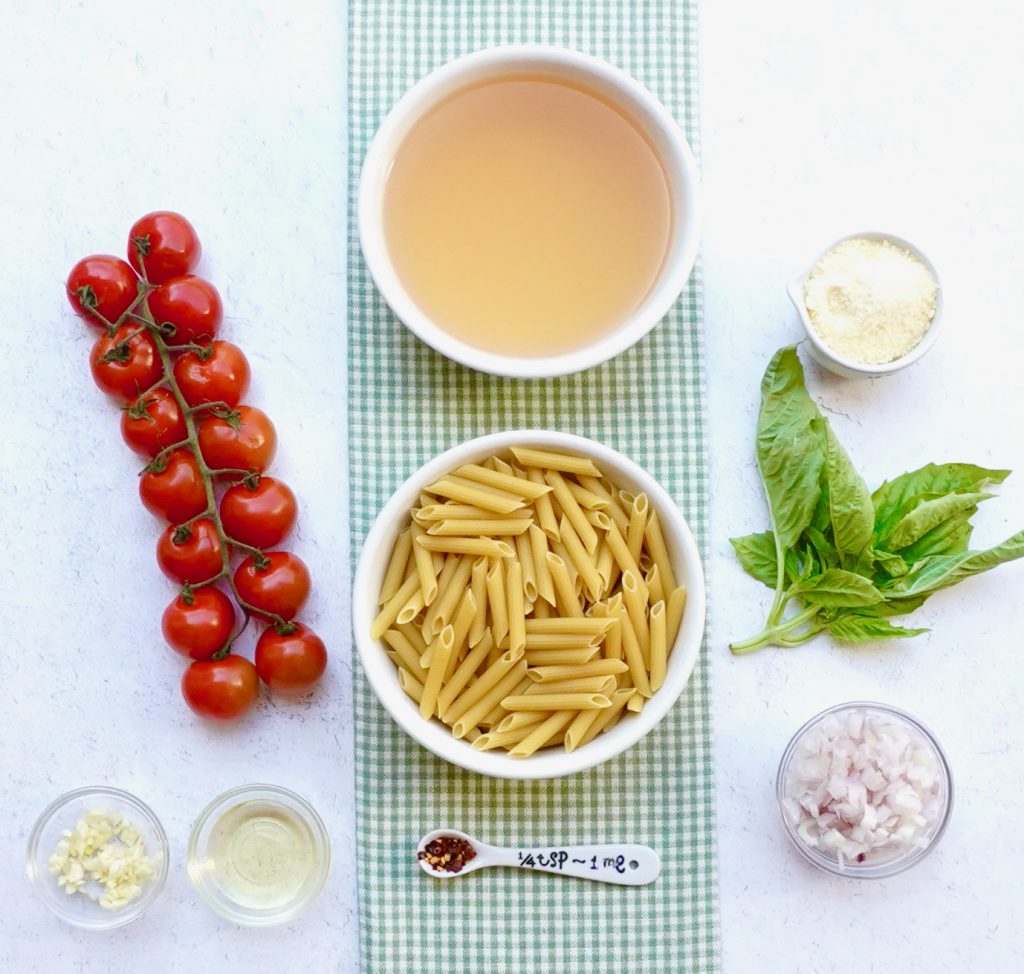 One Pot Tomato Basil Penne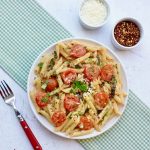 Print This
Ingredients
1 tablespoon olive oil

1 small shallot, minced

1 clove garlic, minced

8 ounces dried penne pasta

2 cups vegetable broth

¼ teaspoon crush red pepper flakes

1½ cup cherry tomatoes, halved

¼ cup grated parmesan cheese

¼ cup fresh basil leaves, chiffonade
Instructions
Heat the olive oil in a large pot that has a cover over medium low heat.
Add the shallots and garlic to the pot. Cook, stirring occasionally for 2 minutes.
Add the penne, vegetable broth, and red pepper to the pot. Combine well.
Raise your burner heat to the high setting and bring the mixture to a boil. Once it comes to a boil, adjust the heat setting to the low  setting and cover the pot. You want this to be at a low simmer. If it is not, raise the heat slightly to the medium low setting in order to achieve this.
Let the mixture simmer covered, stirring occasionally until the broth is absorbed and the pasta is el dente. This will take about 11-13 minutes depending on the pasta used and your tenderness preference.
Add the parmesan and basil to the pasta. Combine well.
Taste and add salt and pepper to taste if desired.