Blueberry Pie is a wonderful dessert but it requires a lot of effort. You can get all the same flavors with this easy Blueberry Pot Pie and create easy to serve single portions.
Blueberries are combined with some sugar, flour, cinnamon and lemon juice then placed into ramekins. Puff pastry tops the blueberries making a delicious crust. They have a short baking time so you could assemble them ahead and bake them while you are having dinner. 
Top the Blueberry Pot Pie with some vanilla ice cream and you have a wonderful dessert.
If you are a fan of blueberry desserts you should also check out Blueberry Clafoutis, Blueberry Custard Parfait and Blueberry Pie if you prefer a large pie. You might also like Blueberry Crumble Bars.
You will need 4 eight ounce ramekins for this recipe.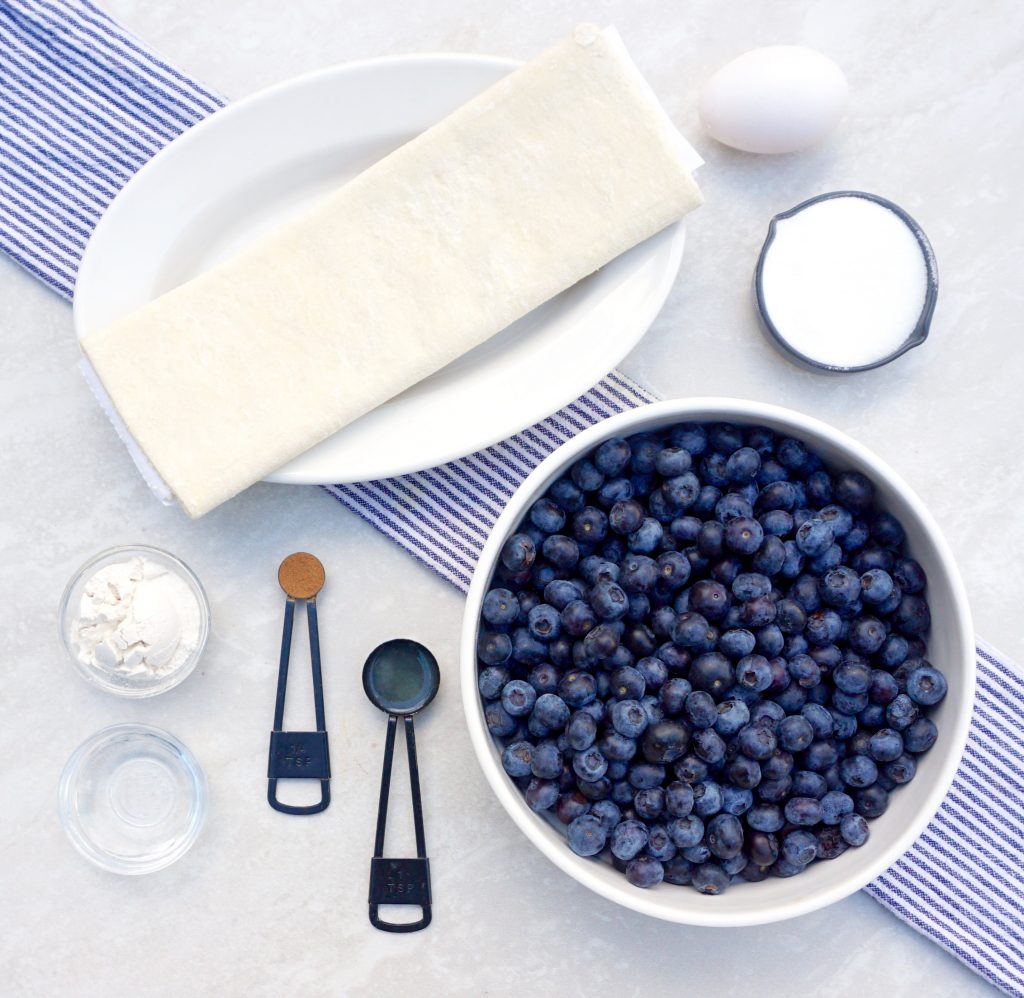 Blueberry Pot Pie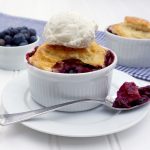 Print This
Ingredients
4 cups fresh blueberries

2 tablespoons all purpose flour

¼ cup granulated sugar

¼ teaspoon cinnamon

1 teaspoon lemon juice

1 sheet frozen puff pastry, defrosted

1 large egg

2 tablespoons water
Instructions
Preheat your oven to 375 degrees.
Make sure that you have picked over the blueberries, removing any stems and rinse them well.
In a large bowl combine the blueberries, flour, sugar, cinnamon and lemon juice. Stir well. The flour needs to coat all of the berries. Let it sit a few minutes and stir it again. It will start to become juice.
Divide the blueberry mixture between four ramekins. There is no need to grease them.
Lay the puff pastry flat, pressing out any folds with your finger. Use a ramekin turned upside down to cut your pie crust circle. Press hard to cut all the way through the pastry.
Place a puff pastry circle on each of the ramekins. You can use the pastry scraps to cut little decorative shapes for the top of the pie of you want.
Beat the egg and water together in a small bowl. Gently brush the mixture lightly over the tops of each crust. You want the entire crust coated but not excessively. The egg was will give the crust nice color and a bit of sheen.
Place the ramekins on a baking sheet. Place the baking sheet on a rack in the center of the oven.
Bake the pies for 20 minutes.