Creamy Mushroom Pappardelle is an easy, comforting pasta dish that you can make in 20 minutes. It is perfect for a weeknight dinner when you need a quick fix meal. This is creamy and flavorful. The combination of mushrooms make a great substitute for meat.
The sauce comes together in just about the time that it takes for the pasta water to come to a boil and cook the Pappardelle . Simply serve it with a green salad and some bread and you will have a nice dinner.
Mushrooms are always delicious paired with Pasta. If you are a fan, check out Mushroom Bolognese, Creamy Mushroom Baked Rigatoni,  Mushroom Gemelli, and  Creamy Sausage Rigatoni .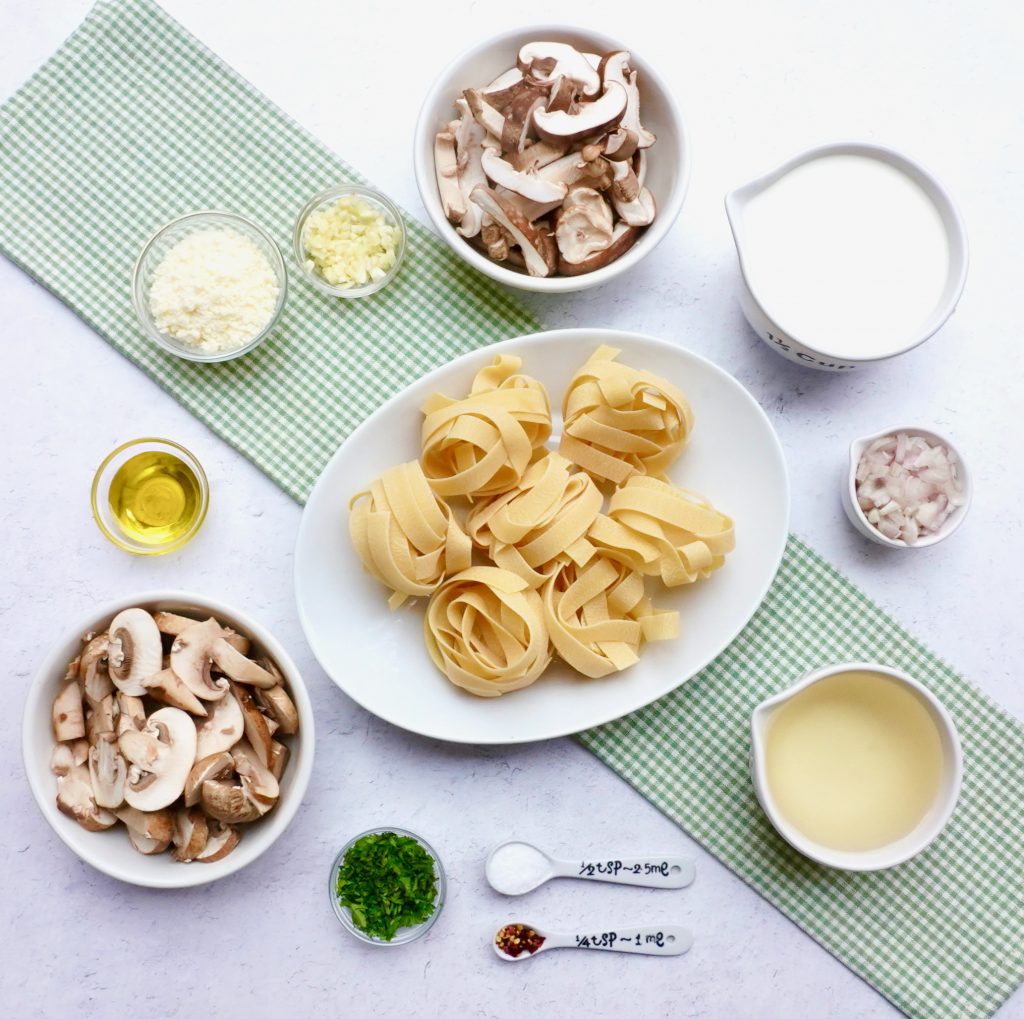 Creamy Mushroom Pappardelle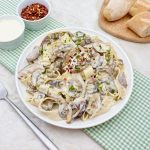 Print This
Ingredients
2 tablespoons olive oil

8 ounces fresh Baby Bella mushrooms, sliced

5 ounces Shiitake mushrooms, sliced

1 large shallot, chopped

2 garlic cloves, minced

1 cup dry white wine ( I used Pinot Grigio)

½ teaspoon kosher salt

¼ teaspoon crushed red pepper

1 ½ cups heavy cream

¼ cup grated Romano cheese (can substitute Parmesan)

2 tablespoons fresh parsley, chopped

8 ounces Pappardelle pasta
Instructions
Place a large pot of salted water on the stove over high heat. While you are waiting for the water to boil, you can begin preparing the sauce.
In a large skillet, heat the oil over medium low heat.
Add the mushrooms and shallots. Continue cooking until the mushrooms have released all their moisture and the shallots are soft. This will take 3-4 minutes.
Add the minced garlic and cook for an additional minute.
Add the wine, salt, and red pepper flakes. Simmer on low until  the wine has reduced down to half.
Add the heavy cream and simmer on low until the sauce begins to thicken. This should take about 5 minutes.
Stir in the Romano cheese and fresh parsley.
Cook the Pappardelle according to the instructions on the package for the tenderness you desire.  Keep the sauce warm over very low heat for a few minutes if needed in order to finish cooking the pasta.
Drain the Pappardelle  and return it to the  pot. Pour the sauce over the pasta. Stir to combine well.
Garnish and serve with additional cheese if desired.