Pumpkin Rum Bread Pudding is a great fall dessert. It is simple to make, very comforting and the rum is a great addition. You can assemble it quickly and serve it either warm or at room temperature. Warm is better! The creamy rum sauce really puts it over the top.
If you are not a fan of rum or alcohol simply leave it out. The bread pudding and the cream sauce will still be good without it. You could also serve it for breakfast without any sauce at all.
You can make the bread pudding up to 2 days before serving as long as you keep the rum sauce separate. See the instructions for reheating it.
Brioche is a good bread to use to make the bread pudding because it is a sturdy bread that allows it to soak up the custard and hold its shape. If you cannot find brioche, challah bread or a French baguette would also work.
If you are a fan of bread pudding you should check out Chocolate Brioche Bread Pudding, Mint Julep Bread Pudding and Strawberry Bread Pudding, and Bailey's Bread Pudding.
If you would like to try a different sauce, check out Chocolate Condensed Milk Bread Pudding Sauce.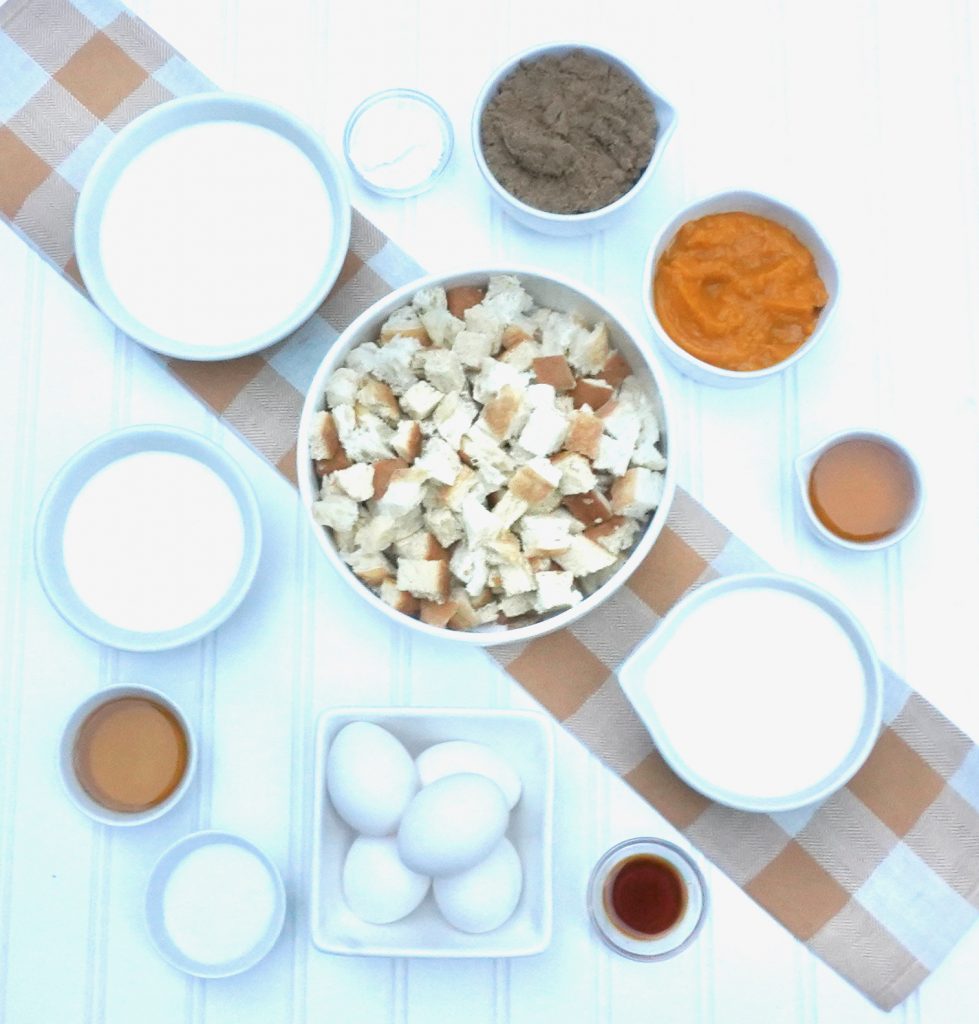 Pumpkin Rum Bread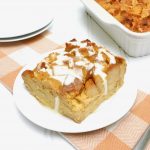 Print This
Ingredients
BREAD PUDDING:

6 cups 1" bread cubes, either challah bread, brioche or baguette

5 large eggs

2 cups whole milk

1 cup heavy cream

¼ dark rum

1 cup pumpkin puree, not pumpkin pie filling

1 teaspoon vanilla extract

1 cup dark brown sugar

cooking spray

RUM SAUCE:

1 ½ cups heavy cream

¼ cup granulated sugar

1 tablespoon cornstarch

2 tablespoons water

¼ cup dark rum
Instructions
BREAD PUDDING:
Pre-heat the oven to 350 degrees
Spray a 9" x 9″ pan with cooking spray.
Spread the bread cubes evenly in the pan.
Whisk the eggs in a large bowl. Add the milk, heavy cream, rum, pumpkin puree and vanilla extract. Combine well.
Stir in the brown sugar. Combine well.
Pour the wet mixture evenly over the bread cubes. You want to make sure that everything is evenly moistened.
Let the pan sit for 10- 15 minutes until all of the liquid has been completely absorbed.
Bake for 50-60 minutes. You will know it is done when you press the center and it is firm.
This can be served either warm or at room temperature with Rum Sauce.
RUM SAUCE:
Pour the cream into a medium sized saucepan.  Add the sugar. Bring it just to the boiling point over medium heat. Do not let it boil.
Add the cornstarch and water to a small bowl. Combine well.
Add the cornstarch mixture to the pan and cook over medium heat, whisking constantly for 30 seconds. This will thicken the mixture.
Remove from the heat and stir in the rum.
Serve either warm or at room temperature over the bread pudding.
TO MAKE AHEAD OF TIME:
Both the bread pudding and rum sauce can be made a day or two ahead of time and reheated. Store both the bread pudding and the rum sauce, covered in the refrigerator.
Preheat the oven to 350 degrees.
Cover the bread pudding with foil and place into the oven for 15-20 minutes until warmed through.
Place the rum sauce into a small saucepan and heat over low heat for 3-5 minutes until it is warm but not bubbling.