Roasted Strawberries is a great way to enhance the flavor. Roasting them really intensifies them and it is a good way to use up extra strawberries that are no longer perfect.
Just by simply roasting the strawberries in the oven at 350 degrees for 15-20 minutes, the natural sugar in the berries will be concentrated and they will develop a deep flavor. They are roasted with a bit of sugar and vanilla extract to create deep red,  flavorful strawberries with a little extra syrup.
Roasted Strawberries are good  mixed into plain Greek yogurt to create a slightly sweet snack. They would we delicious in a  strawberry shortcake as well or a good topping for vanilla ice cream. They are the best way to create a simple summer dessert.
If you are looking for other ways to use fresh strawberries check out Strawberry Bread Pudding, Strawberry Ricotta Cake,Strawberry Trifles, Strawberry Ice Box Cake, Strawberry Panna Cotta, and Strawberry Olive Oil Cake.
There are many more ways to use them in 20 Simple Summer Strawberry Recipes.
SOME THINGS TO KNOW:FAQ'S
SPECIAL EQUIPMENT NEEDED:
Rimmed baking sheet
Parchment paper
INGREDIENT TIP:
SUBSTITUTIONS:
If you do not have granulated sugar, you could use cane sugar, light brown sugar or honey to sweeten the berries.
ADDITIONS:
Balsamic vinegar would make a good addition. If you would like to make Balsamic Roasted Strawberries, simply add 2 tablespoons of balsamic vinegar to the strawberries and leave out the vanilla extract.
Rhubarb would also make a good addition. Add 2 cups of chopped rhubarb to the strawberries on the baking sheet. Increase the granulated sugar to 3 tablespoons and increase the vanilla extract to 2 teaspoons.
HOW TO STORE ROASTED STRAWBERRIES:
You can keep the roasted strawberries in an airtight container in the refrigerator for 3-5 days.
You can freeze the roasted strawberries for 2-3 months in an airtight freezer container.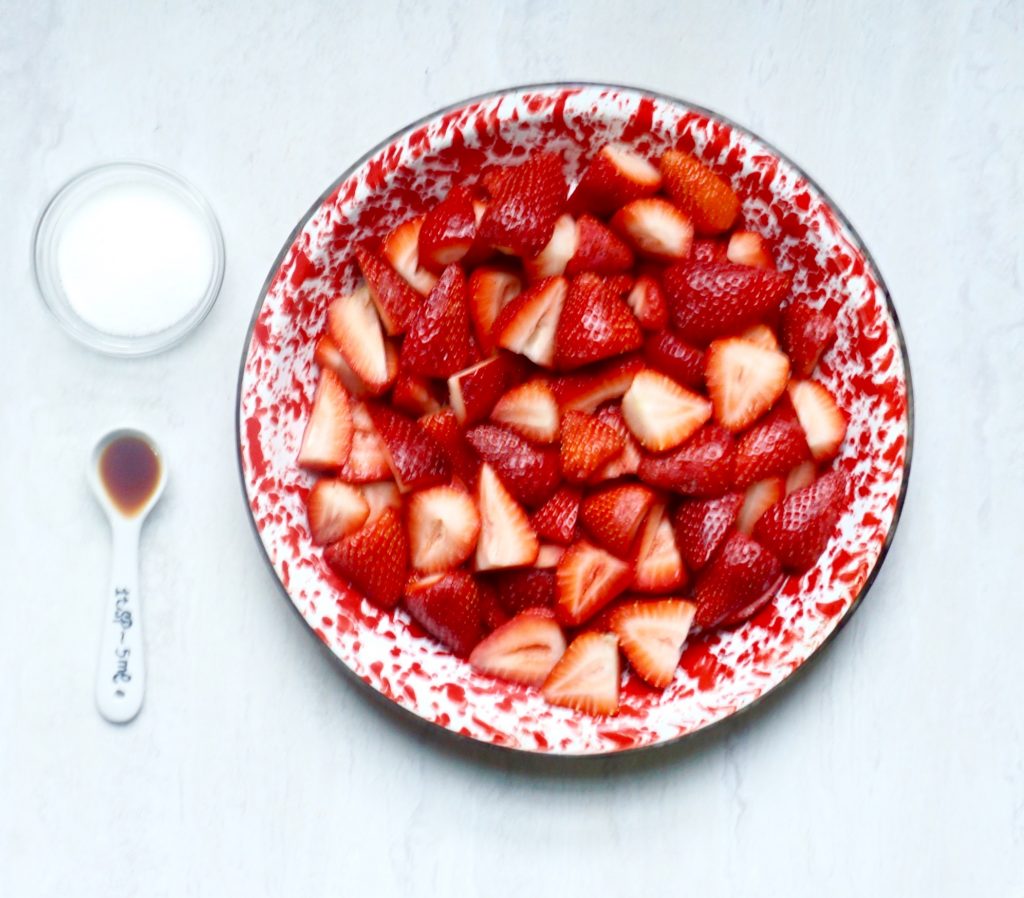 : 
Roasted Strawberries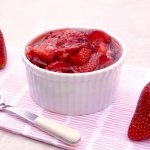 Print This
Ingredients
1 pint fresh strawberries, sliced (2 cups)
2 tablespoons granulated sugar
1 teaspoon vanilla extract
Instructions
Preheat oven to 350 degrees
Line a rimmed baking sheet with parchment paper.
Prepare the strawberries. Rinse the berries and place them onto a paper towel to absorb the moisture. Cut the stem off the top of the strawberries and cut them into lengthwise slices.
Add the strawberries to the baking sheet
Add the sugar and vanilla. Use a rubber spatula to combine the sugar and vanilla with the strawberries.
Roast for the strawberries for 15 – 20 minutes, stirring them with the rubber spatula halfway through.
Remove the strawberries from the oven and let them cool on the baking sheet to room temperature.
Spoon the strawberries in to serving or storage container. Make sure you capture all of the juicy syrup as well!
Refrigerate the berries until you are ready to serve them.