Air Fryer Pita Chips are a perfect snack and they are so easy to make! With just 4 ingredients, a few simple steps, and a cooking time of 4-5 minutes you can make delicious air fryer pita chips at home. This is a great way to use that leftover pita bread!
You can use some store-bought pita bread for these homemade chips. You might just want to keep a bag of pita bread on hand to make these to serve with your favorite dip. You could also pair these chips with hummus to make a perfect healthy snack.
SOME THINGS TO KNOW:
SUBSTITUTIONS:
If cannot find Everything but the Bagel Seasoning, you can make your own. Combine a slightly rounded teaspoon of each of  the following ingredients to do this. You will need sesame seed, sea salt, garlic powder, onion powder and poppy seeds.
If you have some favorite spices or spice blends, sprinkle them on instead! Italian seasoning would be a good addition or a blend of your favorite seasonings. They can also be seasoned very simply with sea salt and black pepper.
You can also be flexible with the oil that you use. If you do not want to use olive oil, simply use a vegetable oil, avocado oil, sunflower oil, or coconut oil.
If you do not want to use whole wheat pita bread, it also comes as white pita bread, low carb or gluten free.
WHAT TO SERVE THE PITA CHIPS WITH:
Mezze Dips, Tzatziki, Chimichurri Hummus, Red Pepper Hummus, or Beet Hummus.
STORAGE:
You can keep any leftover chips for 2-3 days at room temperature in an airtight container or ziplock bag.
You can freeze any leftover chips for 2-3 months. Lay the chips on a baking sheet and place it into the freezer. Once the chips are frozen, remove them to an airtight freezer container and return them to the freezer.
To defrost the chips, lay them in a single layer onto a wire baking rack.
If you want to reheat the chips,place them into the air fryer that has been pre-heated to 350 degrees for 1 minute.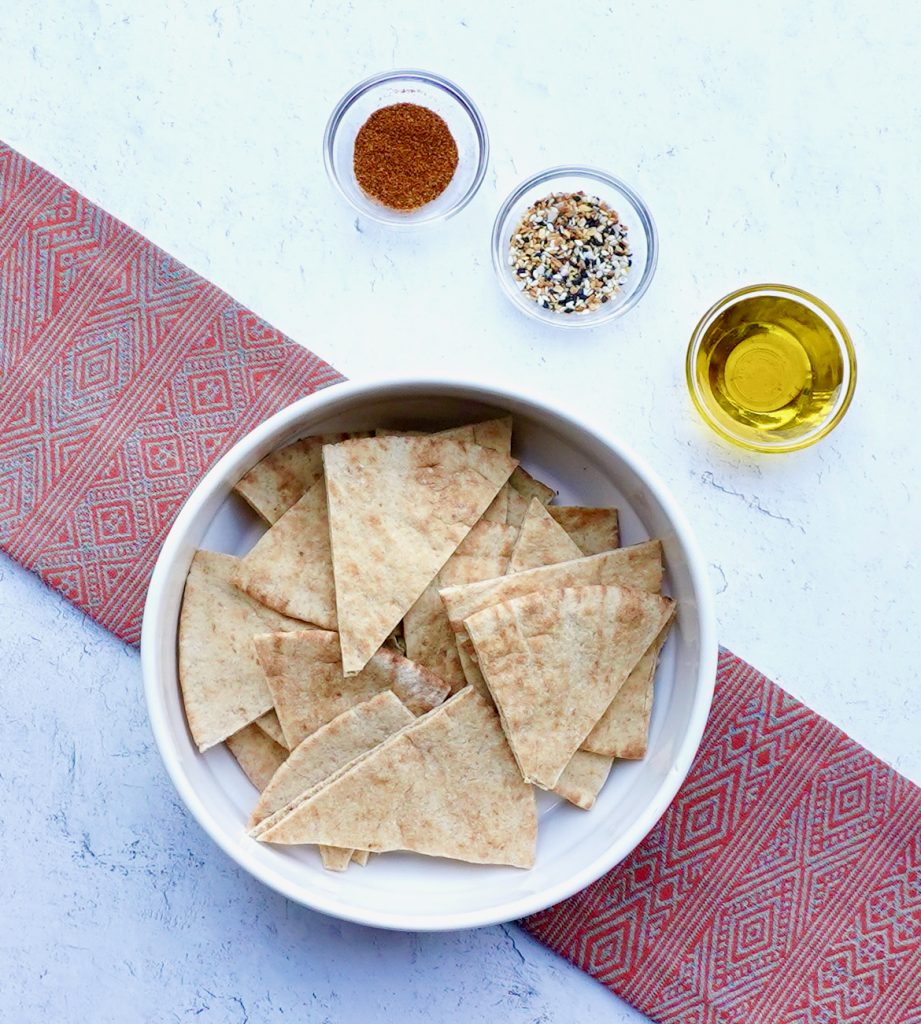 Air Fryer Pita Chips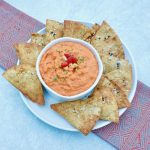 Print This
Ingredients
4- 6 inch whole wheat pita bread

2 tablespoons extra virgin olive oil

2 tablespoons Everything but the Bagel Seasoning blend

½ teaspoon paprika
Instructions
Cut each of the pita breads in half, straight down the middle. Cut each half into 3 equal triangles. (A pizza cutter would make this very easy.)
Lay the pita triangles in a single layer on a cutting board or baking sheet lined with parchment paper.
Use a pastry brush to lightly brush the olive oil over both sides of the pita triangles.
Combine the Everything but the Bagel Seasoning and the paprika and sprinkle the mixture over the tops of the pita wedges.
Preheat the air fryer for 2 minutes to 350 degrees.
Place the pita triangles into the air fryer basket.
Let the chips cook for 3 minutes.
Remove the basket from the air fryer and give it a good shake to turn the chips over.
Cook the chips for an additional 2 minutes. Remove the basket from the fryer and check the chips. You should have crispy air fryer pita chips that are golden brown.
If you want to achieve the very crispiest results, you can cook the chips for an additional minute.
Serve the warm pita chips with your favorite dip.