Shrimp Corn and Avocado Salad is a great summer salad. Sweet corn cut off the cob and ripe summer tomatoes are paired with shrimp and avocado then dressed in a creamy but light cilantro buttermilk dressing. It is perfect for those hot summer nights when you want to have a great dinner but do not want a hot meal.
I have put in prep times and cook times for this recipe but they are pretty variable. You could easily buy shrimp already cooked and eliminate the cooking time or buy the shrimp already peeled and deveined and knock a few minutes off the prep time there. I have also given you instructions in the notes so you can make your own buttermilk if you do not want to purchase a container just for this recipe. It is simple to make but you will need an additional 15 minutes to let it sit.
It is hard to be precise on the timing for this prep but it is an easy recipe, it will not take long at all and it is a filling and flavorful salad.
You might also like Shrimp Salad.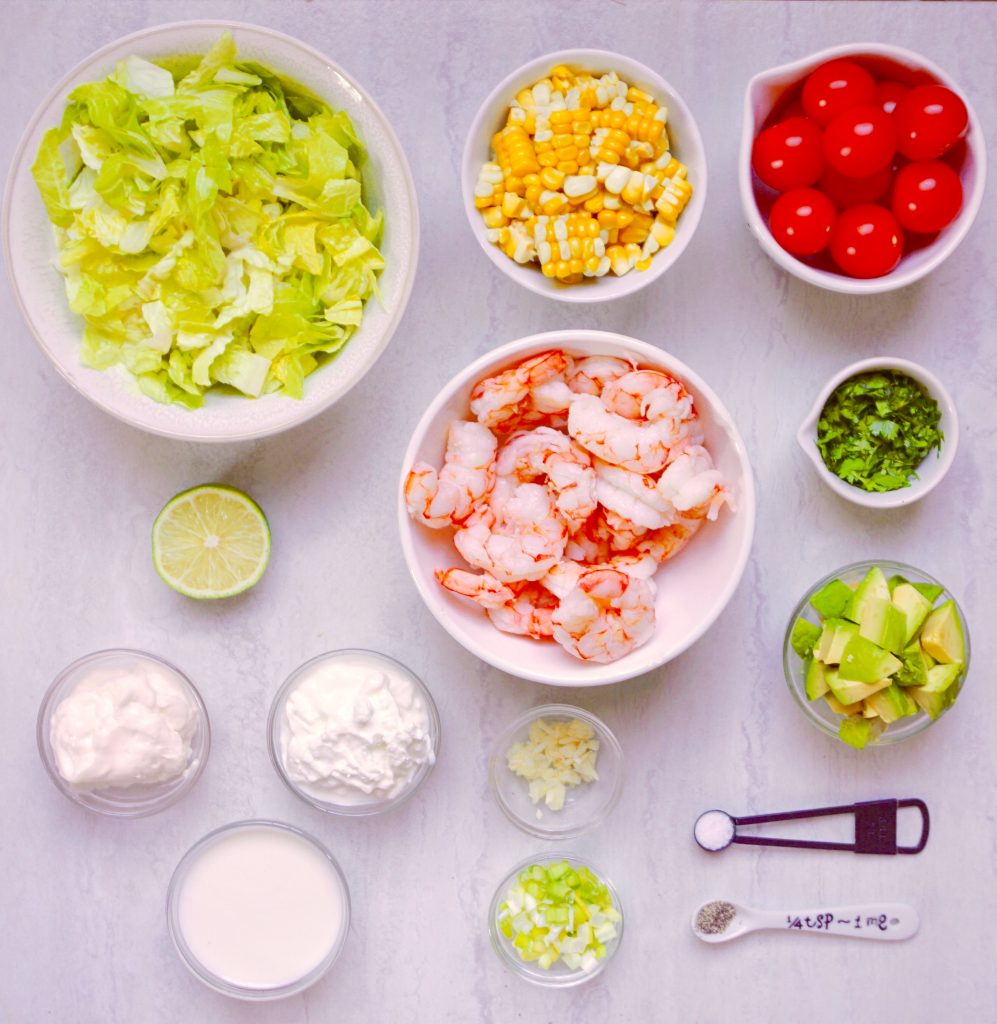 Shrimp Corn and Avocado Salad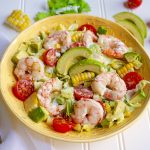 Print This
Ingredients
SALAD:
¾ pound of shrimp, peeled, deveined and cooked
1 ear fresh corn, cooked and removed from the cob
1 avocado, cut into small cubes
1 teaspoon fresh lime juice
1 cup cherry tomatoes
4 cups romaine lettuce, shredded
DRESSING:
1/3 cup buttermilk
1/3 cup light mayonnaise
1/3 cup Greek yogurt
¼ cup fresh cilantro, chopped
2 tablespoons scallions, finely chopped
1 clove garlic, chopped
1 tablespoon fresh lime juice
¼ teaspoon salt
¼ teaspoon black pepper
Instructions
To cook the shrimp, bring 3 quarts of water to boil in a large saucepan. Add the shrimp and cook for 3 minutes until they are just barely cooked through. Remove and drain. Cool.
To cook the corn, bring a pot of water to a boil. Add the corn and boil for 3-5 minutes depending on how crisp you like it.
Pour the teaspoon of fresh lime juice over the avocado cubes and stir in order to keep them from browning.
In a large bowl, combine the cooled shrimp, cooled corn, avocado, cherry tomatoes and romaine. Mix
together.
In a small bowl combine the buttermilk, mayonnaise, Greek yogurt, cilantro, scallions, garlic, lime juice, salt and pepper.
Stir well and pour over the salad. Serve at once.
Notes
Buttermilk can be made at home easily. To make your own you simply add either a tablespoon of vinegar or lemon juice to a cup of milk and let it sit for 15 minutes. For this recipe, add 1 teaspoon of vinegar or lemon juice to 1/3 cup milk.