This Shrimp Salad recipe,adapted from Ina Garten is the best Shrimp Salad that I have ever tasted. The dill is an addition that I would have never thought of and it is everything!
Shrimp Salad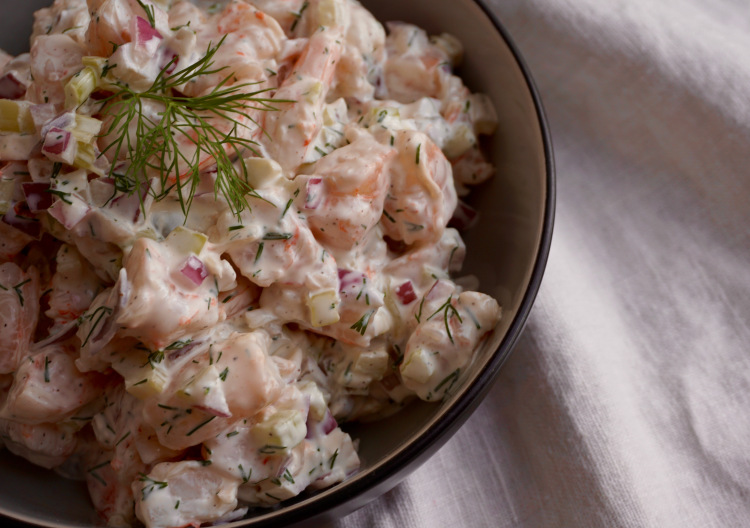 Print This
Ingredients
SALAD:
1/2 tsp kosher salt
1 lemon cut into quarters
2 pounds large shrimp; peeled and deveined
1 cup good mayonnaise
1/2 teaspoon Dijon mustard
1 tablespoon white wine or white wine vinegar
1/2 teaspoon freshly ground black pepper
3 tablespoons minced fresh dill
1/2 cup minced red onion (1/2 onion)
1 1/2 cups minced celery (3 stalks)
Instructions
 Bring 3 quarts of water to a boil with 1 tablespoon of salt and lemon slices in a large saucepan. Add the shrimp and reduce the heat to medium. Cook uncovered for only 3 minutes or until the shrimp are barely cooked through. Remove from heat, drain and rinse with cold water.
Cut the cooled shrimp into pieces, about 3 pieces per shrimp.
In a separate bowl, whisk together the mayonnaise, mustard, wine or vinegar, 1/2 teaspoon of salt, pepper and dill. Combine with the shrimp pieces. Add the red onion and celery and check the seasonings.