Homemade Strawberry Drop Biscuits are easy to make biscuits that would be good to bake during strawberry season. Infused with fresh strawberries and glazed with a light vanilla icing, these drop biscuits are a summertime favorite. But really, they're so good, you'll want to bake these homemade biscuits all year round.
These strawberry drop biscuits are a delicious treat that's perfect for summer. They're buttery, slightly sweet biscuits, packed with fresh strawberries, making them an ideal choice for breakfast, brunch, or dessert. The light, vanilla glaze adds just the right touch of sweetness to the biscuits.
If you like this easy strawberry biscuit recipe and would like to try a biscuit dessert made with fresh berries, fluffy biscuits and whipped cream check out Berry Shortcake.
If you would like some other recipes to bake with fresh strawberries, check out Strawberry Streusel Banana Bread, Strawberry Rhubarb Cake, Baked Berry Pancake, Strawberry Blondies, Strawberry Ricotta Cake, and Strawberry Rhubarb Bars.
If you make these Homemade Strawberry Drop Biscuits for a special brunch, you might want to serve them with Strawberry Mimosas!
You should also check out, 20 Simple Summer Strawberry Recipes.
SOME THINGS TO KNOW: (FREQUENTLY ASKED QUESTIONS)
SPECIAL EQUIPMENT NEEDED:
Large baking sheet
Large mixing bowl
Pastry cutter or food processor
Parchment paper
Wire cooling rack
SUBSTITUTIONS: 
If you do not have fresh strawberries, you could substitute fresh raspberries or blueberries.
If you do not have all purpose flour, you could use pastry flour or cake flour in the same ratio.
If you do not have unsalted butter, salted butter would be fine.
You can replace the heavy cream that is brushed onto the tops of the biscuits with milk or buttermilk.
STORAGE:
Homemade Strawberry Drop Biscuits are best eaten right away. You can keep them in an airtight container or tightly wrapped in plastic wrap for 1-2 days at room temperature. If you plan to eat them later than that, it is best to freeze them.
You can freeze the strawberry biscuits for 2-3 months. Place the biscuits into the freezer on a baking sheet that has been lined with either wax paper or parchment paper. Once the biscuits are frozen, remove them from the baking sheet and place them into an airtight freezer container before returning them to the freezer.
Defrost the frozen biscuits by placing them onto a wire cooling rack until they are at room temperature.
Check out The Best Way To Store Strawberries to help keep fresh berries longer.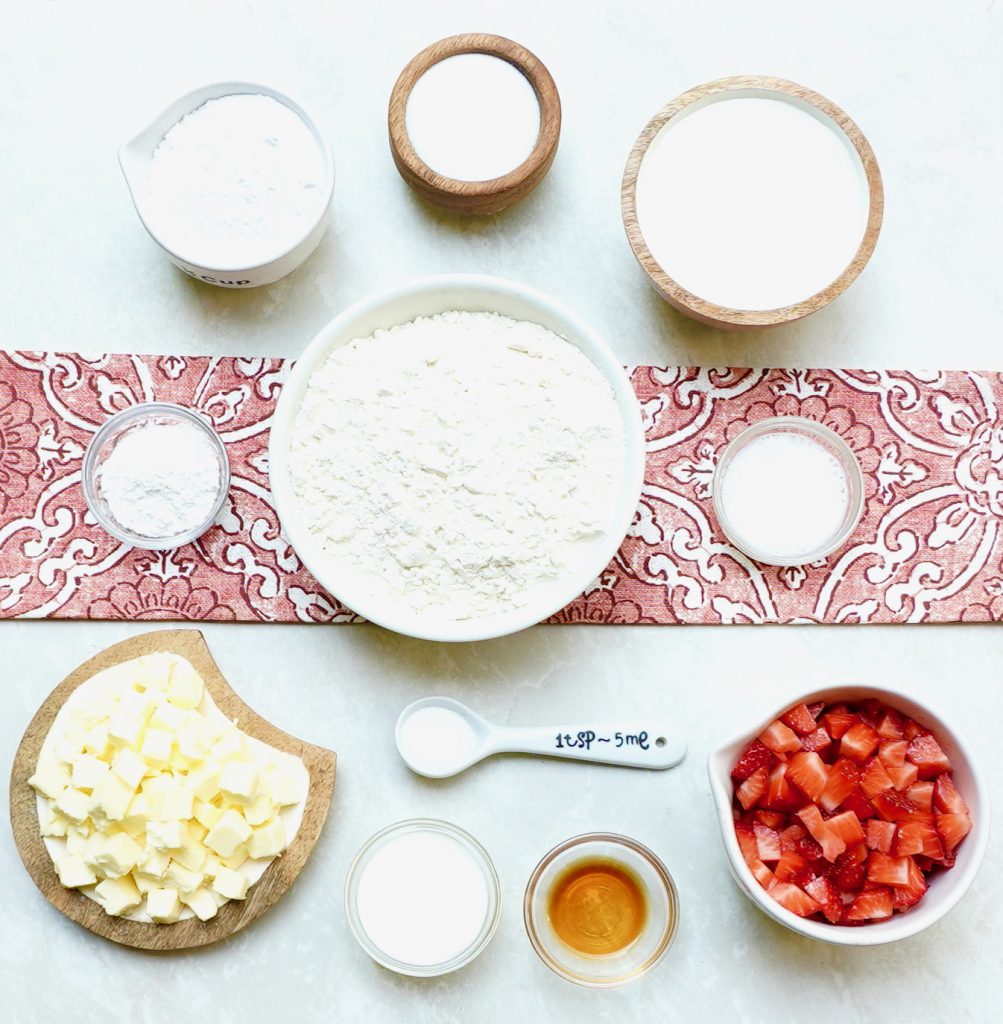 Homemade Strawberry Drop Biscuits
Print This
Ingredients
BISCUITS:

2 cups all purpose flour

3 tablespoons granulated sugar

1 tablespoon baking powder

1 teaspoon salt (iodized table salt)

6 tablespoons unsalted butter, cubed and cold

⅔ cup cold buttermilk

1 cup fresh strawberries, chopped (make sure to use ripe strawberries)

1 tablespoon heavy cream

GLAZE:

½ cup powdered sugar

½ teaspoon vanilla extract

1-2 tablespoon milk
Instructions
BISCUITS:
Preheat your oven to 400 degrees Fahrenheit.
Line a large baking sheet with parchment paper.
Combine the flour, sugar, baking powder, and salt in a large bowl. Stir until everything is well mixed.
Add the cubed pieces of cold butter to your dry ingredients. Using your fingers or a pastry blender/cutter,  work the butter into the flour until the mixture has coarse crumbs. The aim is to have pea-sized small pieces of butter distributed throughout. This helps to create the flaky layers.
You could  also cut the butter into the flour mixture in the bowl of a food processor. Simple add the butter cubes and pulse them until you have a crumbly texture. Make sure when you get to this point, to remove the dough from the processor to a large bowl so you can add the buttermilk and strawberries.
Pour in the buttermilk and gently mix until the biscuit dough starts to come together. Be careful not to over mix the dough.
Fold in the fresh, chopped strawberries. Try to distribute the pieces of strawberry evenly throughout the dough.
Use a ⅓ cup measuring cup to scoop out the dough. (No biscuit cutter needed.)Place a level ⅓ cup of dough onto the prepared baking sheet for each biscuit. Leave 2 inches space between each biscuit. You should have 8 biscuits.
Use a pastry brush to lightly brush the heavy cream over the tops of the biscuits.
Bake for 12-15 minutes, or until the biscuits are a light golden brown. Oven temperatures can vary. If your oven runs hot, start checking the biscuits right at 12 minutes.
Let the biscuits cool on the baking sheet for a few minutes then remove them to a wire rack to cool completely.
GLAZE:
While your biscuits are cooling, whisk together the powdered sugar, vanilla extract, and milk in a medium bowl to create a glaze. If the glaze is too thick, add a little more milk. a teaspoon at a time.
If the glaze is too thin, add more powdered sugar a teaspoon at a time.
Once the biscuits have cooled, drizzle the glaze over the top of the biscuits using a spoon and moving your hand in a back and forth motion over the tops of the biscuits.
Happy baking, and enjoy your homemade strawberry drop biscuits!