If you are looking for a different way to use up your leftover turkey meat from Thanksgiving, you might want to try making Leftover Turkey Quesadilla. Shredded turkey is combined with pepper jack cheese and a fresh cranberry salsa to create a flavorful quesadilla that does not taste like leftovers at all.
These delicious quesadillas are so simple to make and what's better than something made with melted cheese? The warm cheese is a nice contrast to the fresh salsa that has the slightest touch of heat. With just a handful of ingredients you can make an easy lunch.
If you are looking for some other leftover turkey recipes, check out Turkey Tetrazinni Ziti, Turkey Gnocchi Soup, and Creamy Turkey Wild Rice Soup.
If you are a fan of quesadillas, you might want to try Chicken Enchilada Quesadilla, Black Bean Pepper Quesadilla, Loaded Chicken Quesadilla and Summer Shrimp Quesadilla.
SOME THINGS TO KNOW:
Leftover Turkey Quesadillas are a great way to use up your turkey leftovers but you can also make them with cooked chicken or rotisserie chicken.
If you do not want to make the cranberry salsa, you could leftover cranberry sauce instead.
This recipe calls for flour tortillas but you could also use whole wheat tortillas or corn tortillas.
Pepper Jack is a version of Monterey Jack cheese that has sweet and spicy peppers, garlic and rosemary added to it. If you cannot locate it you can use Monterey Jack cheese, Brie cheese, Cheddar cheese or any good melting cheese that you have on hand.
The cranberry salsa has a Jalapeno pepper in it. The seeds and ribs were removed so there is just a bit of heat in it.If you are not familiar with using them check out How to cut a Jalapeno for tips on how to do it.
How long you can keep any leftover quesadillas in the fridge will depend on how many days ago the turkey was cooked. It is recommended that leftover turkey be used within 3-4 days of cooking it. Make sure any leftovers are placed in the refrigerator in an airtight container or plastic wrap.
Leftover Turkey Quesadilla can be frozen for 2-3 months. Make sure that they are placed into an airtight freezer container.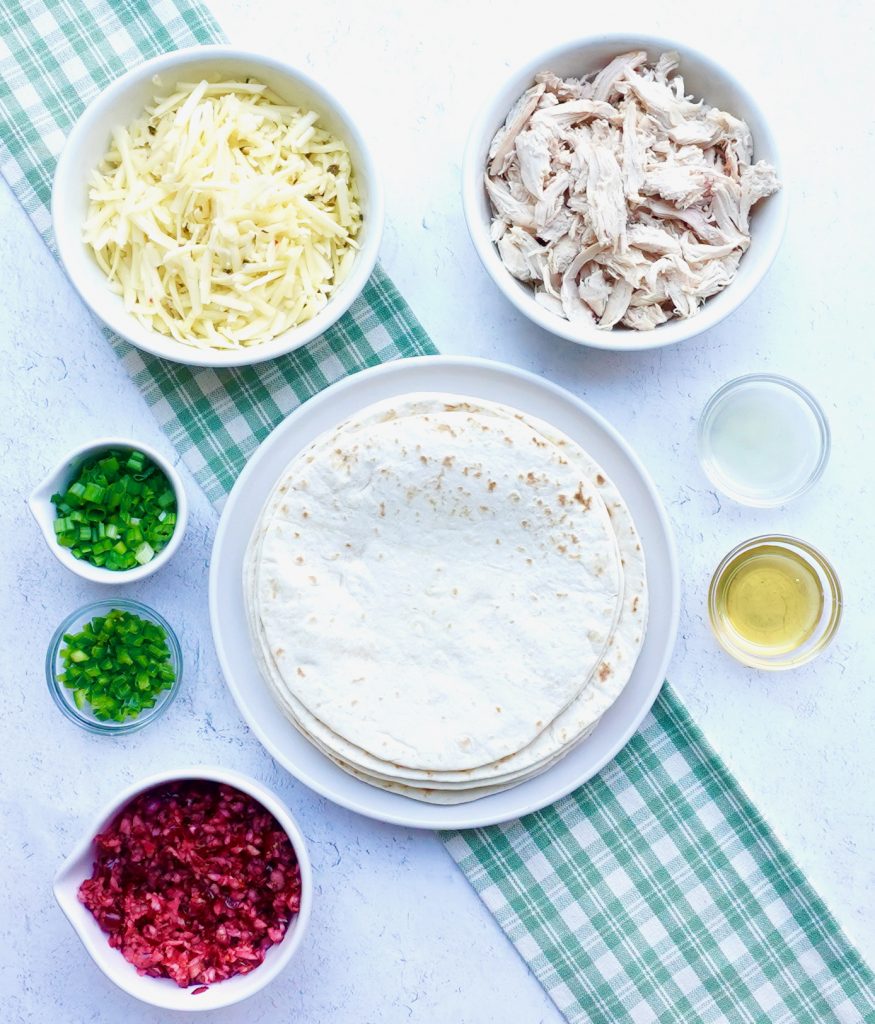 Leftover Turkey Quesadilla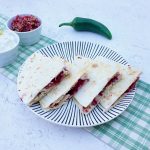 Print This
Ingredients
8 flour tortilla (6 inch)

2 cups pepper jack cheese, grated

2 cups cooked turkey, shredded

1 cup fresh cranberries, chopped fine

¼ cup green onions, finely chopped

1 small Jalapeño pepper, seeds and ribs removed, finely chopped

1 tablespoon lime juice

1 tablespoon honey
Instructions
Place 4 of the tortilla on a work board.
Sprinkle ¼ cup of the shredded cheese evenly over each of the bottom tortilla.
Sprinkle ½ cup of the shredded turkey evenly over the cheese on each tortilla.
In a small bowl, combine the cranberries, green onion, Jalapeño pepper, lime juice and honey. Stir well.
Spoon ¼ cup plus 1 tablespoon of the salsa mixture evenly over the turkey on each tortilla. Spread it out evenly with the spoon.
Sprinkle ¼ cup of the cheese evenly over each of the tortilla.
Place the remaining tortillas over the top of each.
Cook in a large skillet or on a griddle over medium heat. You will be cooking these in a dry pan. The tortilla should not stick to the pan but if you are concerned, you can spray a bit of cooking spray.
Let the first side cook for 2 to 2 ½ minutes until the cheese on the bottom has melted and the tortilla is a light golden brown.
Carefully turn the tortilla over using a long spatula that will support the entire thing.
Cook for an additional 2 to 2½ minutes on the uncooked side.
If you are cooking these in batches, place the cooked quesadillas on a sheet pan in a 200 degree preheated oven to keep them warm while you finish cooking the others.
Place the quesadillas on a cutting board and cut them into four pieces.
Serve the quesadillas with sour cream.