Pasta e Fagioli is a traditional Italian soup made with cannellini beans, vegetables and pasta. It is hearty and comforting, yet not too heavy. It's a good choice for the change of seasons when you still have some cold days that call for something warm and comforting.
This traditional Italian recipe started as a peasant soup. It is made with inexpensive ingredients which make an economical yet tasty meal.
Pasta e Fagioli is an easy to make, vegan soup. It's lighter than my all time favorite Tortellini Soup and a perfect meal for Meatless Mondays! Serve it with some crusty bread and grated parmesan cheese.
If you want to try some other vegan soups, check out 10 Simple Vegan Soups.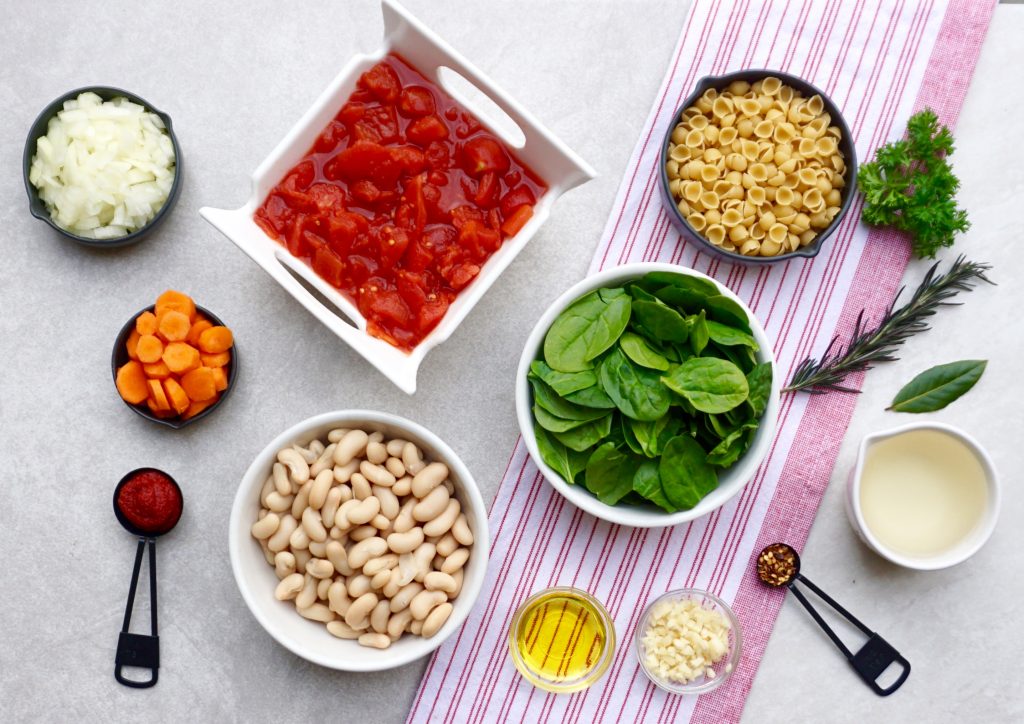 Pasta e Fagioli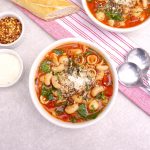 Print This
Ingredients
1 tablespoon olive oil

1 medium onion, diced

2 garlic cloves, minced

2 carrots, cut into slices

28 ounce can diced tomatoes

½ cup white wine

2 tablespoons tomato paste

4 cups water

1 sprig fresh rosemary or 1 teaspoon dried

1 teaspoon kosher salt

½ crushed red pepper

1 bay leaf

15 ounce can cannellini beans

2 cups baby spinach, stems removed and chopped

2 tablespoons fresh parsley

1 cup small shell pasta
Instructions
Heat the olive oil in a large stock pot over medium low heat. Add the onion, garlic and carrots and cook for 3-4 minutes until they start to soften.
Add the diced tomatoes, wine, tomato paste, water, rosemary, salt, crushed red pepper, and bay leaf. Turn the heat up to high to bring to a boil.
Reduce the heat to low, cover the pot and simmer for 20 minutes.
While the stock is simmering, bring a large pot of water to a boil and cook the the shell pasta, slightly less than the directions for el dente on the package. The pasta will cook a bit more when added to the soup. Drain.
Stir in the cannellini beans, spinach and parsley. Simmer and stir until the spinach wilts, 1-2 minutes.
Add the pasta and simmer for 5 minutes until everything is heated through.