Cioppino is an Italian American Fisherman's stew that originated in San Francisco. It is tomato based with lots of veggies and can be pretty flexible as to what seafood you want to add to it. I have served this as a special dinner and I have also served it at a Super Bowl party. It can be dressed up or down and be totally appropriate either way and delicious.
If you want to try another seafood soup, check out New England Clam Chowder and Lobster Bisque.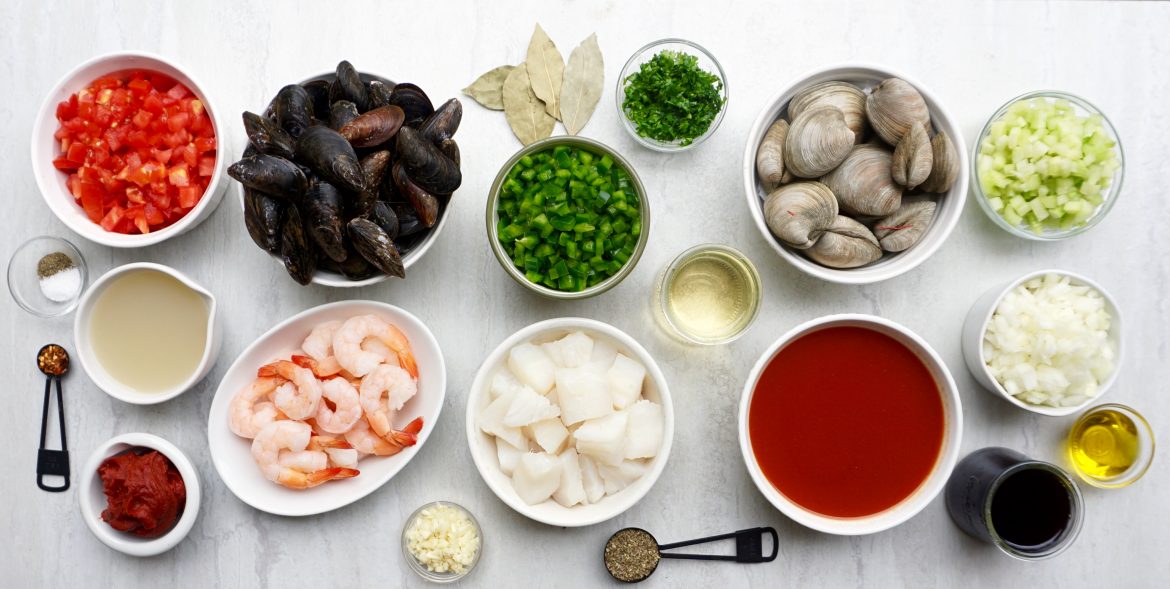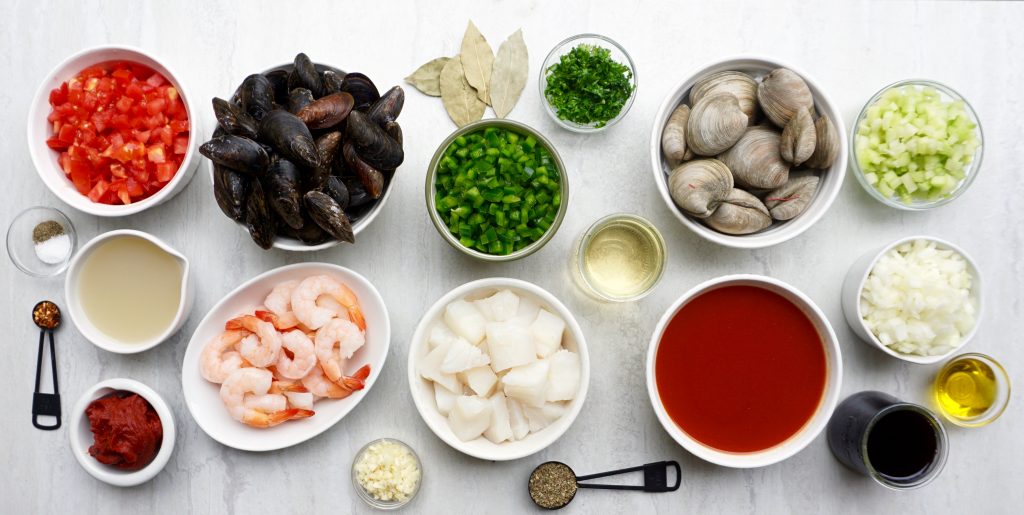 : 
Cioppino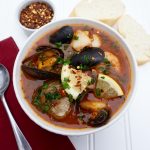 Print This
Ingredients
¼ cup olive oil
2 large onions, chopped
2 large green bell peppers, chopped
6 celery stalks, leaves removed and chopped
5 large garlic cloves,diced
1 cup parsley, minced and divided
1 - 46 ounce bottle V8 vegetable juice
1 ½ cups dry white wine
1 ½ cups red wine
1 - 8 ounce bottle clam juice
1- 6 ounce can tomato paste
4 large tomatoes, seeded and diced
1 tablespoon Italian seasoning (basil, oregano, rosemary and thyme)
4 bay leaves
1 teaspoon red pepper flakes (or to taste)
Salt and pepper (to taste)
1 to 1 ½ pounds cod, cut into 2 inch cubes
1 ½ bag live mussels, scrubbed
1 ½ dozen littleneck clams, scrubbed
1 pound large shrimp, peeled and deveined
Instructions
Heat the olive oil in a large stockpot over medium low heat until hot. Add the onion, green pepper, celery, garlic and ¼ cup of the parsley and cook until vegetables are soft. Add the V8 vegetable juice, red wine, white wine, clam juice, tomato paste, tomatoes, Italian seasoning, bay leaves, red pepper, salt, pepper and blend well. Bring to a boil and then reduce heat to low.Simmer for 30 minutes. Add the cod and simmer 5 minutes. Add the shrimp and continue to simmer until pink, about 3 minutes. Add clams and cook until clams open, about 4 minutes. Ladle into soup bowls or any vessel you may be using. Garnish with remaining parsley. 
Notes
Tina's note: Ciopinno is best if the broth is made ahead and refrigerated overnight to blend the flavors. This is the best advice! Making the broth a day ahead of time is better for both the flavors and the ease of serving. Once the broth is made it is easily reheated. When you are ready to serve it add the seafood and it will be ready in a matter of minutes.