Caldo de Queso is a Mexican potato cheese soup with tomatoes and chiles. This flavorful traditional soup has a slight touch of heat and is so easy to make. It is a hearty, delicious soup that is made with vegetable broth so it is a good vegetarian option.
This flavorful soup originated in northern Mexico in the state of Sonora and is also know as Caldo de Queso Con Papas. This traditional recipe for Mexican potato soup is budget friendly, comforting, delicious and so easy to make. This simple, yet hearty soup is perfect for weeknight dinners.
If you like the flavors of Mexican soups, check out Chicken Tortilla Soup.
If you want to try a Mexican cheese dip, check out Queso Dip.  You might also like Corn Tortilla Quesadilla.
A good creamy Mexican chicken recipe is Mexican Chicken Crema.
SOME THINGS TO KNOW:
SPECIAL EQUIPMENT NEEDED:
Large stock pot, soup pot or Dutch Oven.
SUBSTITUTIONS:
If you do not have vegetable broth, you can use chicken broth, chicken stock or chicken bouillon dissolved into hot water to make four cups.
If you have a hard time locating Queso Fresco cheese, the best substitutes for this mild, creamy white fresh cheese are Queso Blanco, Queso Panela, or Cotija Cheese. If you cannot locate Mexican cheeses at your grocery store a type of cheese to try is Ricotta Salata. Monterey Jack cheese will also work in a pinch.
Red potatoes add nice color to the soup as they have a thin skin and do not need to be peeled (just scrubbed well). Yukon Gold potatoes are similar as they are thin skinned and do not need to be peeled. You can also use Russet potatoes and white potatoes but make sure to peel them before using them.
You can substitute the yellow onion with red onion, white onion or sweet onion.
Poblano Peppers are traditionally used in this soup but are not readily available in all areas. If you can locate these California peppers or Anaheim peppers , you can use the in place of the green chiles. They will need to be roasted and seeded. You will need ½ cup chopped roasted peppers. Check out Best Roasted Peppers to see how to do this.
Heavy cream creates a creamier soup but it can also be made with whole milk.
You can substitute the canola oil with olive oil or vegetable oil.
WHAT TO SERVE WITH CALDO DE QUESO:
Tortilla strips as pictured are made in an air fryer. Brush two flour tortillas on both sides with oil (canola, vegetable or olive). Cut them vertically in the center and then cut each half into ½ inch strips. Heat the air fryer to 325 degrees and place the strips into the basket. Cook for 3 minutes and remove the basket from the fryer and shake it so the strips are moved around. Cook at 1 minute intervals, checking the strips and shaking them up in the basket until they are lightly brown and crisp.
Corn Chips and Tortilla Chips are also good options.
HOW TO STORE THE LEFTOVERS:
You can store any leftover Caldo de Queso in the refrigerator in an air-tight container for 3-5 days. Let the soup cool to room temperature before placing it into the refrigerator.
You can also freeze the soup for 2-3 months by placing it into the freezer in an airtight freezer container.
Defrost the soup in the refrigerator overnight.
REHEATING:
Reheat the soup in a saucepan on the stove over medium low heat until it is heated through.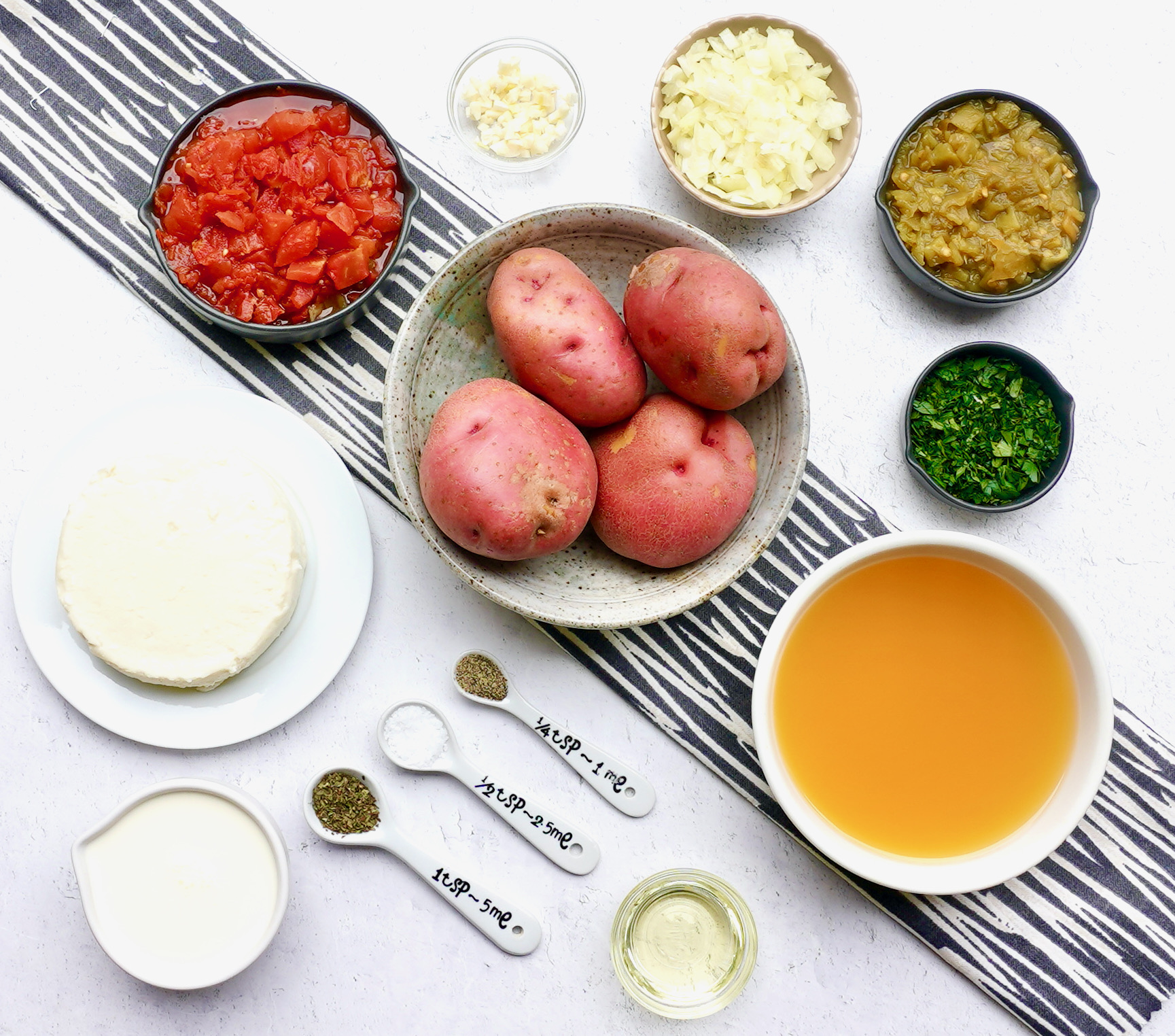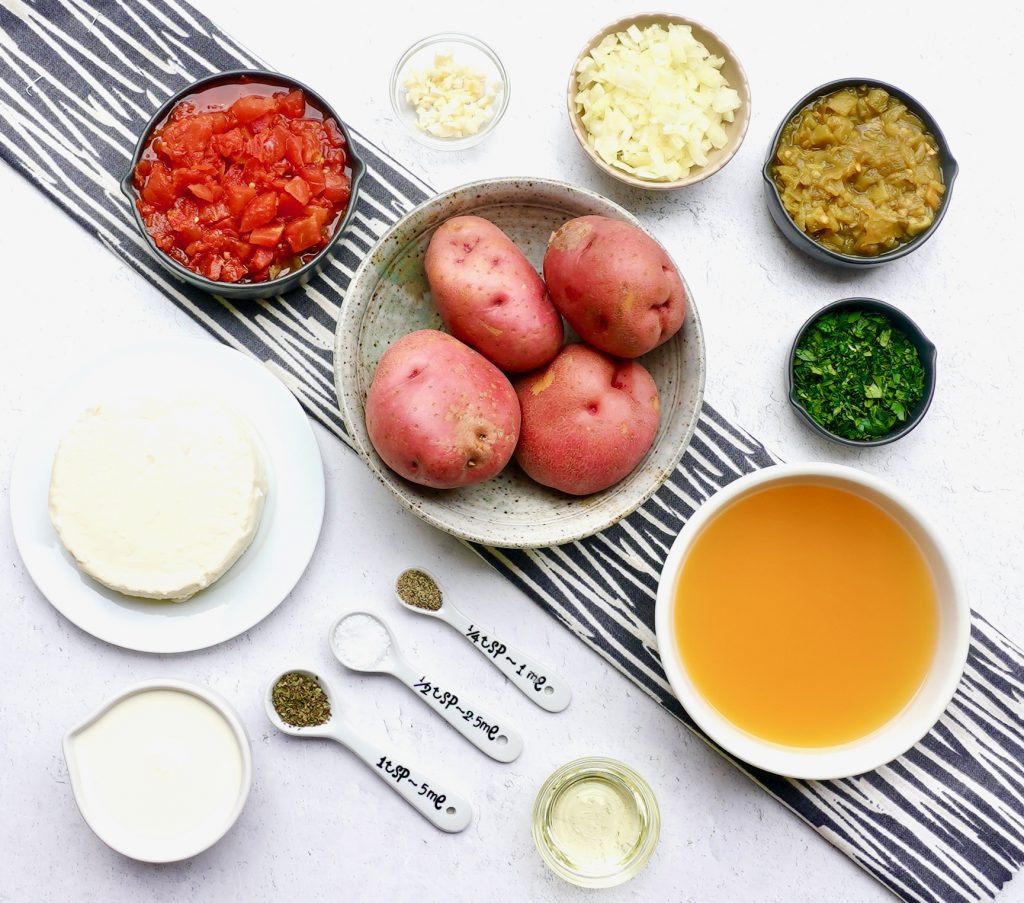 Caldo de Queso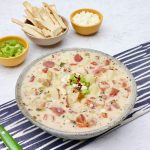 Print This
Ingredients
2 tablespoons canola oil

½ cup yellow onion, chopped (½ medium onion)

2 garlic cloves, minced

4 cups vegetable broth

10 ounce can Rotel diced tomatoes with green chiles

1 teaspoon dried oregano

½ kosher salt

¼ teaspoon black pepper

4 medium red potatoes, skin on cut into ½ cubes. (Make sure they are well scrubbed before cubing)

4.5 ounce can chopped green chiles

½ cup heavy cream

10 ounce Queso Fresco cheese, crumbled or cubed

¼ cup fresh cilantro

optional garnish: green onions chopped
Instructions
Heat the canola oil in a large pot or Dutch oven over medium heat. Add the chopped onion and cook for 2-3 minutes, or until softened and translucent. Do not let them brown.
Add the minced garlic and cook for an additional 1-2 minutes, until fragrant. Do not let it brown.
Stir in the vegetable broth, Rotel diced tomatoes with chiles, dried oregano, kosher salt, and black pepper.
Bring the mixture to a boil and add the potatoes.
Reduce heat to a simmer over low heat. Cover the pot and allow the soup to simmer for 10-15 minutes until you have soft potatoes.
Add the chopped green chili peppers to the soup and stir to combine.
Slowly stir in the heavy cream and bring the soup back to a gentle simmer. Cook for an additional 5 minutes, allowing the cream to heat through and thicken the soup slightly.
Turn off the heat and gently fold in the crumbled Queso Fresco cheese. Stir until the cheese is melted.
Stir in the chopped fresh cilantro.
Ladle the soup into bowls and garnish with chopped green onions, if desired.
Serve immediately and enjoy your Caldo de Queso soup!