Morning Glory Overnight Oats is a healthy and delicious way to start the day. It is vegan, gluten free and full of good things! Made with almond milk and lightly sweetened with honey, it also has grated carrots, apples currants, walnuts and coconut. A bit of cinnamon adds some extra flavor.
This recipe would be a good one to meal prep for. It is assembled the night before and it makes enough for 2-3 servings. Baked oatmeal is another way to create a breakfast that you put together the night before and bake in the morning. Check out Blueberry Baked Oatmeal and Strawberry Banana Baked Oatmeal for some other options.
There is nothing better than a bowl of warm oatmeal on a winter morning. Check out Cranberry Orange Oatmeal, and Banana Cinnamon Oatmeal.
If you would prefer to make Morning Glory Oats on the stove stop instead of as overnight oats, check out the additional instructions at the end of the recipe.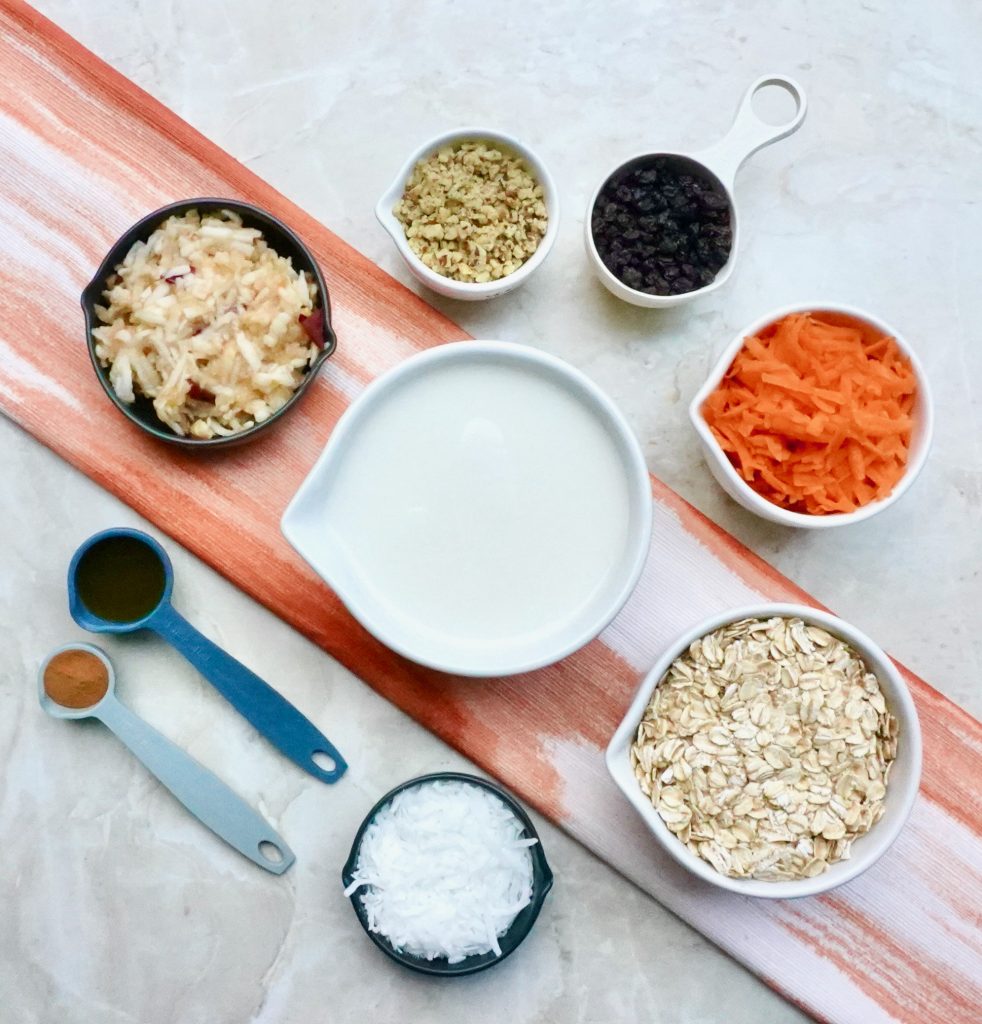 Morning Glory Overnight Oats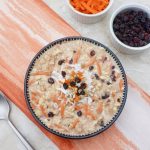 Print This
Ingredients
1 cup Old Fashioned Rolled Oats

2 cups almond milk

1 tablespoon honey

1 teaspoon cinnamon

1 small apple, cored and grated

½ cup carrot, grated (1 small)

¼ cup currants (raisins can be substituted)

¼ cup chopped walnuts

¼ cup sweetened flaked coconut
Instructions
In a large bowl, stir together the oats, almond milk, honey and cinnamon. Combine well.
Add the apple, carrots, currants, walnuts and coconut. Stir them into the oatmeal.
Cover the bowl and place in the refrigerator overnight for at least 7-8 hours. Stir in the morning and serve.
STOVETOP VERSION:
Combine the oats, almond milk, honey and cinnamon in a medium size saucepan. Stir well.
Heat over medium heat until the mixture comes to a boil. Reduce the heat to medium low and simmer, uncovered stirring often until the almond milk is almost completely absorbed into the oats. This should take about 8-10 minutes.
Remove from the heat and stir in the apple, carrots, currants, walnuts and coconut.