There is nothing like a bowl of warm oatmeal in the morning and Cranberry Orange Oatmeal is a great combination for the fall. It is easy to make and well worth the effort. This vegan oatmeal is a perfect start to your day!
The oatmeal used in this recipe is old fashioned oats. These oats are flat and flaky. They absorb more liquid and cook faster that steel cut oats. 
Cranberry Orange Oatmeal will be ready to serve in under 10 minutes cooking time. The honey makes it very slightly sweet and the almond milk makes it nice and creamy. The orange zest and dried cranberries really feel like fall.
If you are a fan of oatmeal for breakfast check out Banana Cinnamon Oatmeal and Brown Sugar Cinnamon Oatmeal.
Cranberry Orange Oatmeal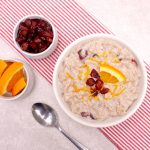 Print This
Ingredients
1 ½ cups old fashioned oats

3 cups unflavored almond milk (or whole milk)

¼ teaspoon salt

½ teaspoon cinnamon

1 tablespoon honey

¼ cup dried cranberries

1 teaspoon orange zest.
Instructions
Combine the oats, almond milk, salt and cinnamon in a medium size saucepan. Stir well. 
Heat over medium heat until the mixture comes to a boil. Reduce the heat to medium low and simmer stirring often until the milk is almost completely absorbed into the oats. This should take about 8-10 minutes.
Stir in the honey, cranberries and orange zest.