Cucumber Hummus takes the traditional hummus chickpea-based dip and adds a refreshing twist with the addition of English cucumber. The cucumber adds a fresh flavor and beautiful color. Combined with the creaminess of tahini and the tanginess of lemon juice, this hummus is a healthy dip and a flavorful and nutritious snack. Whether you're hosting a party or just looking for a healthy snack this easy recipe  for creamy hummus is for you!
If you want to create some cucumber hummus appetizers check out the instructions below to make cucumber hummus bites. These easy cucumber cups hold just the right amount of cucumber hummus and make a delicious appetizer that is a perfect finger food. These would be pretty to serve on a special occasion like a birthday party or a baby shower.
If you are looking for some other easy vegetable based hummus recipes check out Red Pepper Hummus which is made with roasted red peppers, Beet Hummus and Chimichurri Hummus.  Air Fryer Pita Chips would be great to serve with them.
If you have leftover English cucumbers make some Tzatziki. For more healthy appetizers, check out Carrot Fries, Mezze Dips, Roasted Red Pepper Spread and Roasted Eggplant Dip.
SOME THINGS TO KNOW:FAQ'S
INGREDIENT TIPS: 
​Read Can You Freeze Hummus for some freezing tips.
Check out, All About Cucumbers for tips on buying and storing them.
Tahini is a sesame paste made from ground sesame seeds that is sold in the health food section of the grocery store.
SPECIAL EQUIPMENT NEEDED:
Food processor
Vegetable peeler
​SUBSTITUTIONS:
 If you don't have chickpeas, you can use white beans or cannellini beans.
 If you don't have an English cucumber, you can use a regular cucumber, just make sure to remove the seeds. You could also use zucchini.
If you don't have tahini, you can use almond butter or sunflower seed butter.
If you don't have an English cucumber, you can use a regular cucumber, just make sure to remove the seeds.
If you don't have tahini, you can use almond butter or sunflower seed butter.
If you do not have fresh dill and parsley you can use dried parsley and dill weed. 1 teaspoon of the dried herbs equals1 tablespoon of the fresh herbs.
HOW TO STORE LEFTOVER CUCUMBER HUMMUS:
You can keep the hummus in an airtight container in the refrigerator for 3-5 days.
You can freeze the hummus in an airtight freezer container for 2-3 months. Because the hummus has fresh cucumber the flavor may be altered when frozen.
Defrost the hummus in the refrigerator.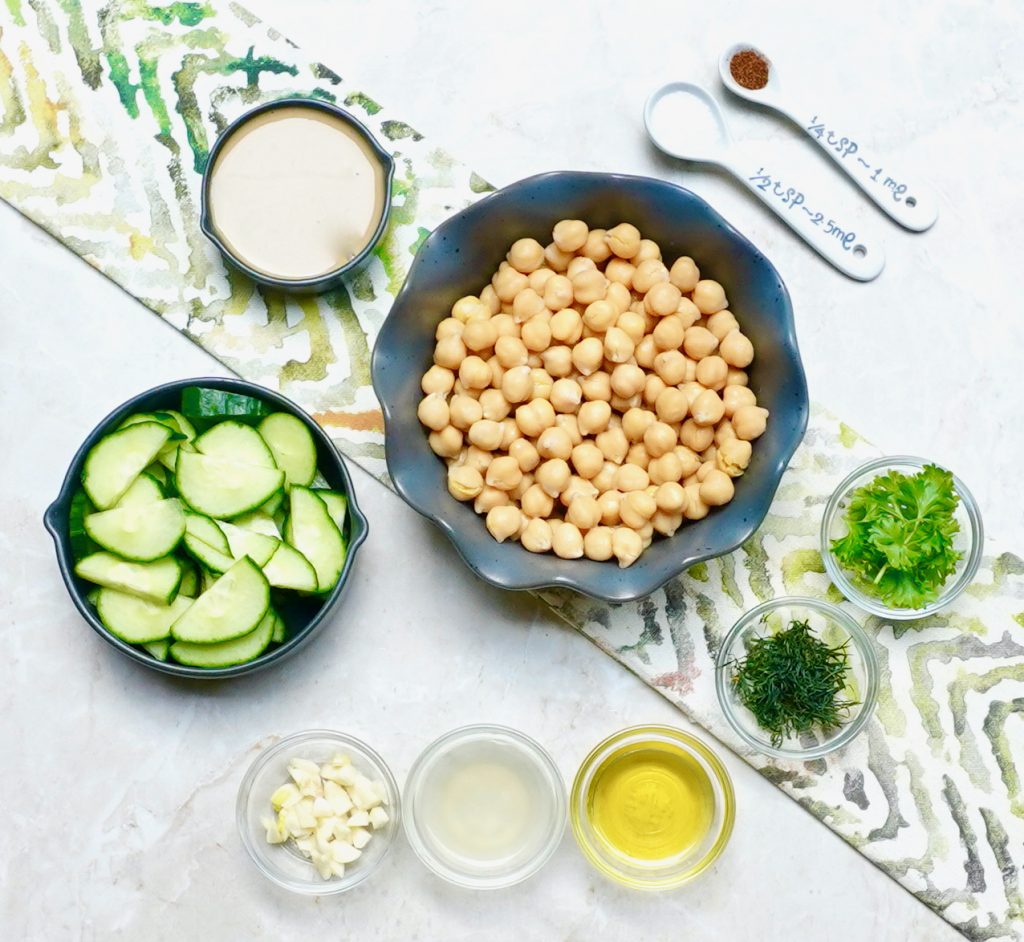 Place all of the ingredients into bowl of a food processor.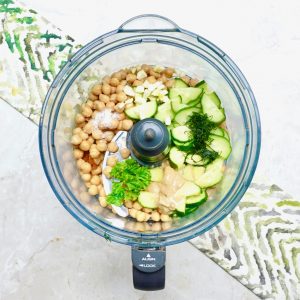 Process until everything is well combined and smooth.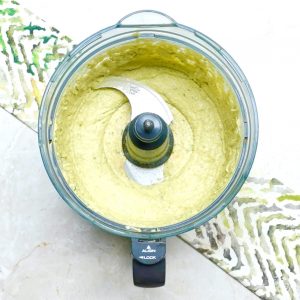 Cucumber Hummus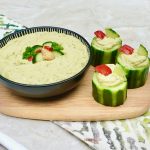 Print This
Ingredients
15 ounce can chickpeas, drained and rinsed

1 cup English seedless cucumber, chopped

1 garlic clove, chopped

¼ cup plus 2 tablespoons tahini

1 tablespoon lemon juice

1 tablespoon olive oil

½ teaspoon salt

¼ teaspoon cayenne pepper

1 tablespoon fresh dill, chopped

1 tablespoon fresh parsley, chopped
Instructions
CUCUMBER HUMMUS:
In a food processor, combine the chickpeas, cucumber, garlic, tahini, lemon juice, olive oil, salt, and cayenne pepper. Process until smooth.
. Add the chopped dill and parsley and pulse a few times to incorporate the herbs into the hummus.
Transfer the hummus to a serving bowl and chill in the refrigerator for at least an hour before serving to allow the flavors to meld together.
Serve the hummus chilled or at room temperature with your favorite veggies or pita bread. Enjoy!
​
CUCUMBER HUMMUS BITES: 
To make the hummus bites, use a vegetable peeler to partially remove the skin from one or two large cucumbers in a stripe pattern.
Cut cucumber slices that are 1½ to 2 inches wide. Use a sharp knife or melon baller to hollow out the center of the cucumber to create a cup. Make sure you leave ¼ inch thickness of the cucumber around the rim so the cup is sturdy.
Use a small spoon to spoon the cucumber hummus into the center of each cucumber cup so that it fills the cup and has a mound over the top of the cup. Garnish the hummus cucumber bites with some chopped cherry tomatoes or red bell peppers to add some pretty color.
If this seems like too much work, simply take a slice of cucumber and spoon a little bit of the hummus on the top. You can slice them quickly and evenly if you have a mandoline slicer.