Butternut Squash Carrot Soup is a creamy soup that is perfect for soup season. It is a healthy vegan soup that combines nutritious ingredients and fantastic flavors.
When the weather turns cool there's nothing more comforting than a warm bowl of soup.  Butternut Squash Carrot Soup is an easy soup recipe made from simple ingredients that not only warms your body but also packs a punch of vitamins and minerals. It would make a good addition to plant-based diets and is a excellent choice for the fall.
Both butternut squash and carrots are at their peak during fall, making it the best time of year to cook this soup. The sweetness of butternut squash pairs nicely with the earthy notes of carrot.
If you would like to try another easy butternut squash soup recipe that is made with roasted butternut and Granny Smith Apples or a sweet apple check out Butternut Apple Bisque. If you would like to try another simple soup that is vegan, check out Turnip Crispy Kale Soup. You could also check out 10 Simple Vegan Soups.
If you are looking for a delicious soup that is vegetarian check out Vegetarian French Onion Soup, Sun Dried Tomato Tortellini Soup, Creamy Mushroom Rice Soup, and Mushroom Bisque. They are all hearty soups to enjoy on a chilly day.
​SOME THINGS TO KNOW:FAQ'S
INGREDIENT TIPS:
SPECIAL EQUIPMENT NEEDED:
Large Pot or Dutch Oven
Immersion blender, high-speed blender or food processor
Small box grater for the fresh ginger
Vegetable peeler
SUBSTITUTIONS:
 You can use acorn squash or even pumpkin as an alternative to butternut squash.
 Parsnips are an excellent substitute for carrots and offer a similar earthy sweetness.
 Chicken broth, chicken stock or beef broth can be used for a non-vegetarian option in place of the vegetable broth.
Almond milk, cashew milk, or regular dairy milk and heavy cream can replace coconut milk for a different flavor profile.
If fresh ginger is not available, 1 teaspoon ground ginger can be substituted.
You can use sweet onion or white onions in place of the yellow onion.
If fresh thyme is not available, use 1 teaspoon of dried thyme.
HOW TO STORE BUTTERNUT SQUASH CARROT SOUP:
Pour the cooled soup into an airtight container and store it in the refrigerator for up to 4-5 days.
Properly stored, the cooled soup can be frozen for up to 2-3 months. Use freezer-safe bags or airtight containers. Make sure to leave a little room at the top as the soup will expand as it freezes.
HOW TO REHEAT BUTTERNUT SQUASH CARROT SOUP:
To reheat the soup on the stovetop, pour the desired amount of soup into a pot and reheat over medium heat until hot, stirring occasionally.
To reheat the soup in the microwave oven, transfer the portion of soup you intend to reheat into a microwave-safe bowl or container. Avoid filling the container to the brim; leave some space to prevent spillage.Place a microwave-safe lid over the container. Heat the soup in one-minute intervals, stirring after each minute, to ensure even heating.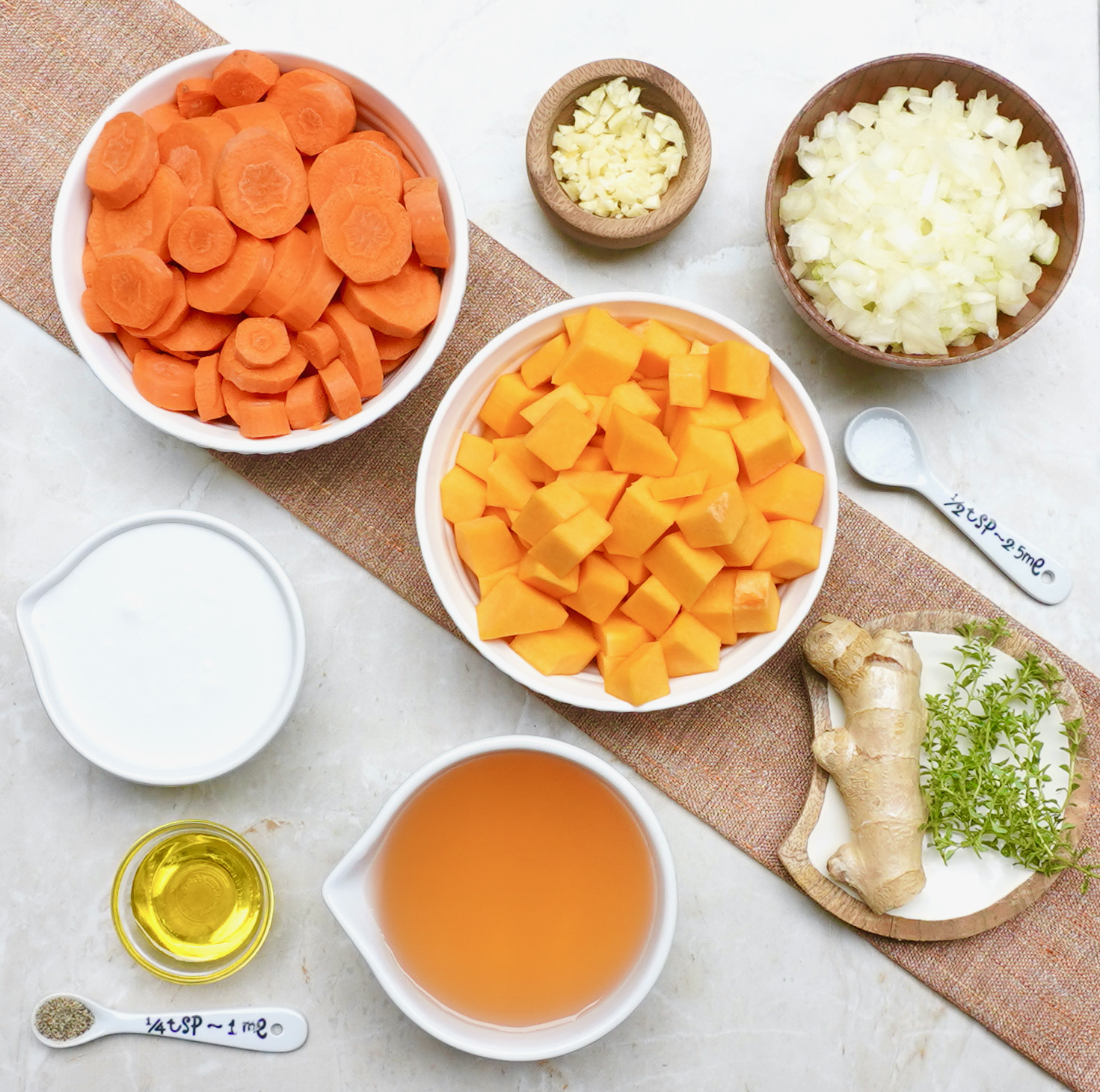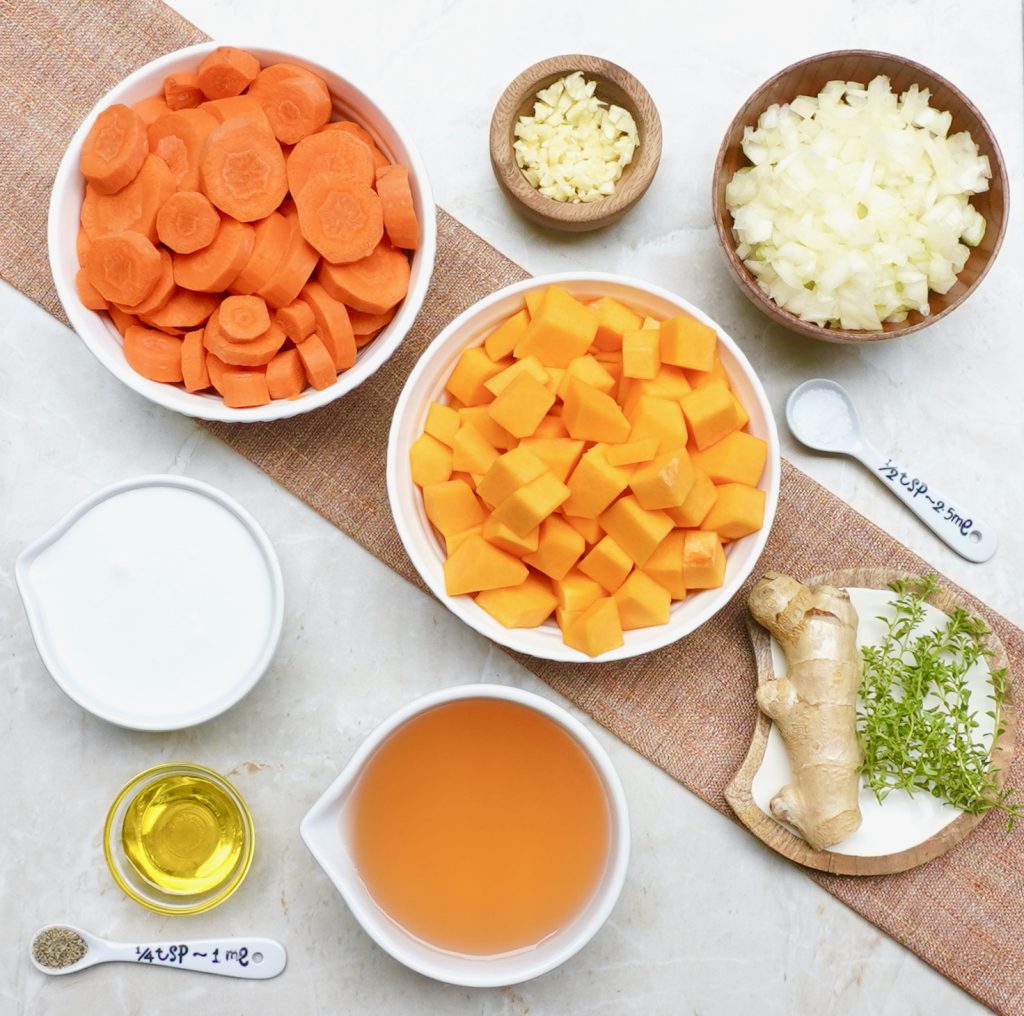 Heat the olive oil and sauté until translucent.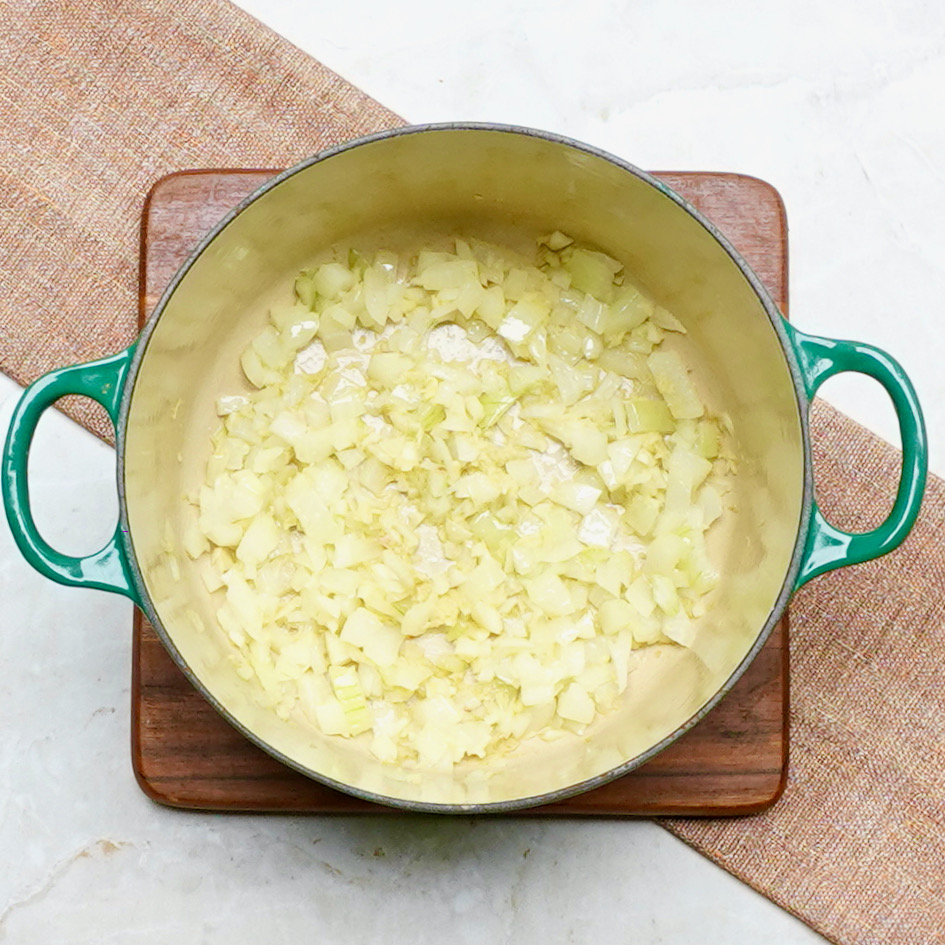 Add the butternut squash, carrots, vegetable broth, ginger, thyme, salt and pepper to the pot. Simmer for 30 minutes.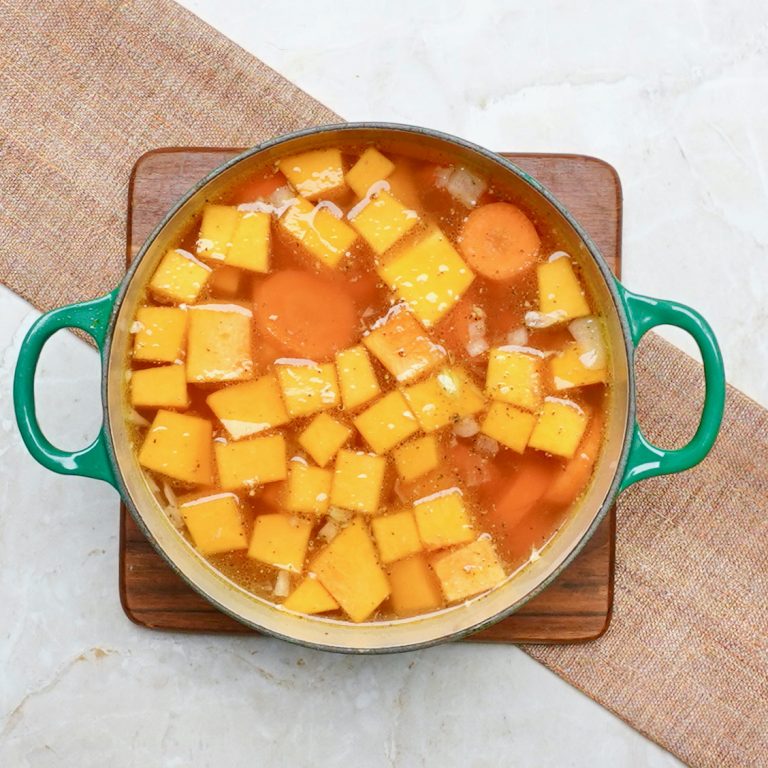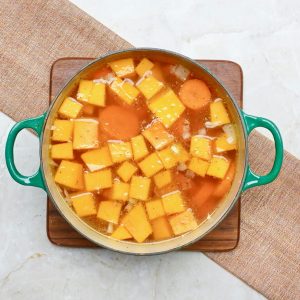 Puree the soup in a blender, food processor or in the pot with an immersion blender.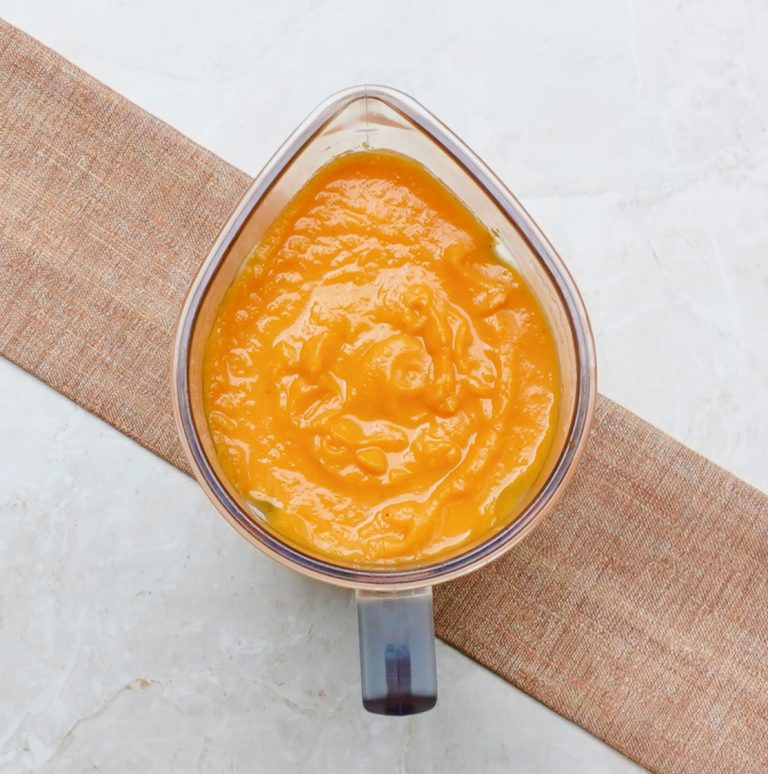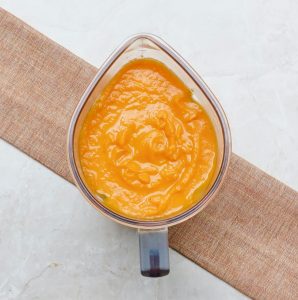 Stir the coconut milk into the soup and heat it through.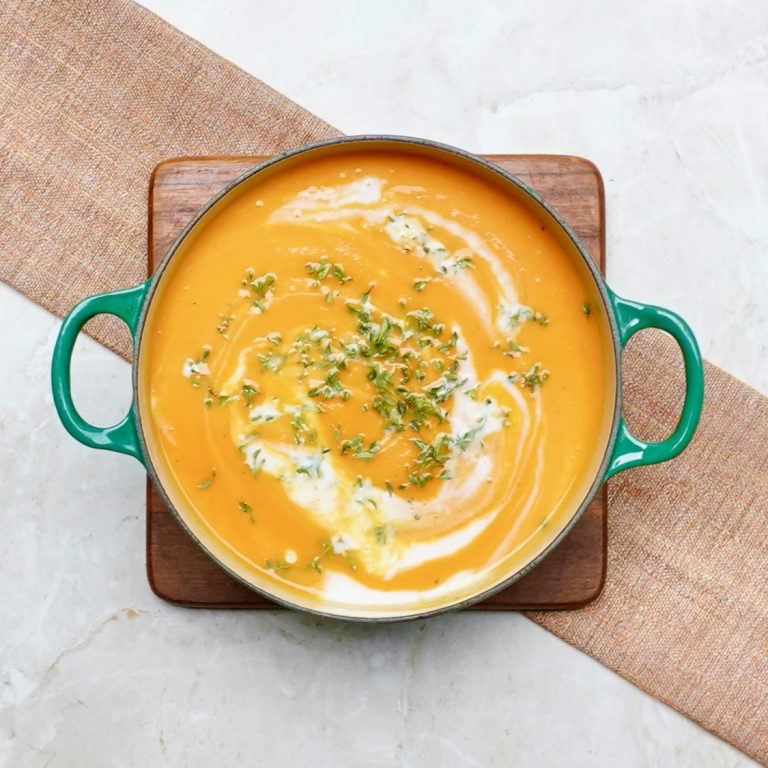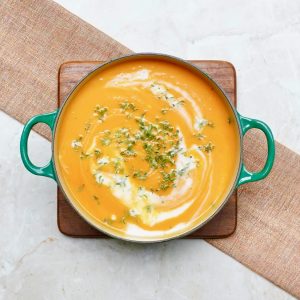 Butternut Squash Carrot Soup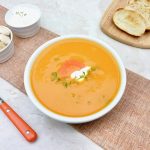 Print This
Ingredients
1 tablespoon olive oil

1 yellow onion, chopped

3 cloves garlic, minced

1 medium-sized fresh butternut squash, peeled and cubed

4 large carrots, peeled and sliced

4 cups vegetable broth or vegetable stock

1 tablespoon fresh ginger, grated

1 tablespoon fresh thyme leaves

Salt and black pepper to taste

1 cup coconut milk or coconut cream
Instructions
Heat  the olive oil in a large pot over medium-low heat.
Add the chopped onion and minced garlic cloves, sauté until translucent.
Add the butternut squash and carrots to the pot.
Pour in 4 cups of vegetable broth.
Add the grated ginger, thyme, salt, and pepper.
Bring the mixture to a boil over medium-high heat.
Once the mixture comes to a boil, cover the pot and simmer the soup over low heat for about 30 minutes or until vegetables are tender.
Blend the mixture until smooth using a hand blender right in the pot on the stove top.
If you are using a regular blender or food processor, let the soup cool slightly to prevent getting burned by the hot liquids. Puree the soup until smooth and return it to the pot.
Stir in the coconut milk for added creaminess and simmer a few more minutes until the soup is heated through.
Serve hot, garnished with a swirl of coconut milk and a chunk of crusty bread.