Are you looking for a comforting dessert to make this fall? This Slow Cooker Apple Cinnamon Rice Pudding recipe has all the right elements for a seasonal hit .It is a creamy dessert with cozy flavors, and the ease of a slow cooker. This delicious dessert is perfect for family gatherings, or simply as a treat to enjoy on a crisp autumn evening.
Slow Cooker Apple Cinnamon Rice Pudding is a great way to create a seasonal, comforting dessert with very little effort. That's one of the best things about slow cookers. You add a handful of ingredients, walk away and the end result is amazing! This might become on of your super easy favorite desserts!
The prep work for this recipe is easy too! Most of the ingredients come straight from the pantry or fridge.
Creamy rice pudding is a sweetened rice dessert that can be eaten warm or chilled. The addition of the apples and cinnamon make this version one that will fill your kitchen with wonderful scents during the cooking process and that the whole family will enjoy.
Slow Cooker Apple Cinnamon Rice Pudding is a comforting dessert for cool fall days. Check out Apple Cinnamon Quinoa for a warm and healthy fall breakfast.
If you are a fan of true comfort food desserts, you will also love bread pudding. Check out Pumpkin Rum Bread Pudding and Chocolate Brioche Bread Pudding for some other easy recipes to make fall desserts.
SOME THINGS TO KNOW:FAQ'S
INGREDIENT TIPS:
SPECIAL EQUIPMENT NEEDED:
Slow Cooker or Crock Pot
Large saucepan
SUBSTITUTIONS:
You can substitute the water with coconut water for a tropical twist.
You can swap the half and half with 1¼ cups whole milk, low-fat milk, skim milk, almond milk or oat milk plus 1¼ cups heavy cream.
You can replace the granulated sugar with equal amounts of coconut sugar or light brown sugar.
 You can use kosher salt or sea salt instead of table salt.
You can substitute the type of rice. If you do not have long grain rice, Basmati or Jasmine rice grains also work well.
 Pears are a nice alternative to the apples.
Almond extract or a vanilla bean can be used if you do not have vanilla extract.
 If you do not have ground cinnamon, cardamom or nutmeg can be substituted for a unique flavor.
HOW TO STORE LEFTOVER SLOW COOKER APPLE CINNAMON RICE PUDDING:
You can store the rice pudding  in the fridge for up to 3-4 days.Allow the rice pudding to cool down to room temperature. Place the rice pudding into an airtight container.
You can also store the rice pudding in the freezer for up to 1-2 months.Make sure the rice pudding has completely cooled to room temperature.Divide the pudding into individual serving sizes for easier defrosting later.Place the portions in airtight, freezer-safe containers or heavy-duty freezer bags.
Remember, the texture of rice pudding can change a bit when frozen and reheated, becoming a little less creamy. However, it will still taste delicious!
HOW TO REHEAT SLOW COOKER APPLE CINNAMON RICE PUDDING:
To reheat the rice pudding in a microwave oven, transfer a portion of the rice pudding to a microwave-safe bowl. Microwave on medium power in 30-second intervals, stirring in between until hot.
To reheat the rice pudding on the stove top, place the rice pudding in a saucepan and reheat on low, stirring frequently. If the pudding seems too thick, you can add a small amount of half and half or milk to reach your desired consistency.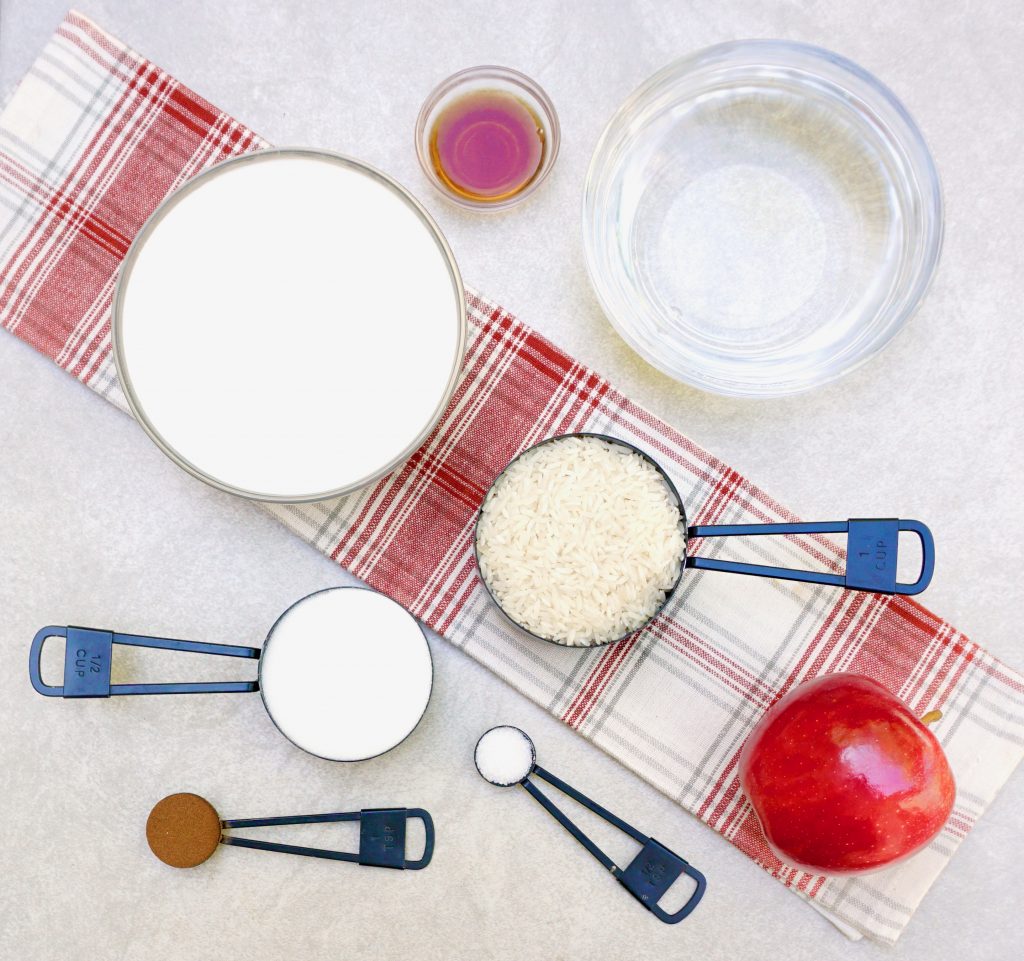 Slow Cooker Apple Cinnamon Rice Pudding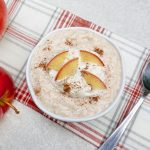 Print This
Ingredients
2 cups water

2½ cups half and half

½ cup sugar, granulated

½ teaspoon salt

1 cup long grain rice

1 apple, peeled and diced

2 teaspoons vanilla extract

1 teaspoon ground cinnamon
Instructions
In a large saucepan, combine the water, half and half, sugar and salt and bring just to the boiling point over medium heat.
Pour the liquid into the slow cooker. Add the rice and apple. Combine the rice mixture well. Cover the slow cooker.
Set the slow cooker to the high setting. Cook for 3 hours or slightly more. The best way to see if it is ready is to taste it so you can tell if the rice is cooked and softened.
Stir in the vanilla and cinnamon.
Let the pudding rest, uncovered for 20 minutes until it is fully set.
Depending on the rice you use and the way it absorbs liquid, the pudding may need some additional stirring uncovered if it is too loose or you can add some additional half and half if it is slightly dry.
You can serve this slow cooker rice pudding recipe warm or chilled with an extra sprinkle of cinnamon on top.