Let's enjoy the bright flavors of summer with tangy Italian Lemon Sorbet. This simple, homemade dessert is the perfect combination of sweet, tart, and refreshing, making it an irresistible treat for a hot summer day.
Italian Lemon Sorbet tastes smooth and creamy without having any cream in it. It is a non- dairy frozen dessert that is also know as Sorbetto di Limone. It is often served between courses at a meal as a palate cleanser and it makes a delicious light dessert.  It is similar to Italian Ice but has a smoother texture.
This simple lemon sorbet recipe only has 4 ingredients. You can make it in an ice cream maker but that is not a requirement. Instructions are given below to make this homemade sorbet with or without the machine. If you do not have a machine, the recipe will still work as long as you stir the sorbet every 30 minutes for about four hours. You will need to commit that time in order to get a smooth and creamy result that is free of ice crystals.
If you love lemonade in the summer on a hot day, check out Blueberry Sparking Lemonade.
If you want to try another simple recipe for a non dairy frozen dessert, check out Banana Swirl Bowl.
If you love a lemon cake, check out Lemon Crunch Cake.
SOME THINGS TO KNOW: FAQ'S 
SPECIAL EQUIPMENT NEEDED:
Ice cream maker (helpful but optional)
Juicer
Microplane, zester or tiny box grater to zest the lemon peel.
INGREDIENT TIPS:
Zest the lemons before you cut and squeeze the juice from them. It will be much easier. If this is your first time doing this, read about How to Zest a Lemon. 1 medium lemon will yield 1 tablespoon of lemon zest. You will need to zest two of your lemons for this recipe.
An average lemon will produce about 3 tablespoons of lemon juice. 1 cup of juice is needed for the recipe and there are 16 tablespoons in a cup. Depending on the size of the lemons, you should need 5-6 lemons.
SUBSTITUTIONS:
Another citrus fruit like limes or oranges can be substituted for lemons.
THE STEPS TO MAKE THIS RECIPE:
Make the simple syrup
Prepare the lemons
Combine your sorbet mixture
Freeze
Serve
HOW TO MAKE LEMON SERVING CUPS:
Cut the lemons that you have not zested in half. Juice the lemons for the recipe. Use a spoon or sharp knife to remove the inside of the lemon. Use a knife to cut off the rounded bottom of the lemon so it will sit flat on a serving plate. Store the lemon cups in an airtight container in the refrigerator while you are freezing the sorbet.
HOW TO STORE ITALIAN LEMON SORBET:
Place the frozen sorbet into an airtight freezer container. It can remain in the freezer this way for 1-2 months.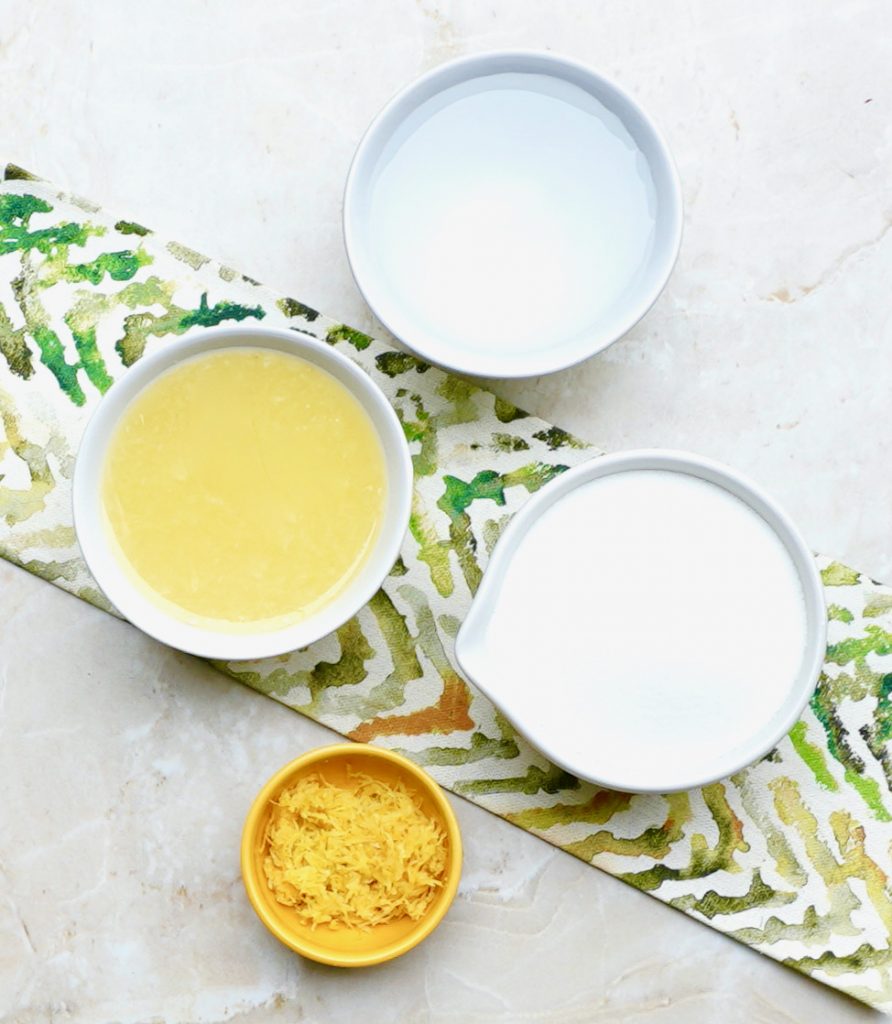 Italian Lemon Sorbet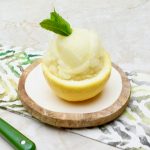 Print This
Ingredients
1 cup water

1 cup granulated sugar

1 cup fresh squeezed (5 ½ -6 fresh lemons)

2 tablespoons lemon zest
Instructions
In a saucepan over medium heat, combine the water and sugar. Stir until the sugar has completely dissolved and the mixture has come to a simmer. Remove from heat and let it cool.
While your simple syrup is cooling, grate the zest from the lemons until you have 2 tablespoons.
Next juice enough lemons to make one cup of fresh lemon juice. This should be 5-6 depending on the size of the lemons.
In a large bowl, combine the cooled  sugar syrup, lemon juice, and lemon zest. Stir until well combined. If you have a high speed blender or food processor you could use those to combine the mixture as well.
FREEZING OPTION #1 ICE-CREAM MAKER
Pour the sorbet mixture into the ice cream machine and start it. It will take about 40 minutes, depending on the power of your machine.
FREEZING OPTION #2 FREEZING IN A BOWL
Pour the lemon mixture into a shallow glass or metal bowl and place it in the freezer. After 30 minutes, take it out and stir it thoroughly with a whisk to break up any ice crystals. This is vital to the sorbet having a smooth consistency.Repeat this process every half hour for about 3-4 hours, or until the sorbet is frozen.
Scoop your Italian Lemon Sorbet into bowls, glasses or lemon cups and serve.
Enjoy this light and refreshing homemade lemon sorbet, the perfect treat to beat the summer heat.