Margarita Mussels are made with the same ingredients as the drink. This easy pasta dish has a simple sauce that is made with tequila and wine and brightened with fresh lime juice.
The most time consuming part of this recipe is cleaning the mussels. Check out How to Clean and Debeard Mussels to learn the best way to do this.
Margarita Mussels is a great recipe for entertaining. Mussels are simmered with shallots and garlic in butter, and wine. The tequila and fresh lime juice add an interesting twist. It serves a crowd and makes a great presentation.
If you like easy seafood pasta recipes check out Shrimp with Tomato Wine Sauce.
If you are looking for a wine to pair with this, check out The Best Wines to Serve with Pasta.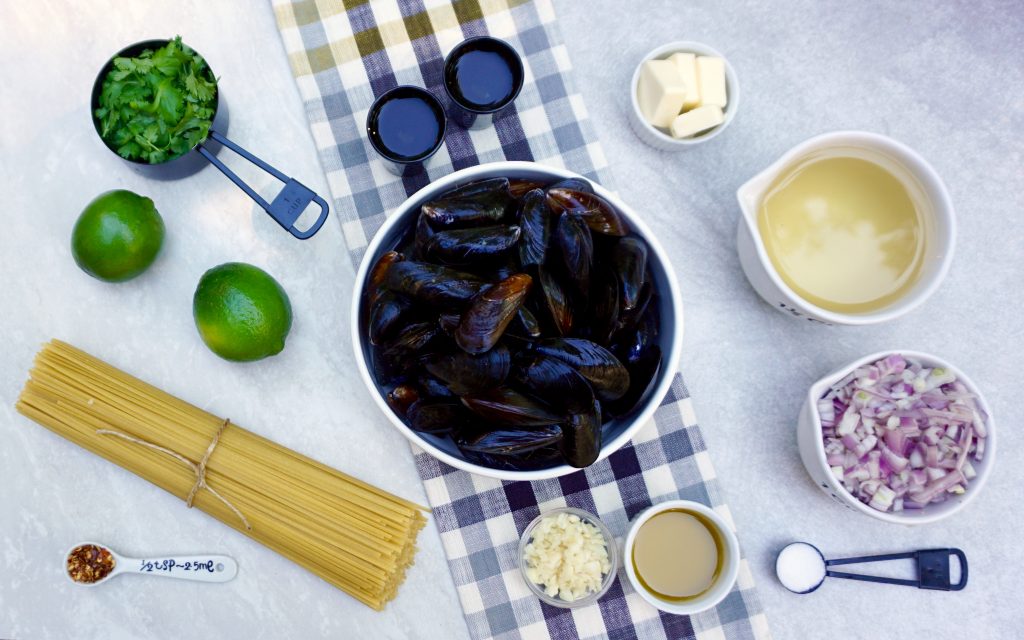 Margarita Mussels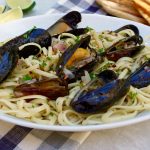 Print This
Ingredients
3 pounds mussels, scrubbed
4 tablespoons butter
4 tablespoons olive oil
1 cup shallots, diced
3 cloves garlic, diced
2 cups dry white wine, Pinot Grigio
2 shots tequila
2 limes juiced
½ teaspoon crushed red pepper
1 teaspoon sea salt
1 pound linguini pasta
Instructions
Bring a large pot of water over high heat to a boil for the pasta.  Add the linguini and cook according to the package directions for the tenderness you prefer.
While the water is heating add the butter and olive oil to a large skillet. Add the shallots and garlic and cook for 2 minutes over medium low heat until they begin to soften.
Add the wine, tequila, lime juice, crushed red pepper and salt to the skillet. Turn the heat to high and bring to a boil. Reduce the heat to medium low and add the mussels to the skillet. Cook for 7-8 minutes until the mussels have opened.
Drain the linguini and place in a large serving bowl or platter. Spoon the mussels and sauce over the pasta.