Let's get ready to celebrate the independence day of the United States with some traditional 4th of July Foods. Whether you are grilling burgers and hot dogs, baby back ribs, or serving fried chicken here are some Easy Food Recipes for July 4th Cookout to add to your July 4th party.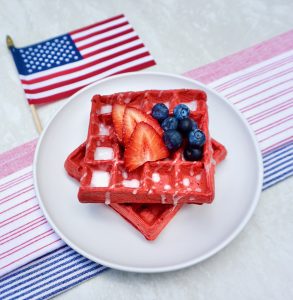 Let's start the day celebrating America's birthday by pulling out the American flag at breakfast! Red Velvet Waffles are a good way to start the 4th of July! Their bright, festive red color makes them a good choice if you are looking for a special breakfast.A take on the famous cake, these waffles have a cream cheese glaze. It makes them just a little indulgent and delicious.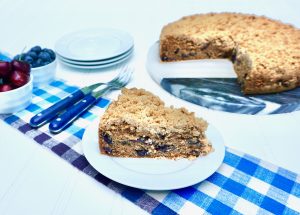 Cherry Blueberry Crumble Cake is a coffee cake that is perfect in the summer when cherries and blueberries are in season. This cinnamon cake is moist and very easy to make. No mixer required. Serve this either for breakfast or dessert.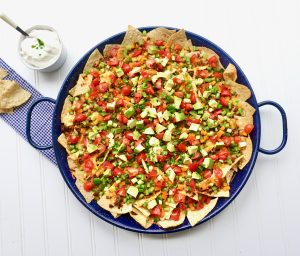 Start off your backyard barbecue with a couple of easy recipes for festive appetizers. Loaded Beef Nachos are warm tortilla chips layered with melted cheese and lots of toppings. The more toppings the better! Serve them with some sour cream.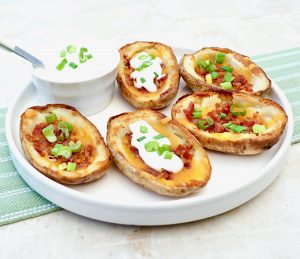 Oven Baked Potato Skins are crispy, cheesy appetizers that are easy to make. They have lots of flavor and are fun to eat! This simple recipe is an American classic and would be a good addition to your 4th of July celebration. These are real crowd pleasers that the whole family will love.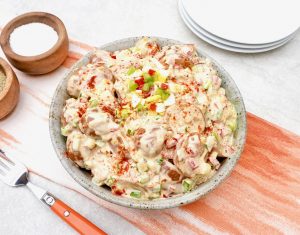 Potato salad is a requirement for a July 4th menu or family reunions. This is a Southern twist on the classic potato salad which incorporates Cajun flavors and vibrant colors. This Creamy Cajun Style Potato Salad Recipe is not only delicious but also incredibly simple to make. If you want to experience the flavors of the American south try this!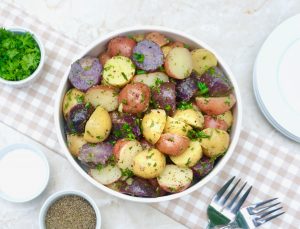 Herbed Potato Salad is a great lighter option for your summer cookout potato salad. The simple oil and vinegar dressing has dijon mustard added, so it is light and flavorful. Fresh shallots, chives and parsley add another layer of freshness and flavor.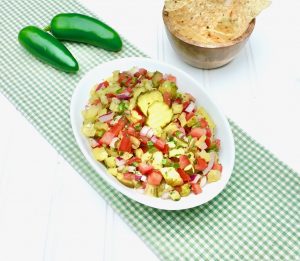 Are you looking to add something unusual and flavorful to your July 4th cookout? Pickle Salsa might be the answer. This simple recipe combines dill pickles, plum tomatoes, red onion and a bit of heat from a Jalapeño pepper.Pickle Salsa would be a good topping for a classic hot dog or your best burgers.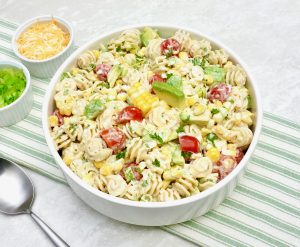 Ranch dressing is a beloved American salad dressing and it makes a flavorful addition to this Vegetable Ranch Pasta Salad. This pasta salad is simple to make in just a few minutes. It would go well with just about anything you would be grilling.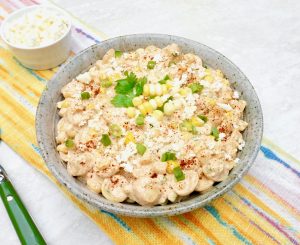 Mexican Street Corn Pasta Salad is a flavorful way to enjoy peak season summer corn. It has the flavors of the popular street food in a cool pasta salad with a creamy base. It would make a delicious side dish for your July 4th barbecue. With all the great seasonings and fresh flavor,  it just might turn out to be one of your favorite side dishes.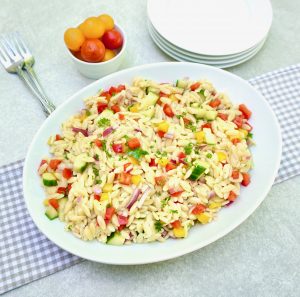 Orzo Salad is a veggie packed, delicious, light pasta salad. Orzo is a rice shaped pasta that makes a great side dish. The best part is that it can be made ahead of time which is always a good thing. It has a light olive oil dressing.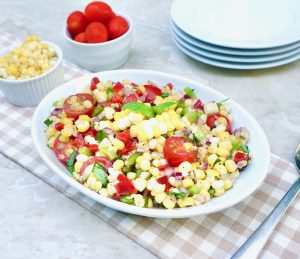 Corn Salad takes advantage of the summer vegetables. This simple summer side dish combines fresh summer corn with cherry tomatoes, bell peppers, red onion and fresh basil. It is dressed with a light and flavorful dressing.It would pair well with anything that you are grilling.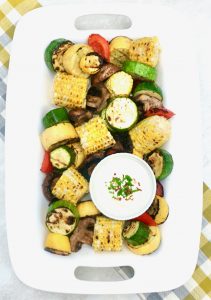 Aioli Grilled Vegetables belong at your July 4th cookouts. Simply place the vegetables on the grill when you are cooking and serve them with Aioli sauce on the side. You could serve them as appetizers, a side dish or as the main event of a vegetable-focused meal. It is always a good thing to provide vegetarian options!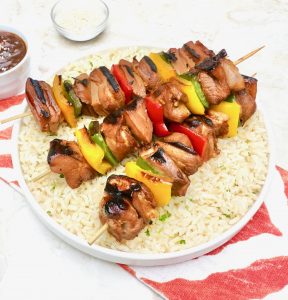 Honey Teriyaki Chicken Kabobs are an easy way to prepare chicken for summer grilling. A simple and delicious homemade teriyaki sauce marinade gives them Asian flavors, makes them delicious, and results in tender chicken. This is a great recipe to prepare ahead of time up to the point of grilling so you can enjoy your summer cookout.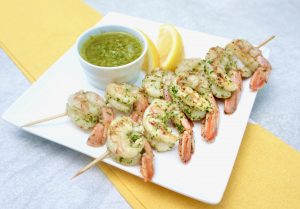 Chimichurri Shrimp Skewers are perfect for summer grilling. They are healthy, easy to make and full of flavor. They would be a good addition to your July 4th cookout for those who do not indulge in burgers and hot dogs.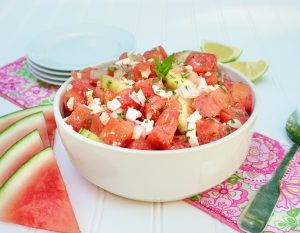 The next time that you go to the grocery store, pick up a watermelon for your July party. Watermelon Salad  combines cucumbers, mint leaves, shallots and feta cheese with fresh watermelon chunks. The dressing is a little sweet as well as tart by using honey and lime juice. The result is a refreshing salad.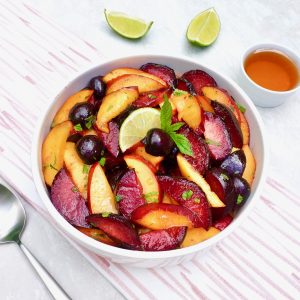 Fruit salad is always a good addition to cookout meals in the summer months. Honey Lime Stone Fruit Salad combines peaches, plums, cherries and nectarines. If you make sure they are fully ripe, they will be amazing. The addition of honey, a bit of lime juice and fresh mint leaves enhances the fruit and the result is so delicious. It's a perfect way to enjoy these seasonal fruits. Make sure you keep the fruits at room temperature until they ripen.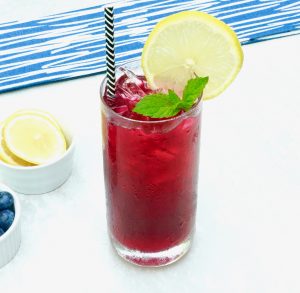 If you are looking for a refreshing alternative to white wine at your July 4th cookout, try Blueberry Sparkling  Lemonade. is a pretty and refreshing summer drink. A pitcher of this would surely be a hit at your summer gatherings. It is a perfect July cocktail if you add some gin or vodka or a refreshing drink without alcohol that the whole family will love!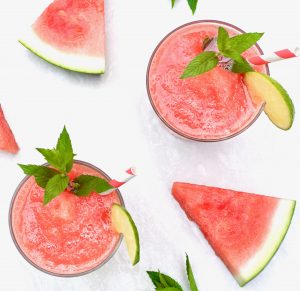 Watermelon Cooler is another refreshing drink that is made without alcohol that you could add gin or vodka. It is slushy and cold. It has a nice watermelon flavor with an undertone of cucumber and it is not overly sweet. It is also a very pretty drink which would be a nice to serve for summer entertaining. You can easily double or triple the recipe to serve a large crowd!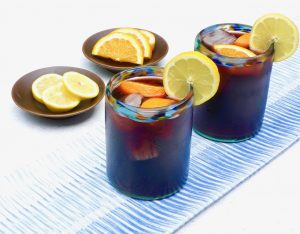 Tinto de Verano is the Spanish red wine drink of summer. It is a light red wine cocktail that is a refreshing drink on a hot day. Not to be confused with Sangria, this is a simple mixture of red wine with either a lemon flavored soda or seltzer. Add a simple citrus fruit garnish and enjoy. While this may not sound like a traditional recipe for a 4th of July cookout, trust me, it is so good!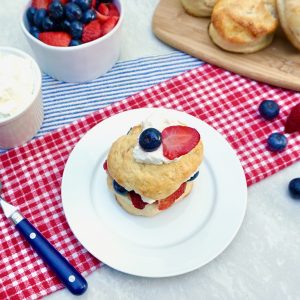 Let's wrap Easy Food Recipes for July 4th Cookout up with some patriotic desserts! Berry Shortcake has the colors of the day and is a great way to create an easy dessert that features seasonal berries. You can bake the biscuits ahead of time and assemble the shortcakes in minutes when you are ready to serve them.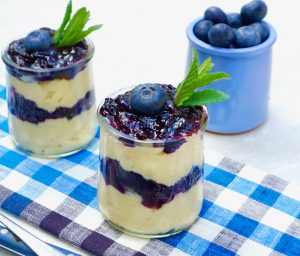 Let's make some white and blue patriotic parfaits.Blueberry Custard Parfait combines fresh summer blueberries with creamy vanilla custard. It is a simple dessert that is refreshing and pretty with layers showing through a clear glass.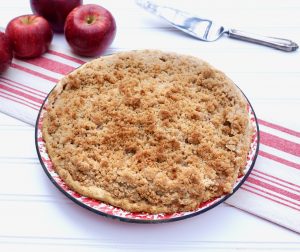 Is there anything more American than apple pie and ice cream? Apple Crumble Pie is one of the best recipes my mom handed down to me. You can use a store bought pie crust and the rest is nice and easy! If you want an even easier option try Apple Crumble or Apple Crumble Ice Cream.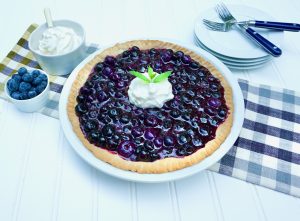 Blueberry Pie is a semi-bake dessert. The pie crust is baked and the filling is done on the stovetop so you do not have to heat the oven for too long! The filling comes together on top of the stove in minutes and is poured into a prepared pie crust.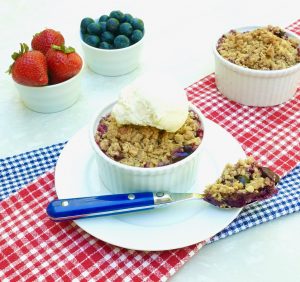 Berry Crumble is a delicious and easy way to enjoy fresh summer berries. It is best served warm with a scoop of vanilla ice cream on top. If you are looking for a red, white and blue dessert for your July 4th celebration, try this out.
I hope you found some inspiration here with Easy Food Recipes for July 4th Cookout. Have a happy and safe holiday.