Panzanella is a traditional Tuscan salad that combines bread and tomatoes. I read somewhere that it was originally created to use up stale bread.  In this version I am using a rustic Cibiatta bread.
The key to this recipe is to get the bread really dry by toasting it. This key step prevents the bread from becoming soggy when you add it to the salad with the dressing. The other key step is the freshness of the tomatoes. Try to find seasonal ripe tomatoes if you can and they will be the star of this salad.
Panzanella is a wonderful addition to serve alongside a grilled meat or any chicken dish at your summer cookout, but it is hearty enough to stand alone as a light meal. If you are looking for summer cookout ideas, check out 30 Simple Summer Side Dishes.
If you like a bread salad, you should check out Pita Bread Salad.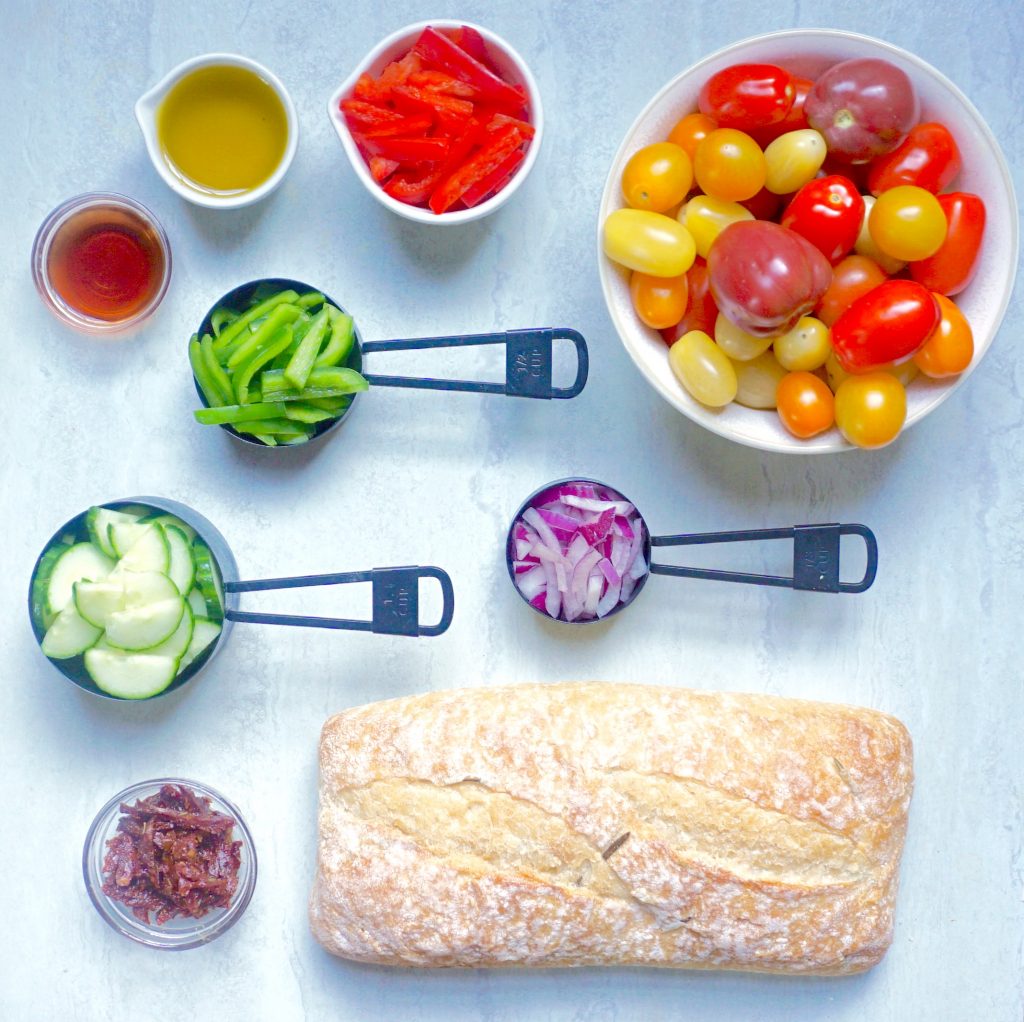 Panzanella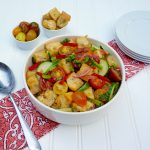 Print This
Ingredients
SALAD:

8 ounce Cibiatta bread

2 tablespoons olive oil

2 cups mixed heirloom cherry tomatoes

½ cup green bell pepper, sliced thin

½ cup red bell pepper, sliced thin

1 cup English cucumber, sliced

¼ cup sun dried tomatoes in oil, cut into thin strips

1/3 cup red onion, sliced thin

½ cup fresh basil leaves, sliced thin

DRESSSING:

¼ cup olive oil

2 tablespoons red wine vinegar

2 cloves garlic, minced

¼ teaspoon black pepper

¼ teaspoon kosher salt
Instructions
Preheat the oven to 350 degrees. Cut the Cibiatta bread in to 1 inch cubes and toss with 2 tablespoons of olive oil. Bake for about 15 minutes until the cubes are dried out and just slightly browned.
Cut the cherry tomatoes in half or quarters, depending on their size. Place in a large bowl and add the bread, green peppers, red peppers, cucumber, sun dried tomatoes, red onion, and basil. Stir to combine.
In a small bowl combine the olive oil, red wine vinegar, garlic, salt and pepper. Mix well.
Pour the dressing over the salad and combine well.
Do not pour the dressing over the salad until you are ready to serve. The bread can become soggy if the salad sits too long.