Crab Meat Pasta Salad combines the delicate flavors of claw or real lump crab meat with the comforting texture of small shell pasta. The addition of fresh dill, red onion, crunchy celery, and red bell pepper adds a nice freshness, while a creamy dressing of mayonnaise, sour cream, red wine vinegar, and Dijon mustard brings everything together. Seasoned with kosher salt and black pepper, this salad is a celebration of flavors and textures. Perfect for a light lunch main course or as a side dish, it's a seafood pasta salad that's sure to become a favorite that the entire family will like. Crab Meat Pasta Salad would be a delicious salad to serve at your summer picnics and summer bbqs.
If you like this crab pasta salad recipe, you should also check out Crab Fritters, Crab Cakes and Crabbies.
If you like a seafood salad recipe, check out Italian Tuna Pasta Salad. It is a flavorful tuna macaroni salad that has a lot of flavor.
SOME THINGS TO KNOW:FAQ'S
INGREDIENT TIPS:
SPECIAL EQUIPMENT NEEDED:
​Large pot to cook the pasta
Large bowl
SUBSTITUTIONS:
If real crab meat is not available at your grocery store, imitation crabmeat or large shrimp cut into bite size pieces can be substituted.
If you cannot find the small shell pasta, substitute medium shells, bow tie pasta or tubular short pasta shapes like penne or ziti.
The red pepper can be substituted with yellow or orange bell peppers.
You can substitute white wine vinegar or lemon juice for the red wine wine vinegar.
​If you do not have sour cream you can use double the mayonnaise or substitute Greek yogurt,
The red onion can be substituted with yellow onion or green onions.
HOW TO STORE LEFTOVER CRAB MEAT PASTA SALAD:
You can store the leftover cold pasta salad in an airtight container in the refrigerator for 2-3 days.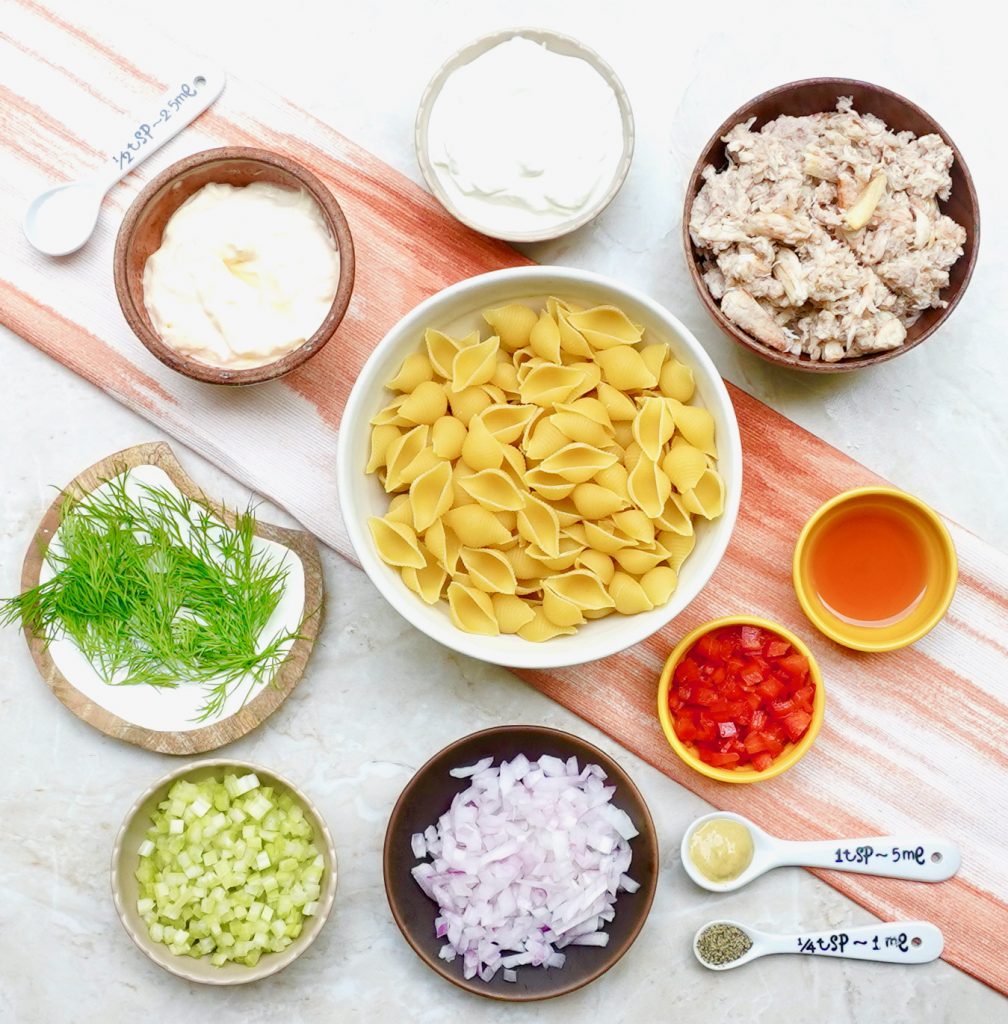 Cook and drain the shell pasta. Let it cool.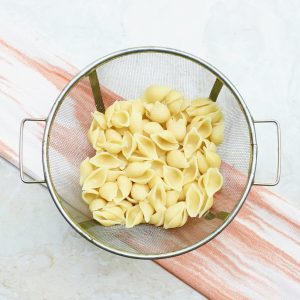 Place the ingredients in a large bowl.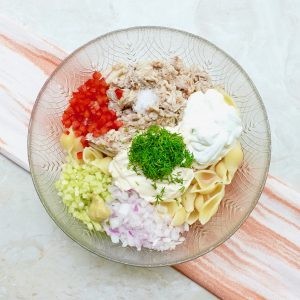 Use a rubber spatula or large spoon to combine the ingredients.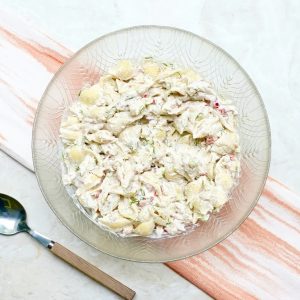 Crab Meat Pasta Salad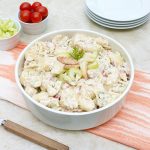 Print This
Ingredients
8 ounces lump or claw crab meat

8 ounces small shell pasta or medium pasta shells

½ cup red onion, chopped

½ cup celery, chopped

¼ cup red bell pepper, chopped

2 tablespoons fresh dill, chopped

½ cup mayonnaise

½ cup sour cream

1 tablespoon red wine vinegar

1 teaspoon Dijon mustard

½ teaspoon kosher salt

¼ teaspoon black pepper
Instructions
Bring a large pot of cold water to a boil over high heat.
Cook the small shell pasta according to package directions until al dente.If you like a more tender pasta, cook it longer.  Once cooked, drain and set aside to cool.
In a large mixing bowl, gently fold in the lump or claw crabmeat, ensuring to maintain the integrity of the meat.
Add the chopped red onion, celery, and red bell pepper and to the mixture.
While it is not necessary to mix the salad dressing separately, however if you prefer to, in a small  bowl, whisk together the mayonnaise, sour cream, red wine vinegar, Dijon mustard, kosher salt, and black pepper to create a creamy dressing. Pour the dressing over the pasta and vegetables.
You could also just add the salad dressing ingredients directly in the bowl with the pasta, crab and vegetables.
Use a rubber spatula to combine the ingredients.
Refrigerate the salad for at least an hour before serving. This allows the flavors to meld and the dish to achieve its full potential. It will taste even more flavorful the next day.