A strata is an egg casserole dish. It is similar to a quiche or frittata with the addition of bread. This version is a Sausage Strata. It is made with Italian sausage, baby spinach and sun dried tomatoes. 
This is a great brunch dish which you can prepare ahead of time. It needs to sit in the refrigerator overnight to allow the bread to absorb the egg mixture. When you are ready to serve it the next morning all you will have to do is bake it. 
With the savory ingredients in this Sausage Strata you could serve it as lunch as well. It is hearty and filling with the meat, veggies and cheeses. 
If you like meat filled brunch eggs check out  Chorizo Frittata, Brunch Eggs and Western Crustless Quiche.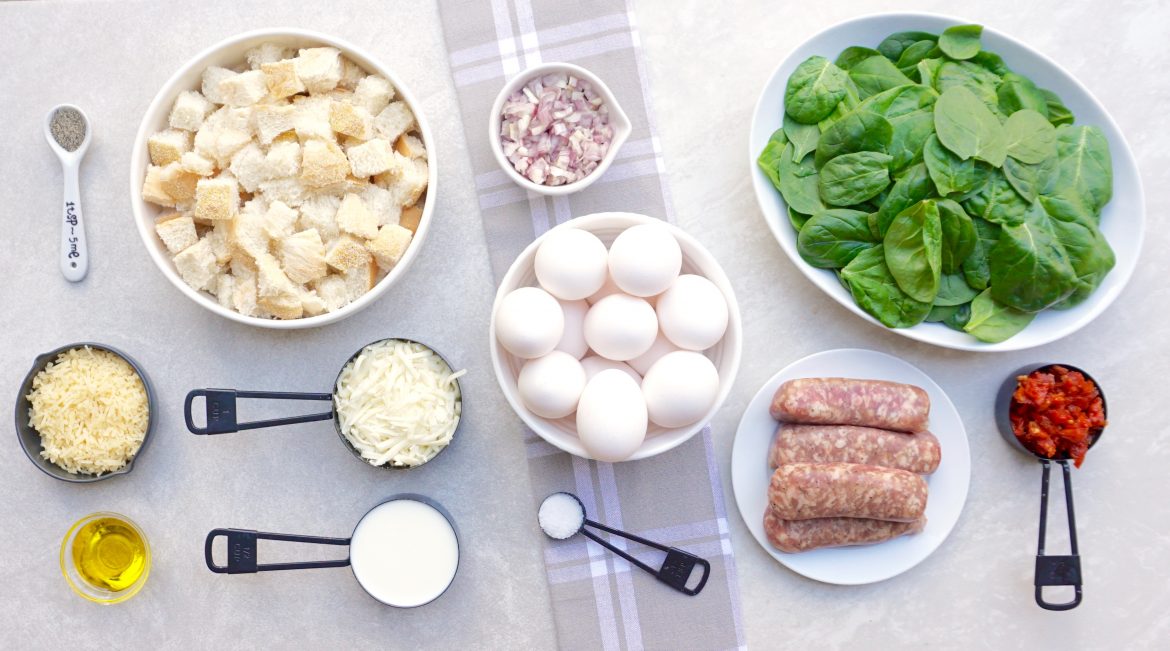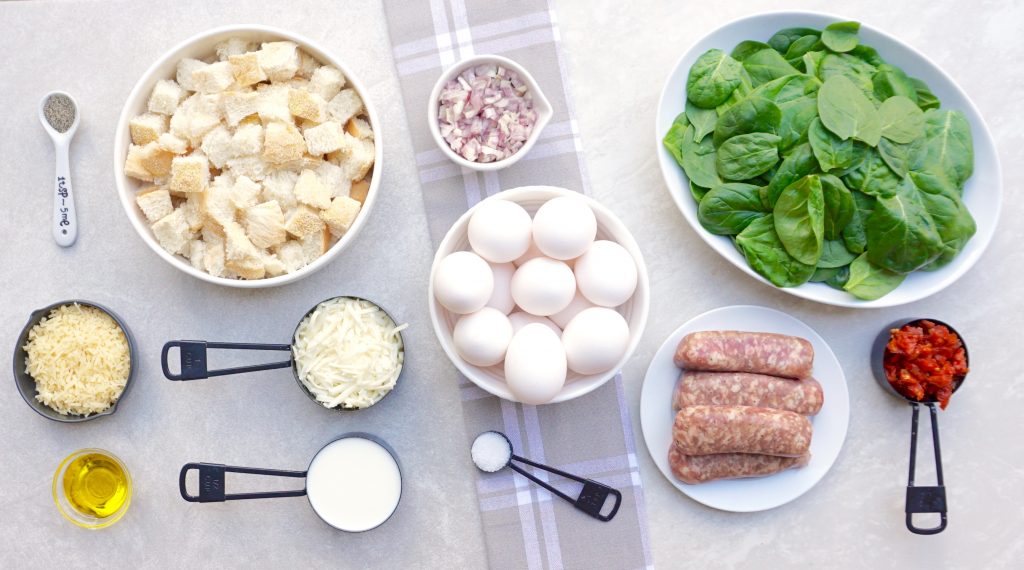 Sausage Strata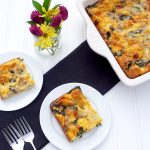 Print This
Ingredients
1 tablespoon olive oil

½ pound Italian sweet sausage, 4 links

½ cup chopped shallot, 1 large

5 ounces baby spinach, stems removed and chopped

1/3 cup sun dried tomatoes, chopped

12 large eggs

½ cup milk

1 teaspoon kosher salt

1 teaspoon black pepper

6 cups bread cubes,cut 1 inch square (best if slightly dried out)

1 cup shredded mozzarella cheese

½ cup grated parmesan cheese
Instructions
Remove the sausage from the casings and chop into small pieces.
In a large skillet, heat the olive oil over medium low heat. Add the sausage and shallots. Cook until the sausage is cooked through and lightly browned, about 8 minutes.
Add the spinach and cook for 30 seconds, stirring until it wilts. Remove from the heat and add in the sun dried tomatoes.
In a large bowl, beat the eggs and milk together. Add the salt and pepper.
Add the bread cubes, mozzarella cheese, parmesan cheese and the sausage mixture to the bowl. Combine well.
Spray a 9 x 13 inch baking pan with cooking spray. Pour the strata mixture into the pan. 
Cover the pan with foil and place into the refrigerator overnight. 
The next morning, preheat the oven to 350 degrees. Place the strata, uncovered into the oven. Bake for 40 – 45 minutes until it is set and golden brown on the top.