Creamy Vegetable Farfalle  is an easy recipe for a vegetarian pasta. You could either serve it as a meal or a side dish. This pasta gets it's creaminess by adding ricotta cheese and parmesan cheese. They are combined with some reserved pasta cooking water to create the creamy sauce. The addition of asparagus, carrots, mushrooms, yellow squash, zucchini and onions gives this delicious pasta dish lots of texture and flavor.
This is a quick fix meal with a cooking time of under 10 minutes. You can boil the pasta while the vegetables are cooking and have dinner on the table fast. There is a bit of prep time to chop the vegetables but you should be able to get this on the table from start to finish in 25 minutes. It's a great solution for a busy weeknight meal.
If you like a vegetarian pasta dish that is similar to Creamy Vegetable Farfelle , check out Lemon Asparagus Pasta, Mushroom Asparagus Tortellini, and One Pot Asparagus Gnocchi.
SOME THINGS TO KNOW:FAQ'S
INGREDIENT TIPS:
SPECIAL EQUIPMENT NEEDED:
Large pot to cook the pasta.
Large skillet
SUSBSTITUTIONS:
You can be very flexible with the vegetables in this recipe. You can substitute frozen vegetables for fresh and change them based on what you have on hand. Just try to keep the overall proportions the same.
If you do not have fresh garlic cloves, use 1 teaspoon of garlic powder.
If you do not have fresh parsley, 1 teaspoon of dried parsley flakes can be substituted.
If you have fresh basil on hand, add 1 tablespoon of the chopped leaves instead of the dried basil.
Canola oil or vegetable oil can replace the olive oil.
Farfalle pasta is also known as bowtie pasta. If you cannot locate it at your grocery store, substitute Rotini, Fusili, or Gemelli pasta.
HOW TO STORE LEFTOVER CREAMY VEGETABLE FARFALLE:
You can store the leftover pasta in an airtight container for 2-3 days.
You can freeze the leftovers in an airtight freezer container for 2-3 months. The consistency of some of the vegetables may change during the freezing process.
HOW TO REHEAT CREAMY VEGETABLE FARFALLE:
You can reheat the leftovers covered in a microwave oven on a microwave safe plate. Heat at 1-2 minute intervals, stirring in between until heated through.
You can reheat the pasta on the stovetop in a large saucepan over medium low heat, stirring occasionally until heated through. Add a few tablespoons of the reserved pasta cooking water to keep the sauce moist.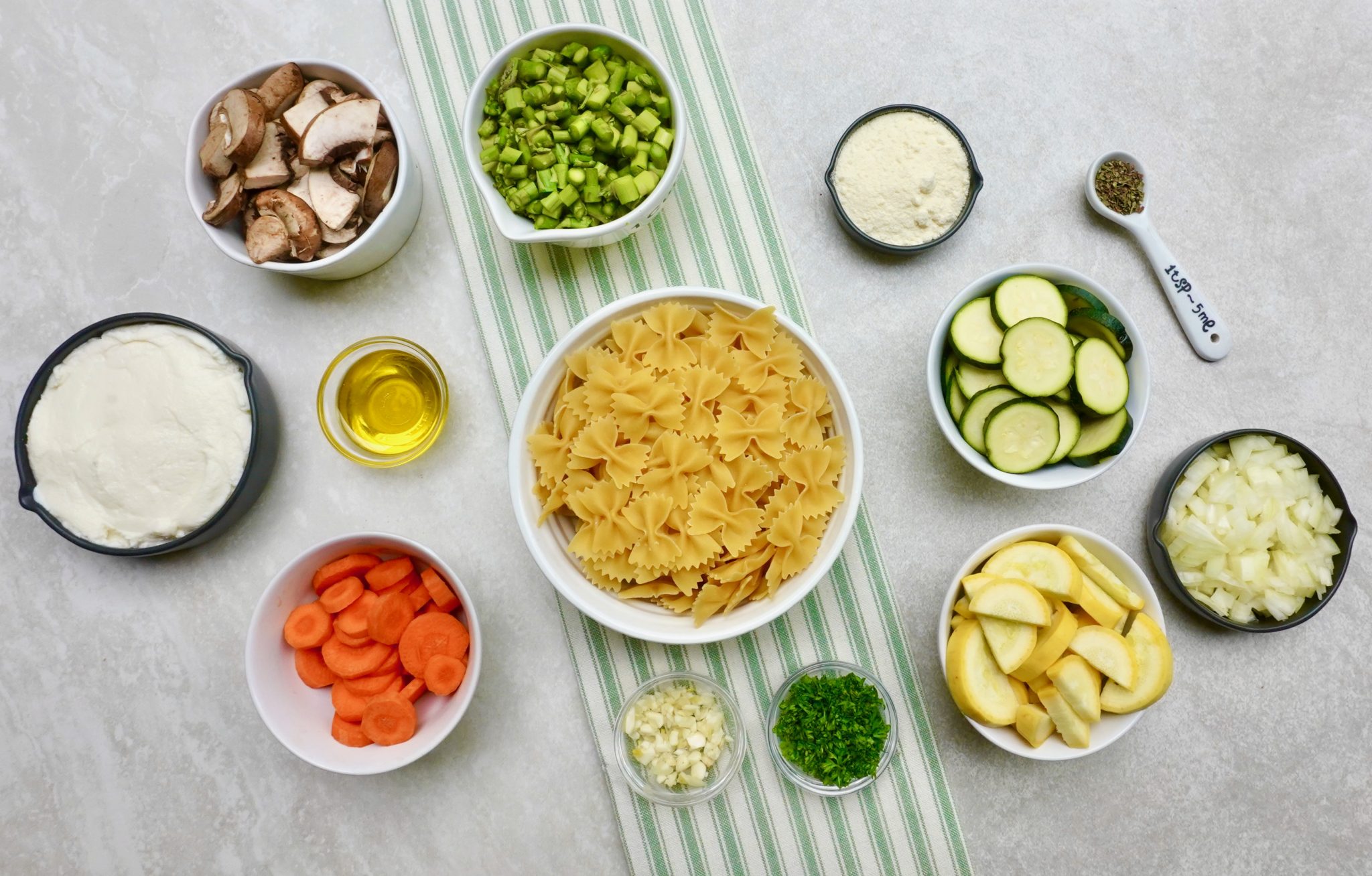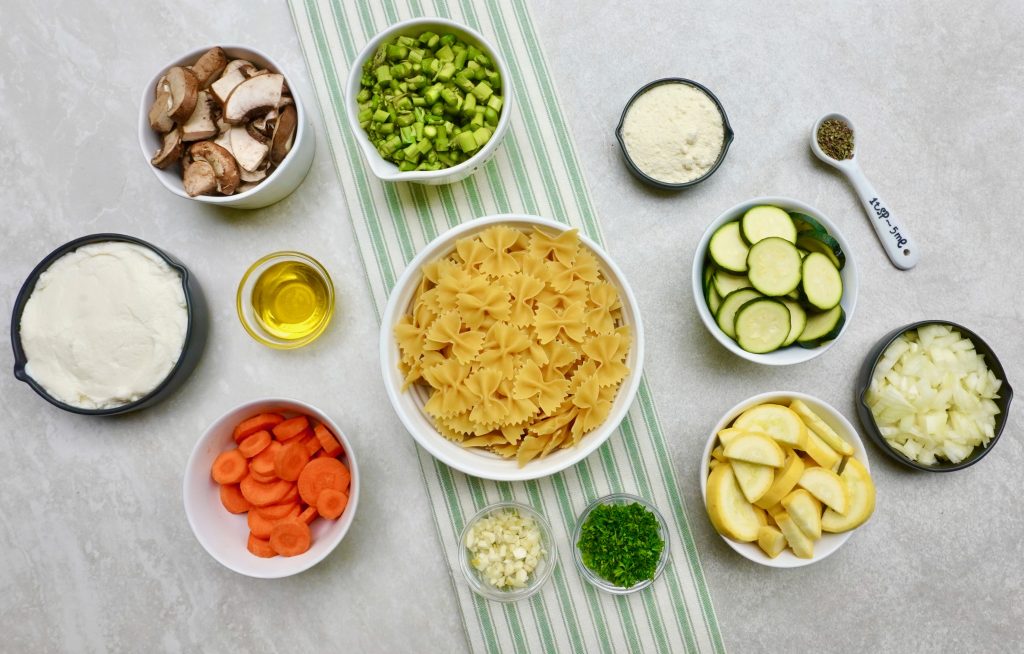 Creamy Vegetable Farfalle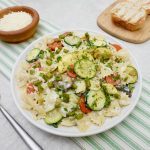 Print This
Ingredients
1 pound farfalle pasta (bowtie pasta)

2 tablespoons olive oil

1 cup fresh asparagus, cut into ½ pieces

8 ounces baby bella mushrooms, sliced

1 large carrot, peeled and sliced

1 small zucchini squash, sliced (about ½ cup)

1 small yellow squash, sliced (about ½ cup)

½ cup yellow onion, diced

2 cloves garlic, minced

1 teaspoon dried basil

1 cup ricotta cheese

¼ cup grated parmesan cheese

1 cup reserved pasta water

1 tablespoon fresh parsley, chopped

salt and pepper to taste
Instructions
Bring a large pot of water to a boil over  medium-high heat. Cook the pasta according to the package directions for the doneness you prefer.
Reserve one cup of pasta cooking water.
Drain the pasta and return it to the pot.
While you are cooking the pasta. In a large skillet, heat the olive oil over medium low heat.
Add the asparagus, mushrooms and carrots to the skillet and cook for 3 minutes, stirring occasionally.
Add the zucchini, yellow squash, onion, garlic and dried basil to the skillet. Cook for an additional 5 minutes, stirring occasionally. You want the vegetables to be tender but not soggy.
Add the ricotta and parmesan cheese to the pasta.
Turn the heat to the low setting and add ½ cup of the reserved pasta water. Stir them together, creating a creamy sauce. If you need to add just a bit more water to achieve this do it a tablespoon at a time.
Save the remaining pasta water if you will be reheating the pasta again at a later time.
Add the parsley and cooked vegetables to the pasta.
Stir until combined and heated through.
Taste and add salt and pepper to taste.
Serve warm in a large serving bowl with additional grated parmesan cheese on the side.