Feta Peach Arugula Salad is a great way to enjoy summer peaches. It may seem a bit different to be combining them with cheese and a savory dressing but it really works together. When you use seasonal ingredients, the simplest preparations can be amazing.
The salad has a simple oil and vinegar dressing that has a bit of honey and dijon mustard added  to give it extra flavor.  The feta cheese adds a bit of salty taste which is a great contrast to the sweet peaches.
The ripeness of the peaches is key to this salad.  How do you know when a peach is ripe? One sign is a sweet smell. A ripe peach will be a dark yellow color, slightly rounded and will give a bit when you press on it. Be careful not to press too hard as peaches bruise easily.
If you like the combination of fruits with cheese in a salad check out Watermelon Salad, Apple Walnut Salad with Cheddar Croutons, and Strawberry Blue Cheese Salad.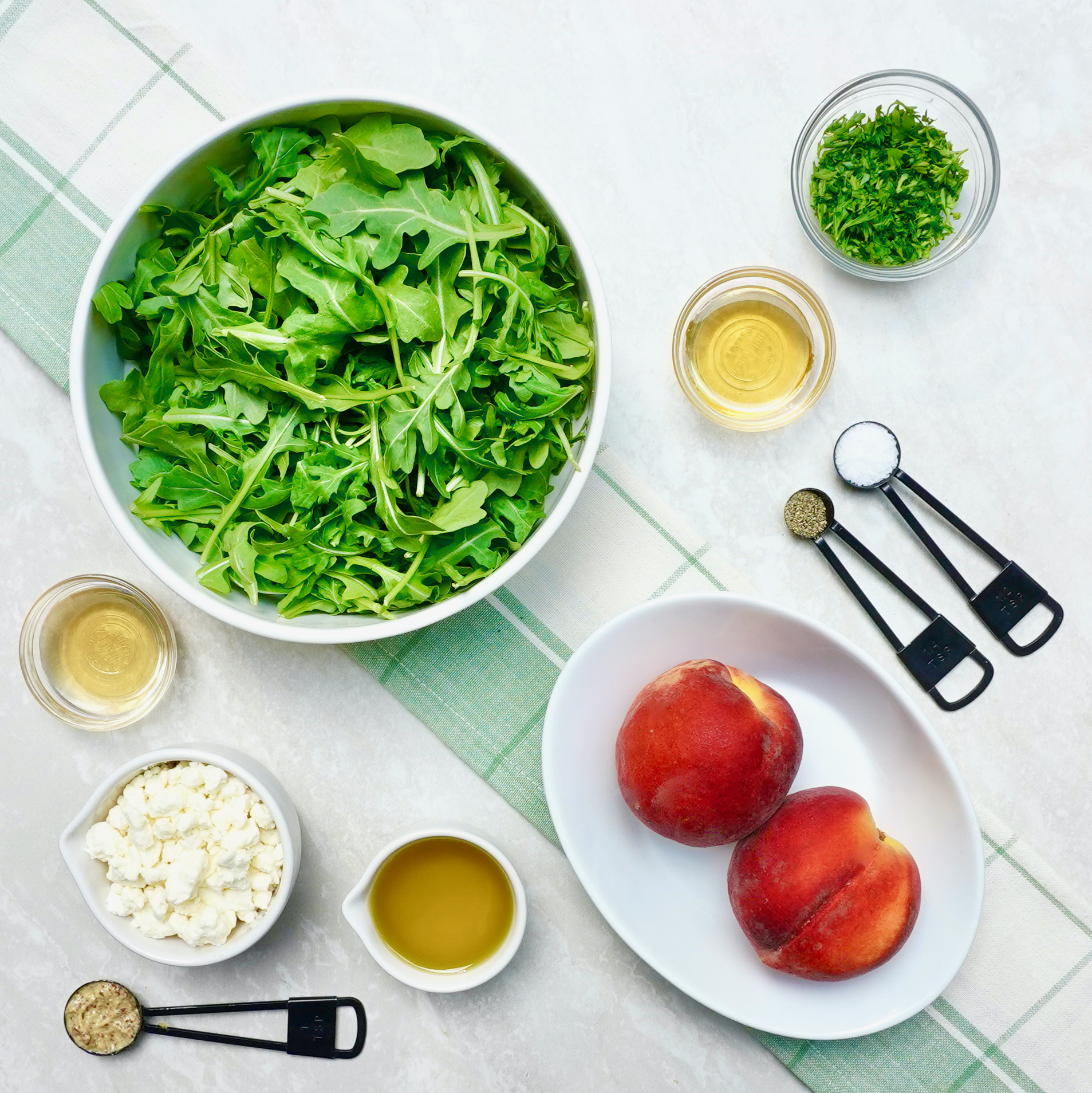 Feta Peach Arugula Salad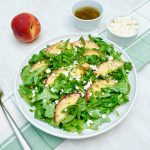 Print This
Ingredients
SALAD:

5 ounce bag arugula

2 ripe peaches, sliced ¼ inch thick

½ cup feta cheese, crumbled

2 tablespoons fresh parsley, chopped

.

DRESSING:

¼ cup olive oil

2 tablespoons apple cider vinegar

1 tablespoon honey

1 teaspoon dijon mustard

½ teaspoon kosher salt, or to taste

¼ teaspoon black pepper, or to taste
Instructions
Place the arugula, peaches, feta cheese and parsley into a large bowl.
In a small bowl, whisk together the olive oil, apple cider vinegar, honey, dijon mustard, kosher salt and black pepper. Make sure it is combined well.
Pour the dressing over the salad ingredients and stir until they are totally combined. Serve at once.
You can make this a couple hours ahead of time. Just cover and refrigerate the salad ingredients and dressing separately. When you are ready to serve it, whisk the dressing again and pour it over the salad.