Blueberry Lemon Olive Oil Cake is one of several olive oil cakes recipes that you will find on this site. There is a good reason for this. Olive oil cakes are simple to make without using a mixer. They lend themselves to adding many different ingredients and are easily served with a simple glaze or powdered sugar sprinkled over the top.
Blueberry Lemon Olive Oil Cake is a lemony cake that is full of fresh blueberries.  It is a one bowl, easy cake that is moist, delicious and pretty. You do not have to be a master baker to bake this!
Olive oil cakes also keep well for a few days without drying out. Check out my other cakes using olive oil, Strawberry Olive Oil Cake, Pumpkin Olive Oil Cake, Orange Olive Oil Cake, and Chocolate Olive Oil Cake.
Blueberry lemon Olive Oil Cake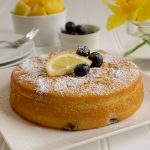 Print This
Ingredients
1 cup fresh blueberries

1 cup olive oil

1 ¼ cups whole milk

3 large eggs

1 tablespoon lemon zest

½ cup freshly squeezed lemon juice, 1 ½ to 2 lemons

1 ¾ cups granulated sugar

1 ½ teaspoons salt

½ teaspoon baking powder

½ teaspoon baking soda

2 cups all purpose flour

Optional confectionary sugar, lemon slices and blueberries for garnish.
Instructions
Preheat your oven to 350 degrees.
Grease and flour your pans. I used three 6 inch pans for this recipe. It can also be baked in one 10 inch pan. If you are using the smaller pans and need to bake the cakes in batches, refrigerate the batter until you can bake all three cakes.
In a large bowl, whisk together the eggs, olive oil, milk and lemon juice. Add the flour, sugar, baking powder, baking soda, and salt. Using a spatula stir until the batter is completely combined and smooth.
Stir in the blueberries and lemon zest.
Pour the batter into the  prepared pan(s).
Baking time for the 6 inch pans is 35- 40 minutes and 50 minutes for the 10 inch pan. Make sure that the top of the cake is firm and golden brown.
Cool the cake in the pan for 15 minutes. Invert onto a wire rack and let the cake cool completely.
Optional: Lightly sift confectionary sugar over the top of the cake. Add lemon slices and blueberries.