Gnocchi with Butternut Squash Bechamel Sauce is a perfect fall dish. Butternut squash is combined in a simple Bechamel  to create a flavorful , seasonal dish. The sauce is served over gnocchi which is a variety of pasta that are dough dumplings.
If you have the time to roast the butternut squash yourself it will be well worth it. However if you are in a hurry, you could buy canned organic butternut squash. A can will be slightly less than 2 cups puree but will still work just fine.
Gnocchi with Butternut Squash Bechamel Sauce would make a hearty vegetarian meal or a great seasonal side dish.
If you like butternut squash, check out Baked Butternut Pasta, Roasted Butternut Squash, and Butternut Squash Quinoa Salad.
You might also like Vegetable Gnocchi.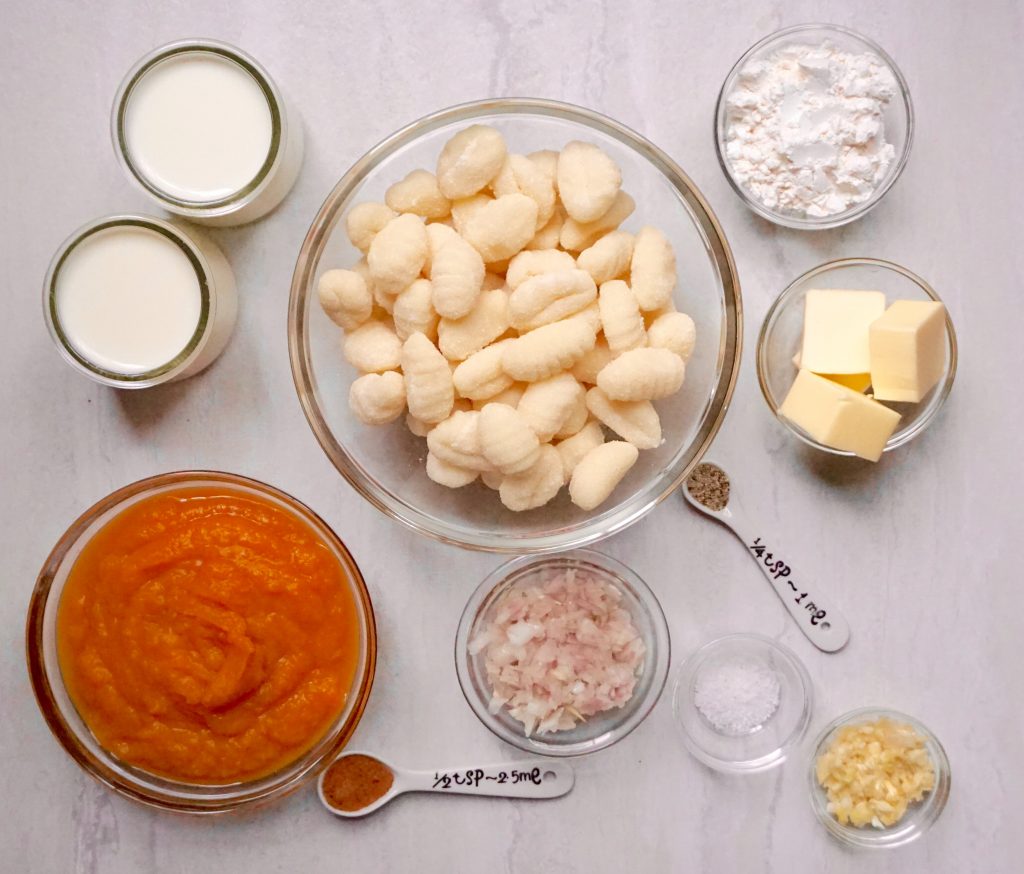 Vegetable broth not pictured.
Gnocchi with Butternut Squash Béchamel Sauce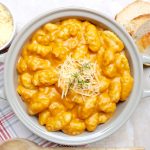 Print This
Ingredients
1 pound package gnocchi

2 tablespoons butter

2 tablespoons shallot, chopped

2 cloves garlic, chopped

2 tablespoons all purpose flour

1 cup whole milk

1 cup vegetable broth

1/2 teaspoon ground nutmeg

1/4 teaspoon salt (or to taste)

1/4 teaspoon black pepper (or to taste)

2 tablespoons light brown sugar

2 cups butternut squash puree ( you will need a 2 pound squash to yield 2 cups ) Or one 14.5 ounce can organic butternut squash

*if you are roasting your squash you will need 1 tablespoon olive oil and salt and pepper
Instructions
Preheat oven to 400 degrees (only if you are roasting the butternut squash)
TO ROAST SQUASH:
Cut the squash in half the long way. Brush with olive oil and sprinkle with salt and pepper. Place face down on a baking sheet. If you line the sheet with foil you will have less clean up. Bake about 35- 40 minutes until the squash is tender.
Scoop the seeds from the squash and discard. Scoop the squash into a food processor or blender to puree.
SAUCE AND GNOCCHI:
Fill a large pot with water and bring to a boil to cook the gnocchi. Follow the cooking time on the package. Drain.
In a large saucepan, over medium low heat, melt the butter. Add the shallots and the garlic and cook, stirring for 2 minutes. Do not let them brown.
Add the flour and stir. Cook, stirring constantly for 1 minute. Add the vegetable broth slowly. Stir constantly so the mixture is smooth. Add the milk and continue stirring. Raise the heat to medium and stir until the mixture bubbles and thickens. Add the nutmeg, salt, pepper and brown sugar. Stir well. Add the butternut puree and stir until mixed in well and warm.
Pour over cooked gnocchi and serve.
* The gnocchi cooks very fast so this should not be done until the sauce is nearly completed.
Notes
If you are not using the sauce at once it may thicken slightly. As you reheat it, add more broth and milk until it is the original consistency. This sauce would also be great over any kind of pasta.