Croquetas de Jamon are Spanish ham croquettes. They are breaded fritters that are fried to be crispy on the outside, while nice and creamy on the inside. They are served in Spain as Tapas.
They are made by creating a thick bechamel sauce with onions and Serrano ham. The bechamel is cooled and formed into rounded patties, breaded and fried.
Croquetas de Jamon are great appetizers. The crunchy exterior gives way to the most delicious, flavorful, creamy center. They are the perfect pairing for a glass of wine.  If you like the idea of crispy bites with a creamy center another good choice is Arancini.
This recipe was gifted to me by Coro Lizasoain. Not only is she a great cook, she is a talented artist. Check her out at Coro Fine Art.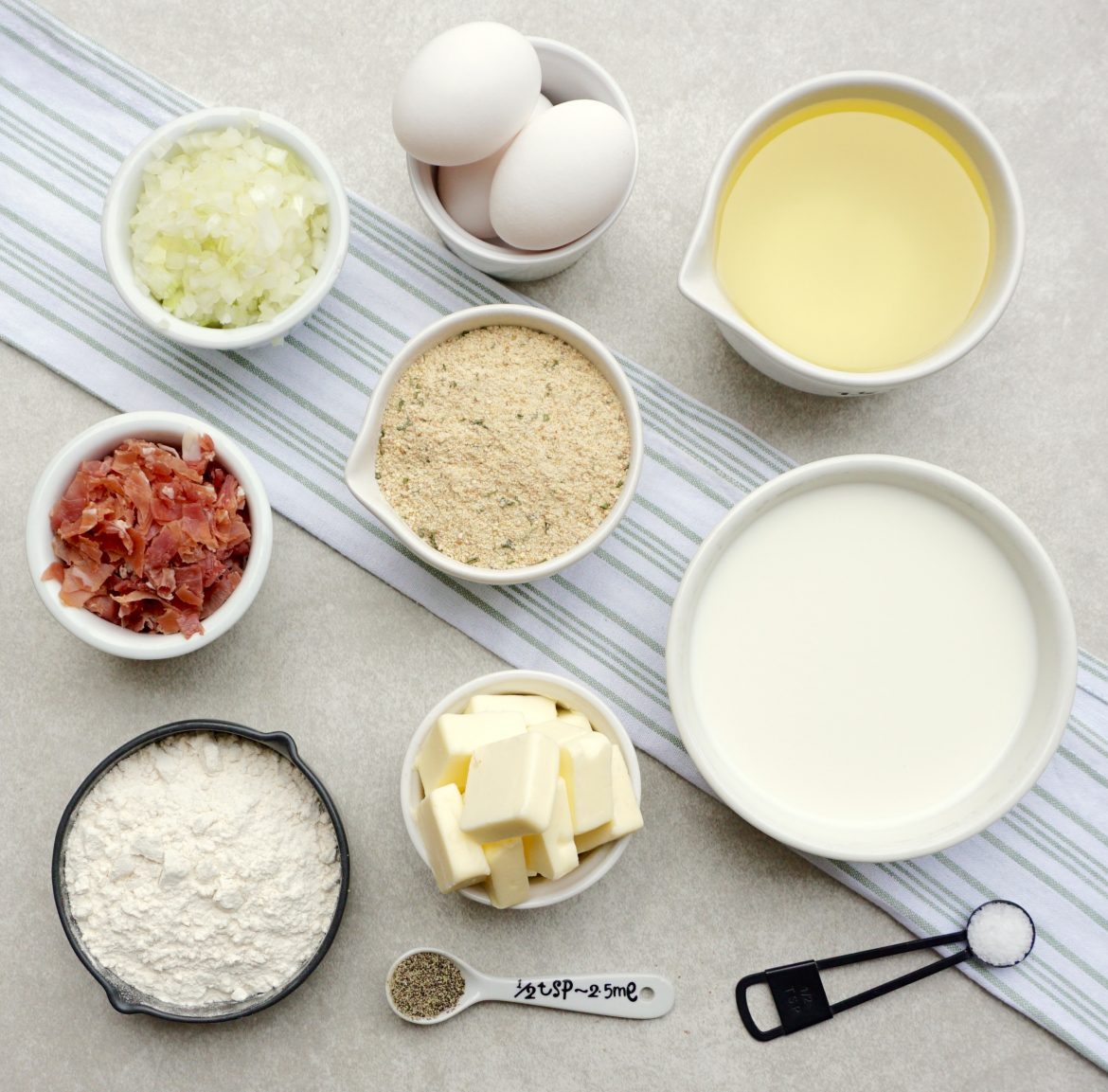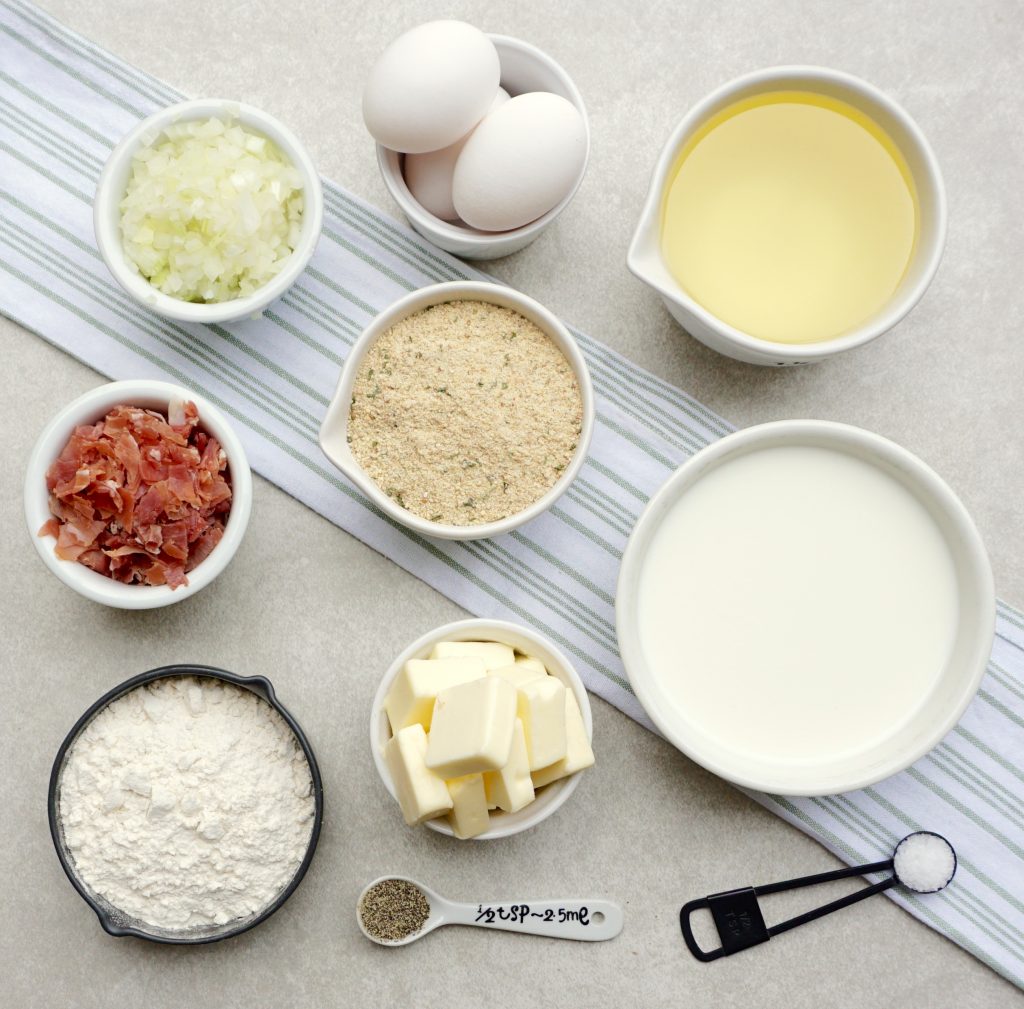 Croquetas de Jamon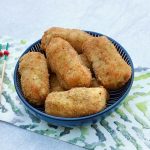 Print This
Ingredients
2/3 cups butter

1 small onion, chopped fine

3 ounces Serrano ham, finely chopped

2/3 cup all purpose flour

4 cups whole milk

½ teaspoon salt

½ teaspoon black pepper, or to taste

1 cup dried breadcrumbs

2 large eggs beaten well

1 cup canola oil for frying
Instructions
Melt the butter in a large saucepan over medium low heat. Add the onion and cook for 2 minutes so it is starting to soften.
Add the Serrano ham and cook for an additional minute.
Add the flour to the pan and stir constantly to get it completely combined.
Add the milk, a cup at a time, stirring constantly to mix it in with the flour mixture. A whisk would be the best tool for this.
Keep adding the milk and never stop stirring. You will gradually see the bechamel thicken. Keep cooking until it becomes very thick. This will be twice as thick as a normal bechamel sauce, almost like a pudding.
Taste and add salt and pepper to taste.
Remove from the heat and place into a bowl. Cover and place into the refrigerator for at least 4 hours, but preferably overnight.
When you are ready to cook them, place the breadcrumbs into a pie plate. Place the beaten eggs into another pie plate.
Scoop rounded tablespoons of the bechamel and form it into logs or balls. Place the log into the egg mixture rolling it on all sides to make sure that the entire surface is coated.
Next roll it into the breadcrumbs, making sure that the entire surface is coated. Place the croqueta onto a plate or a piece of wax paper and repeat the process until all of your croquetas are formed and breaded.
In a very large skillet, heat the canola oil over medium low heat. A good test to see if it is hot enough is to drop a couple breadcrumbs into it and see if they sizzle.
If your pan is large enough, add half of the croquettas to the oil. If your pan is smaller you will need to do more batches.  Do not overcrowd them as they need room to be turned.
They will fry quickly and you need to keep turning them with a fork to make sure that they evenly brown on all sides. This will only take a couple minutes.
Remove them from the skillet  and set on paper towels to absorb the oil.
Serve at once or keep warm in a 200 degree oven for up to 20 minutes.
Notes
If you cannot find Serrano ham in your area, you can substitute Prosciutto. They are both dry cured hams and very similar.