Fried Polenta is a traditional Italian recipe that is made with polenta that is chilled, cut into slices and fried. It makes a great appetizer or side dish. The outside of the crispy polenta cakes are golden brown and the center is still creamy polenta. This simple recipe is budget friendly, comforting and gluten free. Serve it with marinara sauce or your other favorite sauces.
You will need to plan ahead to make this recipe. You will need to cool the cooked polenta in a baking dish in the refrigerator for at least 2 hours and overnight if possible. The mixture needs to be firmly set in order to fry successfully.
If you would like to try another polenta recipe check out Burst Tomato Corn Polenta. This hearty dish made with fresh corn and cherry tomatoes could be served as a main course. If you would like to try some other fried food to serve as appetizers check out Fried Ravioli, Mac and Cheese Balls, Crab Fritters, Croquetas de Jamon, Arancini and Falafel.
SOME THINGS TO KNOW:FAQ'S
INGREDIENT TIPS:
Polenta is a creamy mixture of either yellow or white cornmeal and water or broth. There are several different types of polenta that you may find at the grocery store.
Coarse ground polenta.
Finely ground polenta.
Instant polenta.
White polenta.
Precooked tube of polenta
For the best texture, use medium-grind cornmeal. It offers a balance between the creaminess of fine cornmeal and the rustic texture of coarse ground. Read What is Cornmeal and What Type Should You Buy?
SPECIAL EQUIPMENT NEEDED:
Large saucepan for boiling the vegetable broth and water, as well as for cooking the cornmeal mixture.
Whisk or wooden spoon for stirring in the cornmeal gradually and ensuring there are no lumps in the mixture.
9″ x 9″ baking  dish or sheet pan. After cooking, the polenta needs to be spread and cooled in a dish or tray to achieve the desired shape and consistency for frying.
 A good-quality large frying pan or skillet. Preferably non-stick or cast iron, is crucial for achieving that crispy texture when frying the polenta. A cast-iron skillet is especially good for retaining heat and ensuring even frying.
Spatula for flipping the polenta pieces while frying, ensuring they are golden brown on both sides.
Paper Towels are useful for draining the fried polenta pieces and removing excess oil
If you are using a block of Parmesan cheese, you will need a grater to get the desired consistency.
Vegetable oil, cooking spray or olive oil spray to grease the baking dish.
SUBSTITUTIONS:
You can substitute chicken broth or chicken stock for the vegetable broth.
While there's no direct substitute for cornmeal in polenta, you can use corn grits if they are available. Just be aware they might have a coarser texture.
Pecorino Romano and Asiago cheese are all good substitutes with similar textures and flavor as Parmesan cheese.
If you do not have dried Italian seasoning you can make your own blend with equal parts of dried basil, oregano, rosemary, thyme, and marjoram.
The olive oil can be replaced with canola oil, grapeseed oil, or sunflower oil as they have higher smoke points, making them suitable for frying.
HOW TO STORE FRIED POLENTA:
You can store the polenta in the refrigerator for up to 3-4 days. Place the fried polenta pieces in a single layer on a plate or tray. Cover them with plastic wrap or put them into an airtight container.
You can store the fried polenta in the freezer for up to 3 months. Before freezing make sure the fried polenta has completely cooled to room temperature.Place the fried polenta pieces in a single layer on a baking sheet lined with parchment paper. Freeze them for about 1-2 hours or until they are frozen solid. This will prevent them from sticking together.Transfer the pre-frozen polenta pieces to a freezer-safe bag or container.
HOW TO REHEAT FRIED POLENTA:
To reheat the fried polenta in the oven, preheat the oven to 375°F (190°C). Place the polenta pieces on a baking sheet and reheat for about 10-15 minutes, or until warmed through and crispy again.
To reheat the fried polenta on the stovetop in a skillet, warm a little butter or oil in a skillet over medium heat and fry the polenta pieces until they're heated through and regain their crispiness. This should take about a minute on each side.
Microwaving is not the best method for reheating fried polenta, as it can make them soft and lose their crispy texture.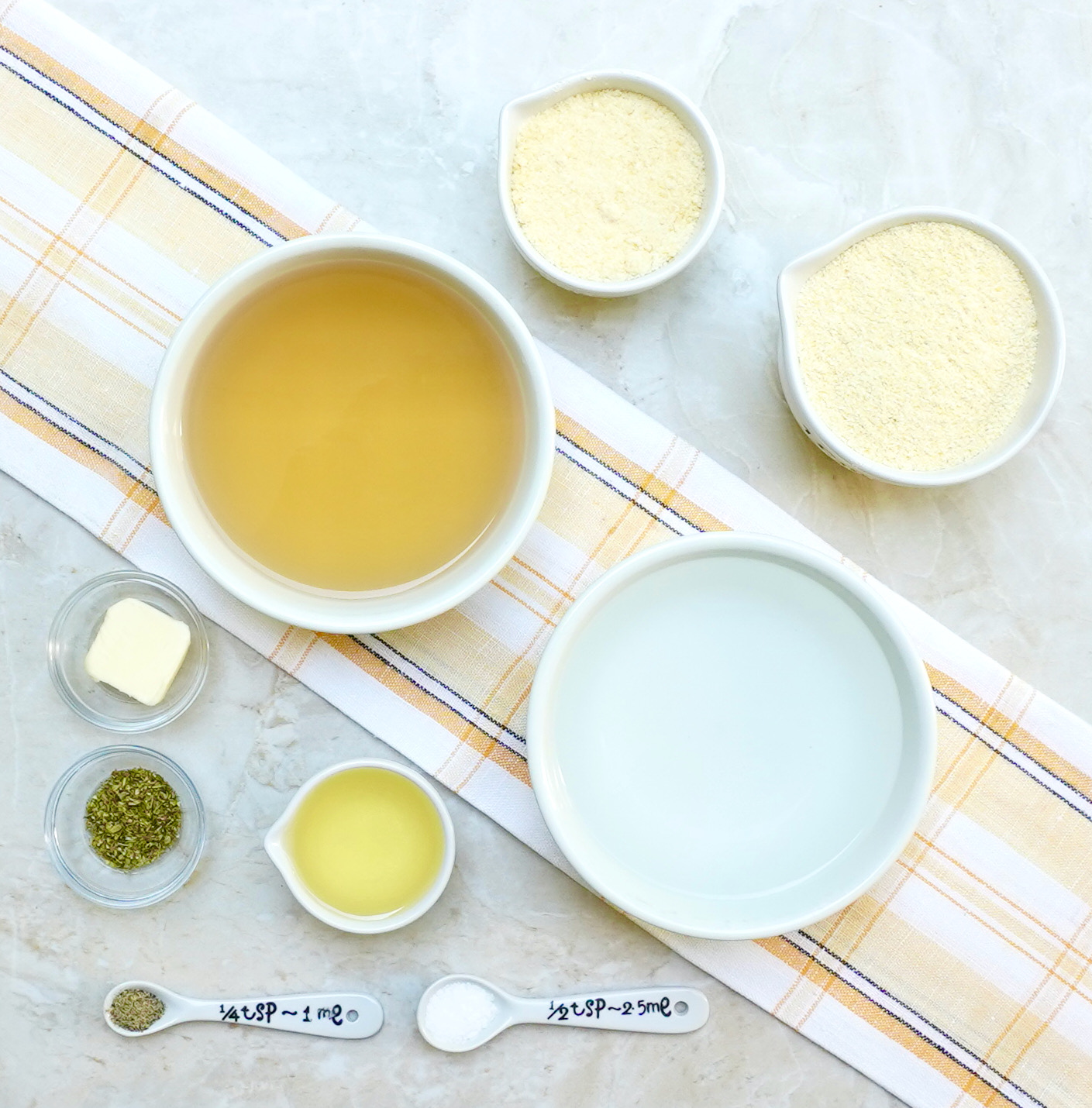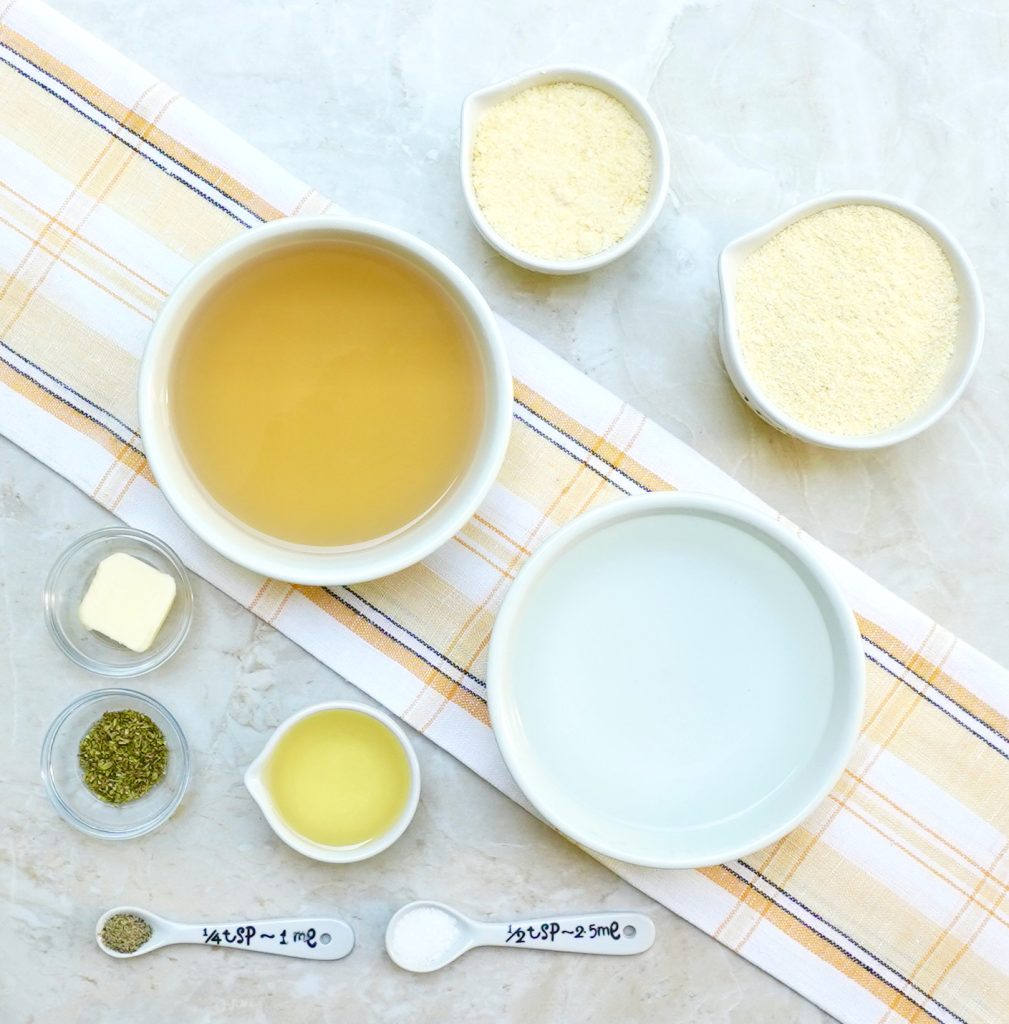 Bring the broth and water to a boil. Whisk in the cornmeal. Once it has thickened, stir in the butter, parmesan cheese, salt, pepper and Italian seasoning.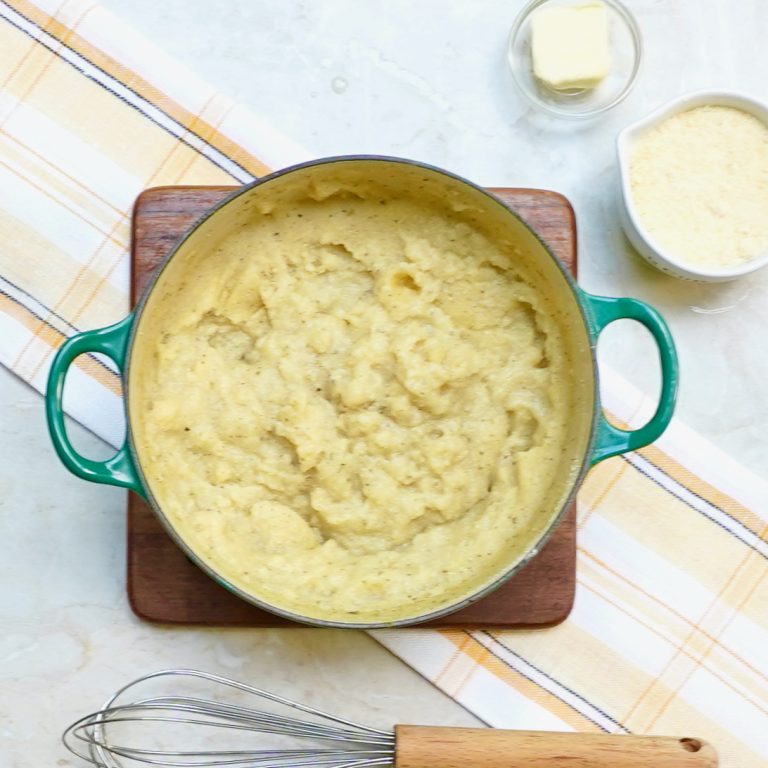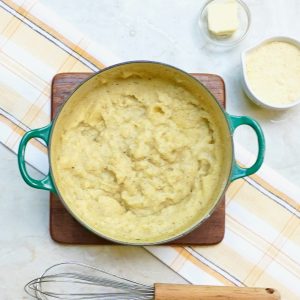 Pour the polenta into a 9″ x 9″ greased baking dish. Smooth it evenly into the pan, cover and refrigerate.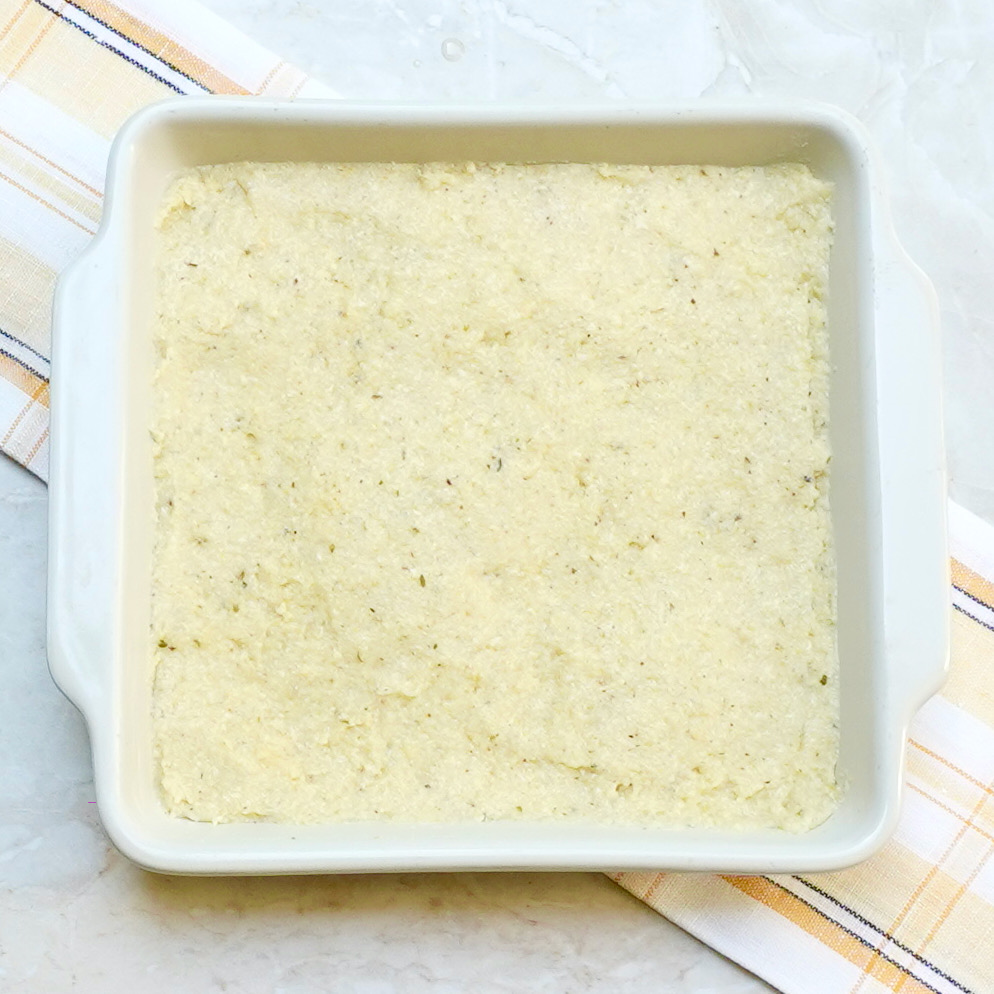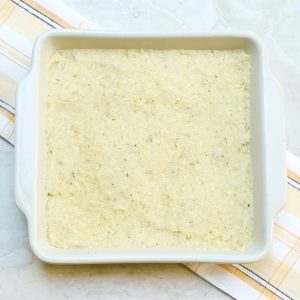 Once the polenta is firmly set, use a sharp knife to cut it into 9- 3″ squares.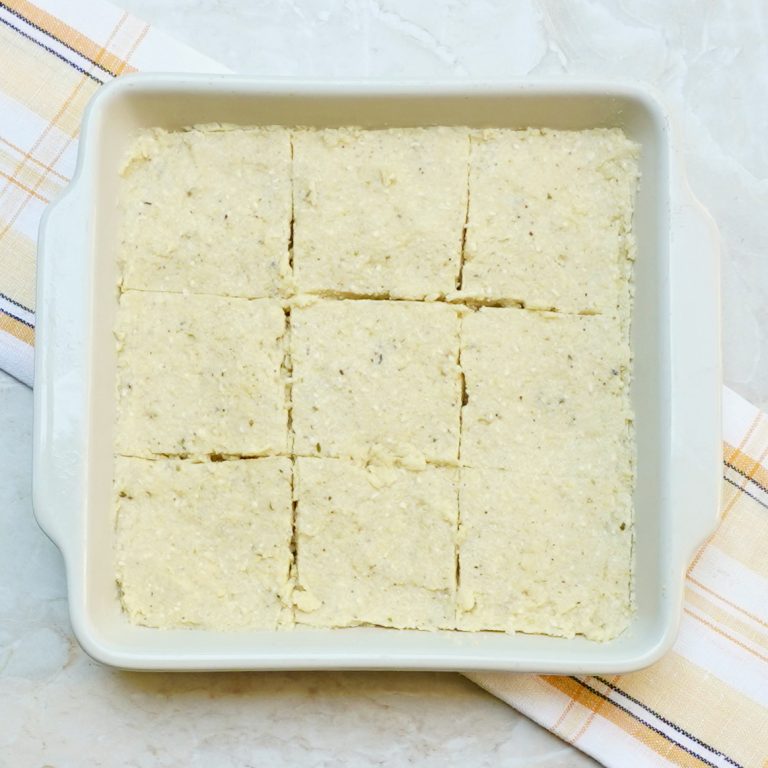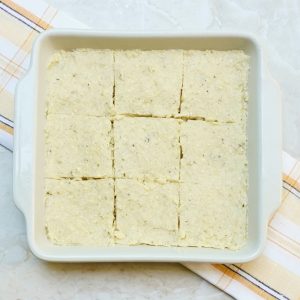 Cut each square on the diagonal so you will have 2 triangles.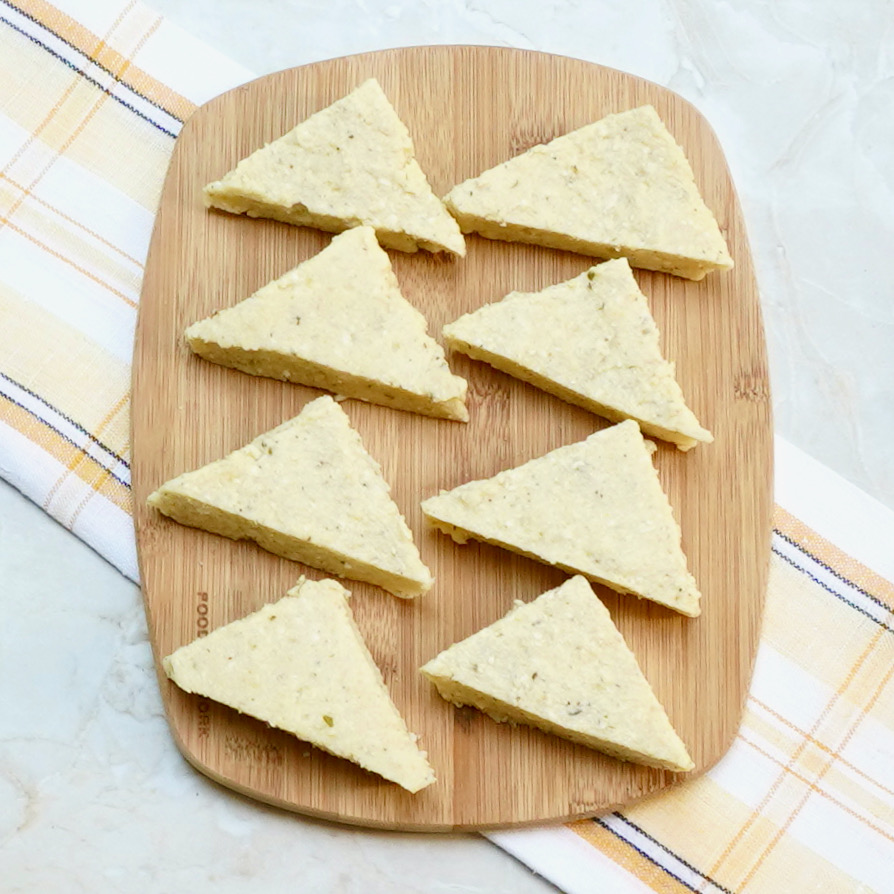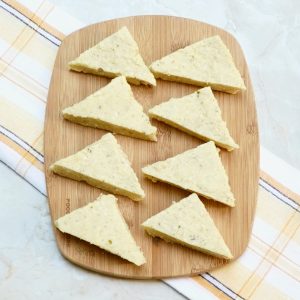 Melt the butter and olive in a large skillet. Add the polenta triangles to the skillet and cook on each side for 2-3 minutes on each side until golden brown and crispy.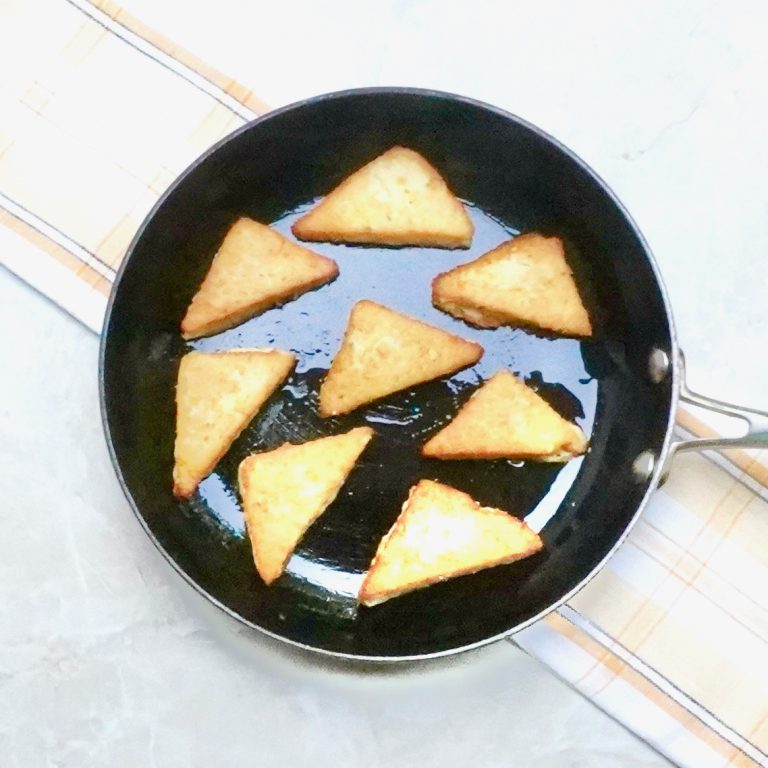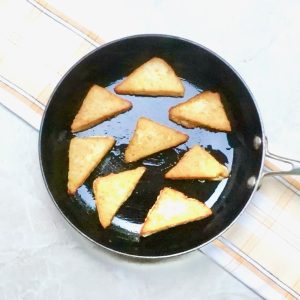 Fried Polenta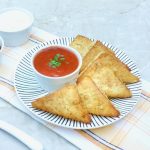 Print This
Ingredients
2 cups vegetable broth

2 cups water

1 cup ground cornmeal

½ cup grated parmesan cheese

1 tablespoon unsalted butter

½ kosher salt

¼ teaspoon black pepper

1 teaspoon dried Italian seasoning

Additional butter and olive oil for frying (1-2 tablespoons of each)
Instructions
Bring the vegetable broth and water to a boil in a large saucepan over high heat.
Once boiling, reduce the heat to a low simmer.
Gradually whisk in the ground cornmeal slowly to avoid lumps from forming.
Continue to cook and stir the mixture for 10 minutes, until the cornmeal is soft and the mixture has thickened.
Add the grated parmesan cheese, unsalted butter, kosher salt, pepper and dried Italian seasoning. Combine the ingredients well.
Transfer the prepared polenta to a prepared  9″ x 9″ baking dish and spread it evenly. Let the hot polenta cool to room temperature then cover it with plastic wrap and place it  into the refrigerator.
Chill the cooked polenta  for a minimum of 2 hours. If you have the time, overnight is the best to make sure it is very solid.
Once your polenta is set, cut it into nine 3″ squares. Cut each square on the diagonal through the center to create 2 triangles.
In a heavy large skillet, heat a mixture of 1 tablespoon butter and 1 tablespoon olive oil over medium heat. Once hot, add the polenta triangles. Do not crowd the triangles in the pan. Fry them in 2 batches if needed.
Fry each side of the polenta until it's golden brown and crispy. This usually takes about 2-3 minutes per side.
Once fried, remove the pieces and place them on paper towels to drain any excess oil.
If you need to fry them in 2 batches, add an additional 1 tablespoon each of butter and olive oil if needed.
You can keep the first batch warm on a baking sheet in a preheated 200 degree oven until you finish frying the second batch.
Place the fried polenta onto a serving platter. Serve hot with a sprinkle of extra grated parmesan cheese, salt, black pepper and perhaps a drizzle of your favorite sauce. Enjoy the crispy exterior and soft, flavorful interior of your Fried Polenta!