Pumpkin can be just as good in a savory dish as it is in a pie or cake! Pumpkin Spinach Lentil Stew is a healthy and flavorful vegan dish.
Lentils are simmered in vegetable broth, coconut milk and warm spices. Pumpkin and spinach give it nice color. This is a thick stew, with the consistency of oatmeal. It is hearty and full of flavor. If you want it to be a bit thinner simply add some extra vegetable broth until it is the consistency you want.
Lentils are a great meat replacement. They are filling and keep you that way for a long time! If you'd like to see some other recipes that use lentils check out Lentil Bolognese, Lentil Chili, and Lentil Soup.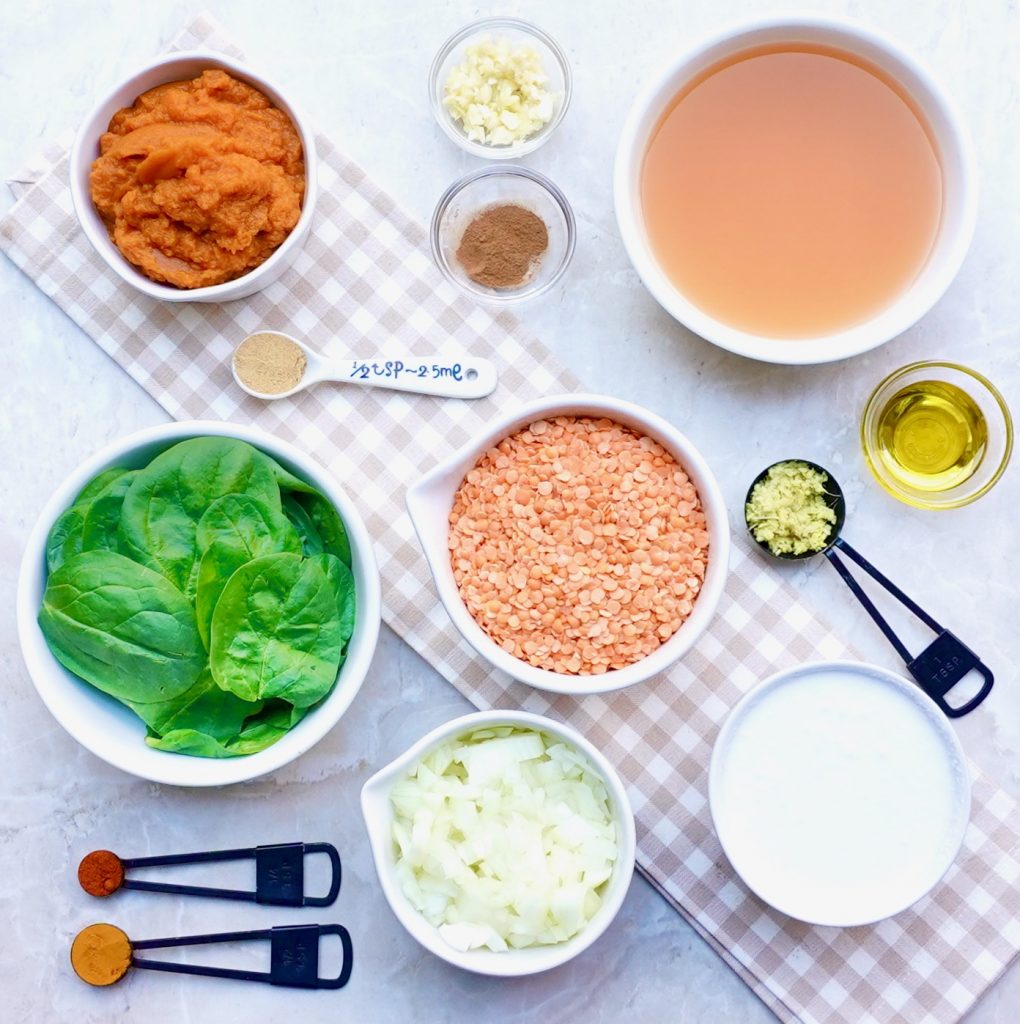 Pumpkin Spinach Lentil Stew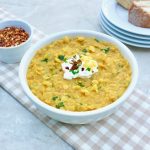 Print This
Ingredients
1 tablespoon olive oil

1 cup yellow onions, chopped

1 tablespoon fresh ginger, grated

2 cloves garlic, minced

½ teaspoon turmeric

½ teaspoon cumin

½ teaspoon cinnamon

¼ teaspoon cayenne pepper

6 cups vegetable broth, divided

1 pound red lentils

15 ounce can pumpkin puree

13.5 ounce can coconut milk

6 ounce bag baby spinach, stems removed and chopped
Instructions
Heat the olive oil in a large stockpot over medium low heat. Add the onions and cook them stirring occasionally for 3 minutes so they begin to soften.
Add the ginger, garlic, turmeric, cumin, cinnamon, and cayenne pepper. Cook stirring for 1 minute.
Reserve 1 cup of the vegetable broth.
Add 5 cups of broth, red lentils, pumpkin and coconut milk.
Raise the heat to high until the stew comes to a boil.
Lower the temperature to low and simmer, uncovered for 15 minutes.
Add the remaining cup of vegetable broth and chopped spinach to the pan. Simmer for an additional 5 minutes.